Annie E. Washington
After the Civil War, African Americans worked tirelessly to reconnect with family members and loved ones separated under slavery. The Freedmen's Bureau was a useful tool to help fund transportation or help relocate separated individuals, aiding in the work that Black communities were already doing to reunite families.  
Annie E Washington was a founding member and Secretary of the Contraband Relief Association during the Civil War. The organization was founded by Elizabeth Keckley, a dressmaker for the First Lady, Mary Todd Lincoln and helped provide clothing and goods to the formerly enslaved. In 1857 Washington ran her own school in Washington, D.C. out of her mother's house. The following year she moved the basement of a Baptist Church on the corner of 19th and I streets in Washington, D.C. Annie went on to oversee The Boston School, a freedmen's school at the same location. The Boston School was established by the Freedmen's Aid Commission in 1964 and was taken over by the American Baptist Home Mission Society in 1864. Later that year, the Commissioner of the Freedmen's Bureau got hold of one of the buildings. During its run the Boston School changed names to the Normal School in 1866 before its closing in 1868. After this, Washington started working in the public school system.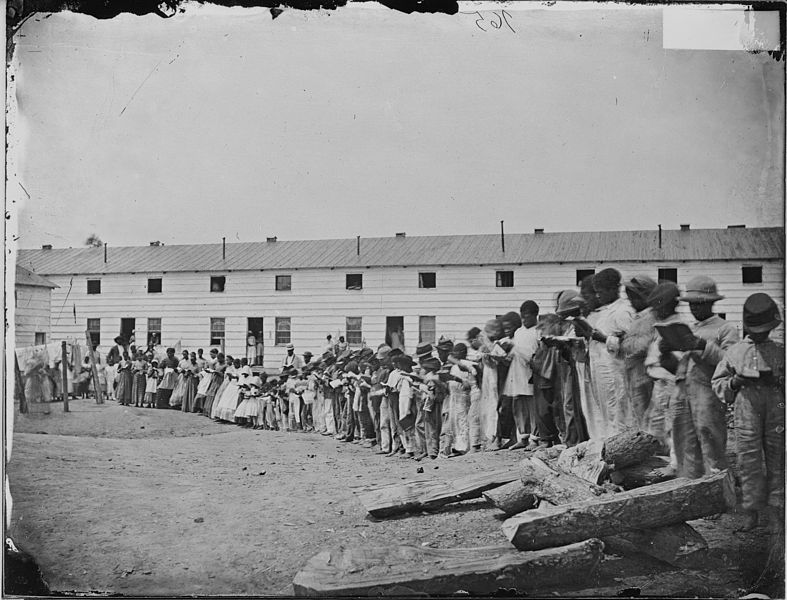 A contraband school, circa 1860-1865, National Archives and Records Administration Catalog. 
Monthly teacher's reports detail some of the inner workings of the school. For example, in February 1867, the total number of pupils was fifty with an average attendance of forty-six students. All fifty of the students were advanced in reading, arithmetic and geography. In November 1868, she had fifty-one pupils and an average attendance of forty-seven, forty-nine of whom were advanced in reading and arithmetic. The report notes that thirty-seven of her students were free before the Civil War. There are also forms showing textbooks that the school ordered in 1866 including readers, geographies, mathematics, and others on grammar, states, and charts.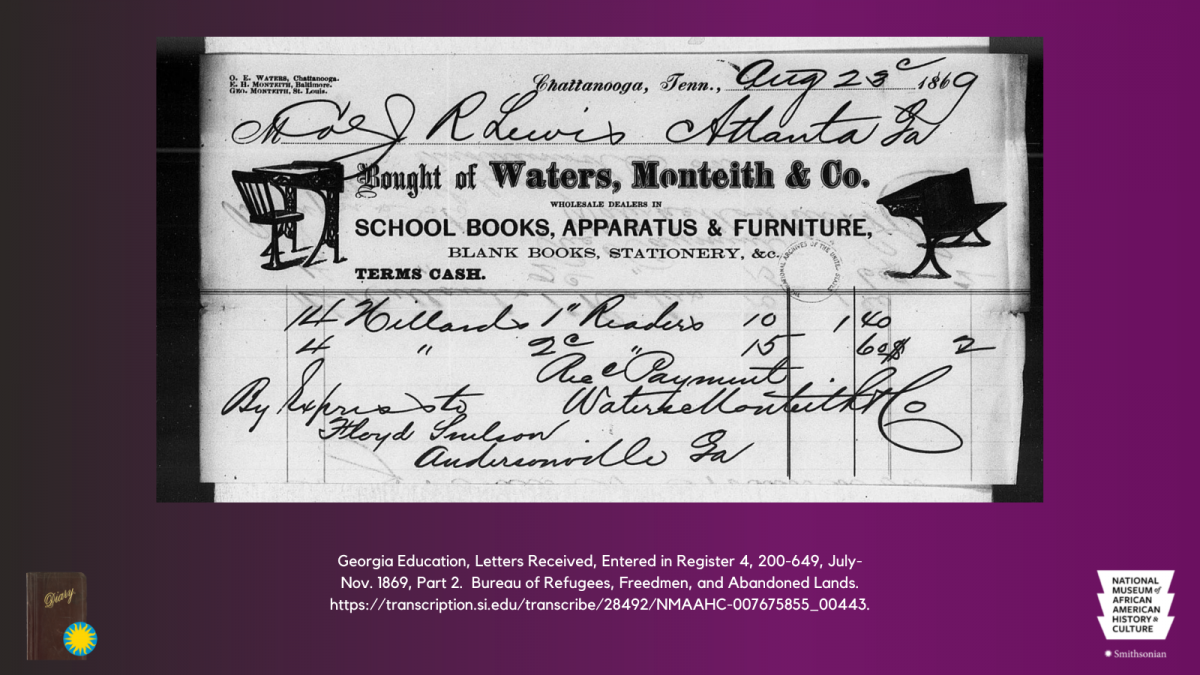 Washington had what seemed to be regular correspondence with the Superintendent of Education for Washington, D.C. and Maryland, John Kimball. At times she sent letters signed by her and another teacher, Matilda A. Jones, requesting coal and "short wood" to warm their rooms.
More letters were found between Washington and Kimball, including a request by Washington for government transportation from Washington, D.C. to Danville, Virginia in 1867. This letter doesn't mention what this transportation is for, but in a longer and more detailed message, Washington explains her circumstances. She states that she is not traveling simply "to go home" which may mean that she was originally from Virginia or lived there at some point. She explains that her sister had recently passed, leaving two small children behind. Washington expressed her worry about getting to them and seeing them while revealing that she was not able to pay for travel, as she had to support her mother.  
A few days later Kimball forwarded Washington's letter to Eliphalet Whittlesey, the first Assistant Commissioner of North Carolina, requesting she get the funds she needed from the Freedmen's Bureau.  Kimball noted that she had been a faithful teacher for the past couple of years. Under this, the letter was forwarded to F.D. Sewall by Whittlesey asking for the request to be granted. 
This request was then returned because "under existing order and regulations there is no authority for furnishing the transportation asked for." It was then suggested that Washington may be able to get the transportation if she made it clear that she was going to get the children to bring them to her home, thus ensuring that they did not become a "charge" to the state. As of now there is no further transcribed information about this case. 
Prior to this request, there is a record of a teacher named Annie Washington living in Washington D.C. with her mother, Mary Washington, in the 1860 census. There was another member of the household named Wilomene Washington whose relationship with the Washington's is unknown.  In 1870, Washington was living in Washinton, D.C.  with her mother Mary and still working as a teacher. Differently, the household now includes two young girls, eleven-year-old Minnie Day and seven-year-old Annie Day. Minnie and Annie are the daughters of Thomas Day Jr., the son of Thomas Day, a freedman's who masterful craftmanship is still awed today. It is probable that she took the advice from the Freedmen's Bureau and was able to gain custody of her two nieces.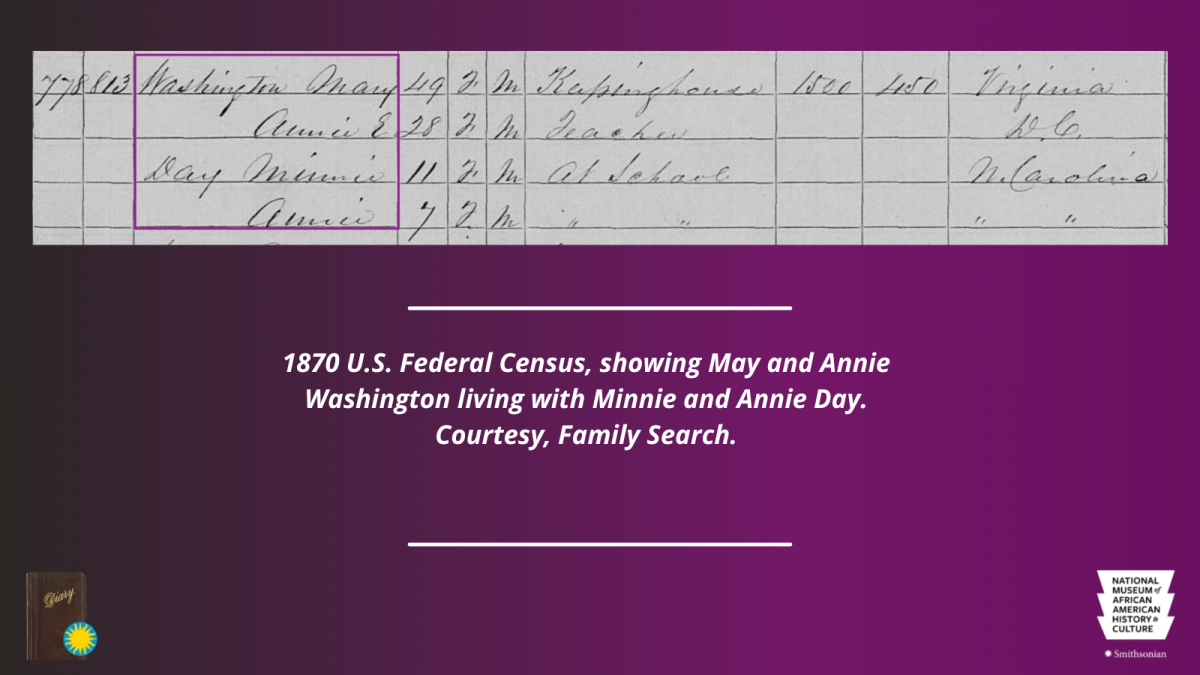 Although there is a potential end to this story that is not the case for most of the stories found in the Freedmen's Bureau. Some records and accounts have continued documentation or have yet to be transcribed. Transcription work by volunpeers is instrumental in discovering stories like that of Annie Washington and there are still millions of documents waiting for transcription. Transcription Center allows us to share these stories, whether complete or incomplete, while pushing these narratives to penetrate time.  
_______________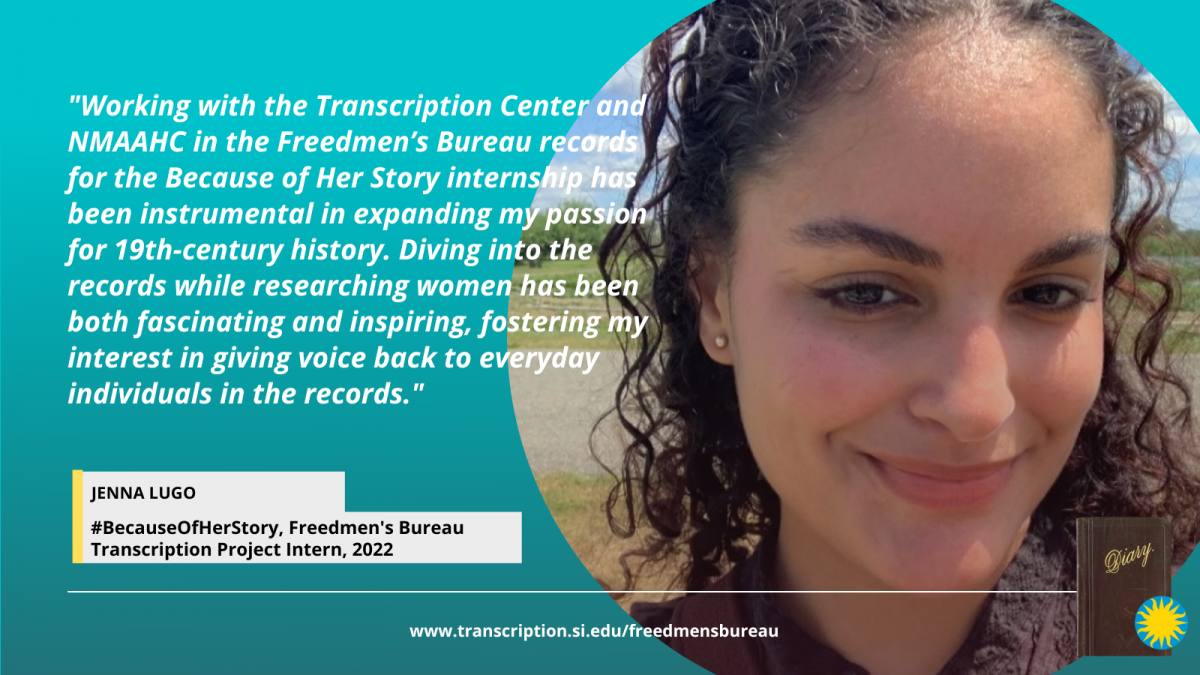 Jenna Lugo was a 2022 Because of Her Story Intern with the Smithsonian Transcription Center and the National Museum of African American History and Culture. She is currently pursuing an undergraduate degree in History and Political Science at Penn State University. 

        This post on Annie E. Washington is part of a larger series by Lugo and fellow intern, Madeleine Roberts-Ganim, highlighting American women in the Freedmen's Bureau Records. Browse the Transcription Center Blog, Marginalia, for additional entries.
Author's Note: I am Jenna Lugo, a virtual 2022 Because of Her Story intern for the American Women's History Initiative with Transcription Center and the National Museum of African American History and Culture. I have had the opportunity to search through thousands of transcribed Freedmen's Bureau records fostering my passion for 19th century American History. This experience has shed new light on the multitude of experiences and voices in the Reconstruction era. During this time, I have worked collaboratively on an information resource to help transcribers decipher 19th century handwriting and conventions in the Freedmen's Bureau records. I have also researched databases and records to uncover these inspiring stories focusing on women championing their own lives.