Our team has been hard at work on technical upgrades on our website, and we've incorporated a few minor features that we hope you'll enjoy. For the first time in nearly 10 years, the Transcription Center will be down for maintenance for a little over a day this month. Please read on for additional information about what to expect.
On Monday, March 20, Transcription Center will be down for maintenance.
If you work on the site regularly, be sure to wrap up all of your transcription work and save your progress before 11:59 pm EDT on Sunday, March 19. After this point, you will be unable to access the site until 10:00 am EDT on Tuesday, March 21. Enjoy your day off (you've earned it!), and we can't wait to welcome you back to the new and improved Transcription Center.
WHAT'S NEW:
Eager for a glimpse of what you can expect when the site comes back online on March 21st? While this is not a full redesign, you'll notice a few changes and improvements. In general, the site may look a little different than you're used to. We've also added some new features and fixed a few major bugs. We hope you'll enjoy these changes and look forward to your feedback.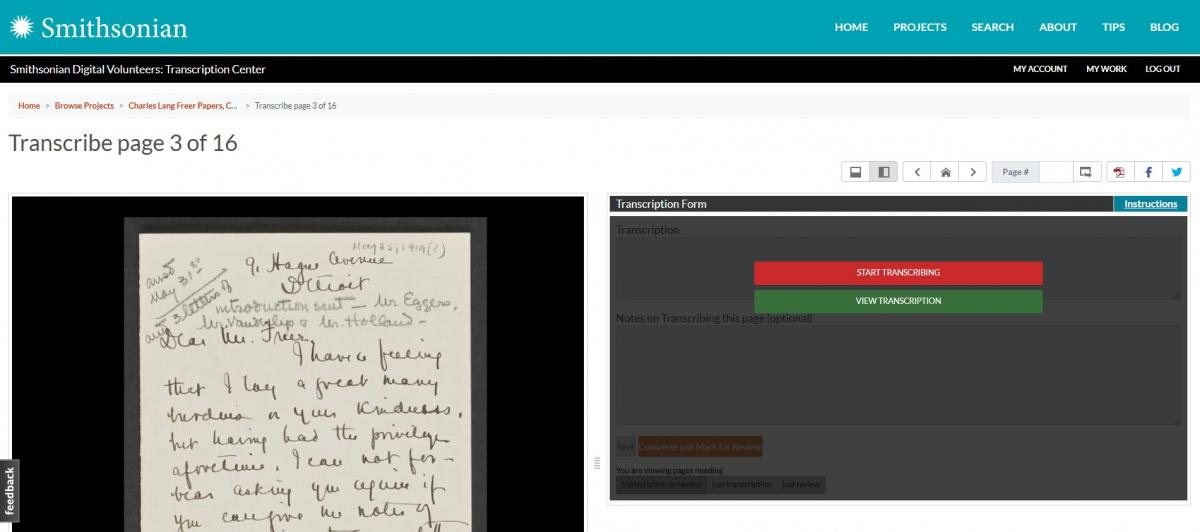 New Transcription and Review Options:
When you navigate to a page within a project, you'll notice a new set of buttons. Click on "Start Transcribing" (or "Start Reviewing") to lock the page and contribute as usual. If you're just browsing or only want to read the transcription in progress, click on "View Transcription." You'll be able to see and inspect the original document before you commit to either option. While this adds a minor additional step to the process, it will improve the flow of traffic within projects and strengthen the locking feature.
"My Work" has moved:
When logged in to your account, you'll no longer see "My Work" in the teal bar at the top of the page. It hasn't gone far, though. It now appears just below, in the black bar next to "My Account."
#MyTCStory Portal:
Learned something new or found an exciting historical discovery? Want to share your motivations for transcribing and interest in the Transcription Center? Have a tip for fellow volunpeers? To make it even easier to share with us, we've added a call for your #MyTCStory at the bottom of our home page.
WHAT WE FIXED:
Losing Your Lock:
When you're transcribing or reviewing a page, it should be locked so only you can make edits. However, many of you have experienced being kicked out of a page in the middle of your work. We've improved the locking feature to make it stronger, so you can transcribe and review worry-free.
Lingering Locks:
If you ever tried to contribute to a project only to find that almost every page was "currently being edited by another volunteer," that was probably on us. We've updated the locking feature to release immediately when you leave a page, clearing up those traffic jams so others can pick up where you left off.
Seeing Outdated Transcriptions:
A browser cache issue was causing old transcription data to load any time you returned to a page you'd worked on previously. We've (finally!) resolved this problem, so you can be confident that you're seeing the most up-to-date version of any transcription you're viewing.
Do you have questions or concerns about this upcoming downtime? We're here to support you. Reach out to our team any time to share your thoughts.