Asian American Pacific Islander Heritage Month 2021
For Asian American Pacific Islander Heritage Month this year, we're seeking your help to transcribe Smithsonian historical collections highlighting the diverse experiences of Asian Americans and Pacific Islanders in the 20th and 21st centuries. From artists and activists, to pilots and educators, the individuals featured below significantly influenced their professional fields, pushed for change, and triumphed in the face of adversity. Join us as we explore more about their lives and legacies through transcription.  
New transcription projects from the collections listed on this page will be launched online each week beginning May 1, 2021. Check back for newly linked materials in the summaries below, and explore our list of
ongoing projects
to find new collections.
Please note: many items within these collections are written in Japanese, Chinese, or other non-English languages. We ask that ALL materials be transcribed fully in the original language they are written in. If you are unfamiliar with these languages, or do not have access to the appropriate language keyboard, please move on to another project or page. We are not currently seeking translation of any of this content, but if you are able to translate and would like to do so, please place your English translated text between brackets, ex: [[translation]] English text, etc. [[/translation]]. 
Archives of American Art
Yasuo Kuniyoshi Papers
Painter, printer, and photographer, Yasuo Kuniyoshi, was born in Okayama Japan in 1889 and came to the United States in 1906. After studying art in California at the Los Angeles School of Art and Design, he moved to New York and began taking courses, and eventually teaching, at a number of New York art schools, including the Art Students League and the New School for Social Research. Kuniyoshi was also active is social organizations, such as the Japanese American Committee for Democracy. Although Kuniyoshi was barred from becoming a citizen due to American immgration laws at the time, he viewed himself as an American and took an active role in the war effort during World War II, even working with the U.S. Office of War Information to design posters. The Whitney Museum of American Art held a retrospective for Kuniyoshi in 1948, making him the first living artist to be honored in such a fashion at the museum. Learn more about Kuniyoshi from the Smithsonian American Art Museum.
Chiura Obata Papers
Chiura Obata (1885-1975) was a Japanese-American artist and educator. Born Zoroku Sato in Okayama prefecture in Japan, Obata showed artistic talent early in life. He joined the artist group Nihon Bijutsuin (the Japan Art Institute) and apprenticed with Tanryo Murata. After immigrating to the U.S. in 1903, Obata worked as a commercial designer and illustrator for newspapers, including the New World and the Japanese American, San Francisco's two Japanese newspapers. In 1921 he co-founded the East West Art Society in San Francisco. He had his first exhibition for American audiences in 1928 and began teaching at the University of California, Berkeley, in 1932. In April of 1942, as a result of Executive Order 9066, Obata and his family were forcibly relocated from Berkley to Tanforan detention center. By May, he and fellow artists had established an art school with over 900 students. The school was successful and they were able to hold an exhibition outside of the camp in July. In September of 1942, the Obatas were moved to the Topaz War Relocation center, where Obata founded the Topaz Art School. He was reinstated as an instructor at the University of California, Berkeley in 1945, and he continued to exhibit his artwork and went on sketching and painting trips with the Sierra Club. He became a naturalized citizen in 1954. Learn more about Obata from the Smithsonian American Art Museum. Transcribe and explore related projects here.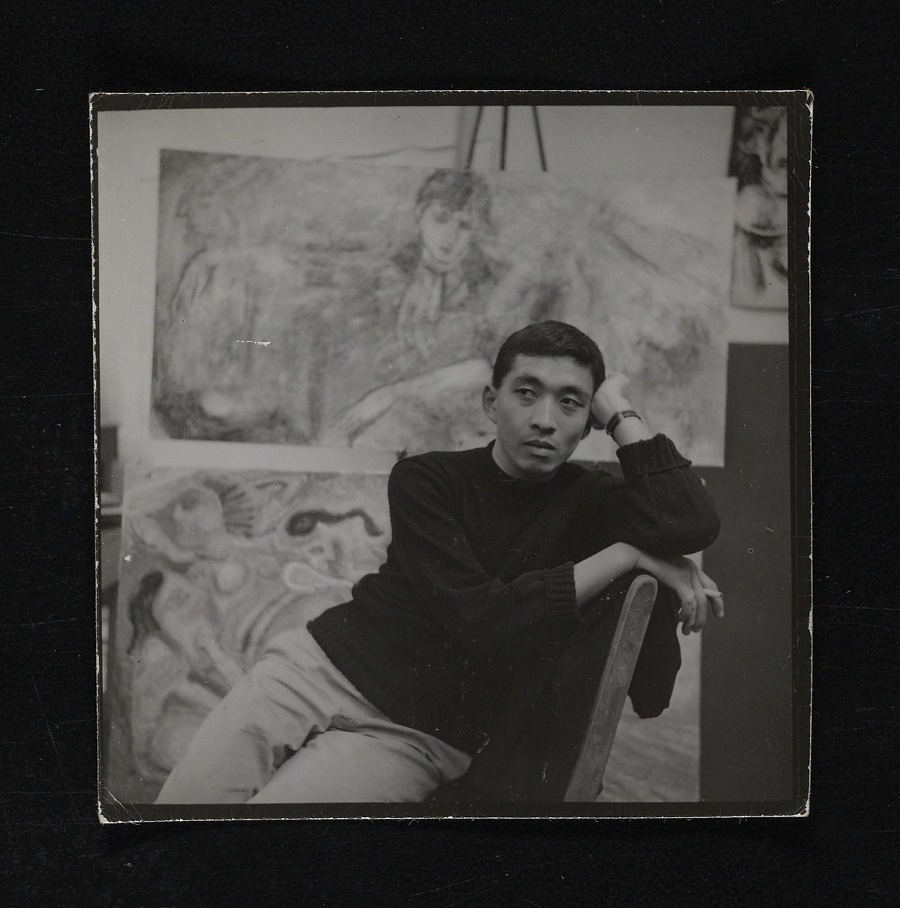 Ray Yoshida Papers
Born in Kapa'a, Hawai'i, in 1930, Ray Yoshida was a Japanese American painter, collagist, and educator based in Chicago, Illinois. He attended the University of Hawai'i for two years and completed a B.A. in Arts Education at the Art Institute of Chicago in 1953. He also served in the U.S. Army for two years during the Korean War. In 1957 he recieved his M.F.A from Syracuse University and became a faculty member at the School of the Art Institute of Chicago in 1959. He was named Frank Harold Sellers Professor in the Department of Painting and Drawing in 1971, retired as professor emeritus in 1998, and continued to teach until 2003. Yoshida was a member of the Chicago Imagists, a loose and informal group of representational artists from the late 1960s to early 1970s who were influenced by Surrealism and connected to the School of the Art Institute of Chicago. Many of Yoshida's paintings and collages were also strongly influenced by comics as well as his own collection of folk and outsider art. Learn more about Yoshida from the Archives of American Art.
Zarina Hashmi Papers
Zarina Hashmi (1937-2020), known professionally as Zarina, was a New York-based artist specializing in printmaking, drawing, and sculpture. Born in Aligarh, India, Zarina studied mathematics before discovering printmaking and papermaking in the 1960s. She studied intaglio with Stanley William Hayter at Atelier 17 in Paris, and woodblock printing at Toshi Yoshida Studio in Tokyo. Through her art, Hashmi explored themes of geographical and social borders, migration, and home, often incorporating text in her native Urdu. Learn more about Hashmi from the Archives of American Art.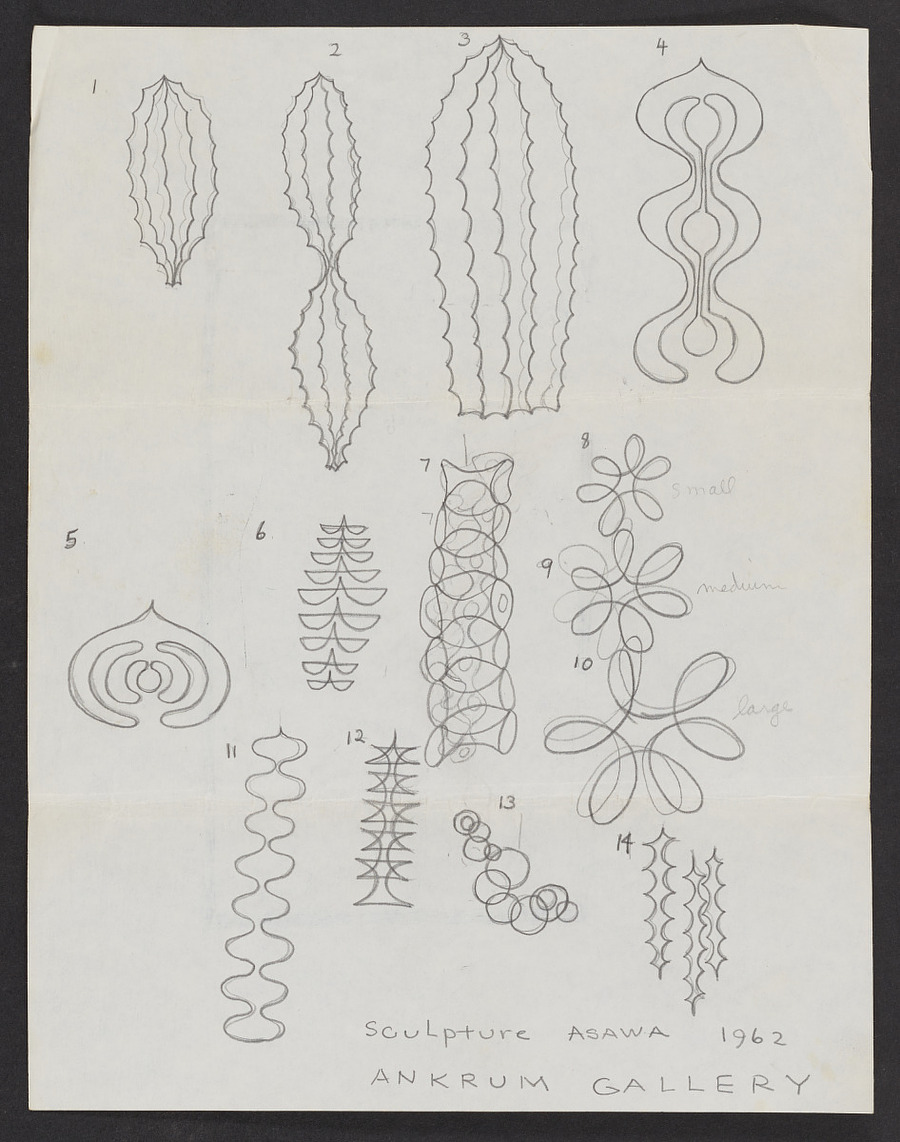 Ruth Asawa Artists' Files, 1960-1963, Ankrum Gallery Records
Renowned Japanese-American sculptor and arts education advocate, Ruth Asawa was born in California in 1926. Her work can be found in the collections of the Guggenheim Museum, the Whitney Museum of American Art in New York, and throughout museums and public areas of San Francisco. During WWII, Asawa, along with her mother and five of her six siblings, were sent to the Rohwer War Relocation Center in Arkansas. Her father, Umakichi Asawa, was arrested by FBI agents in February 1942 and interned at a detention camp in New Mexico. After leaving Rohwer in 1943, Asawa attended school in Milwaukee and later, at Black Mountain College in North Carolina where she took courses in a variety of different art forms, eventurally experimenting with wire. Her looped-wire sculptures earned her prominence in the modern art world, with exhibitions of her work in museums in New York and Californa beginning in the 1950s and 1960s. Learn more about Asawa from the Archives of American Art.
Anacostia Community Museum
Miu Eng Eastern Wind Collection 
Miu Eng (1955-present) is a Chinese American designer whose work helped document Asian American community activism in the Washington, D.C. area in the 1970s and 1980s. Born in 1955 in Hong Kong, Eng's family immigrated to the United States when Eng was 11 years old. They settled in Washington, D.C.'s Chinatown on New York Avenue NW, where her grandfather had been working as a restaurant chef. Eng's collection of materials in the Anacostia Community Museum dates from 1973-1983 relate to Eng's role as an activist and artist in Washington D.C.'s early Asian American movement. The collection includes newsletters, photographs, and booklets documenting her activities with Eastern Wind, a pan-Asian American youth organization formed in 1973 that sought to document and address Asian American issues in the D.C. area. The collection also includes posters designed by Eng for several D.C. Asian American community programs of the late 1970s and early 1980s. Learn more about Eng from the Anacostia Community Museum Archives. Click here to find projects.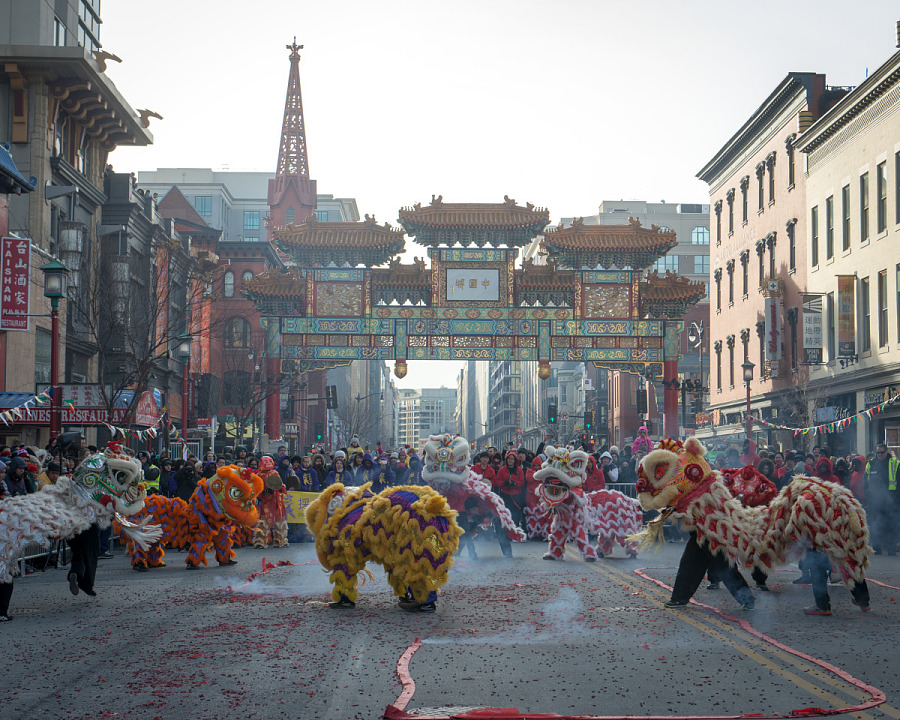 Chinese-American Oral Histories, "A Right to the City" Exhibition Records 
In the early twenty-first century, as Washington, DC was experiencing rapid population growth, mounting tensions over gentrification, and persistent inequality, the Anacostia Community Museum's "A Right to the City" exhibition explored the history of neighborhood change and civic activism in the nation's capital. Focused on the dynamic histories of six DC neighborhoods—Adams Morgan, Anacostia, Brookland, Chinatown, Shaw, and Southwest—the exhibition recounted the story of these communities through the eyes of the Washingtonians who helped shape and reshape the city in extraordinary ways: through their fights for quality public education, healthy and green urban spaces, equitable development and transportation, and a genuinely democratic approach to city planning. The oral histories that comprise this collection were conducted as part of the research for the exhibition. The audio and video interviews were conducted between 2016-2018. Included in Transcription Center this month are oral histories from Chinese-Americans living in Washington, DC. Click here to listen - and help transcribe - these oral histories. 
National Air and Space Museum Archives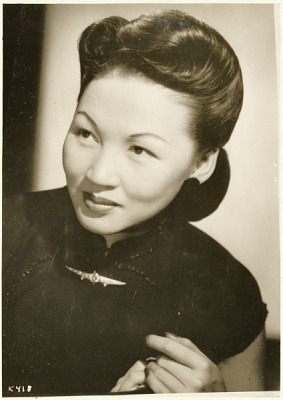 Lee Ya-Ching Papers 
Aviator Lee Ya-Ching was born in Guangzhou, China in 1912. Intent on becoming a pilot herself from an early age, Ya-Ching enrolled in in Ecole Aero Club de Suisse in Switzerland and, in 1934, became the first woman to receive a pilot's license from the school. Determined to continue her education, Ya-Ching went to the United States and attended the Boeing School of Aeronautics in Oakland, California in 1935, becoming the school's first licensed woman. Upon completion of her training at the Boeing school Ya-Ching returned to China and began campaigning for a Chinese pilot's license, eventually obtaining the license in 1936. That same year, Ya-Ching and some fellow pilots opened a civilian flying school in Shanghai. When Japan invaded China in 1937, Ya-Ching volunteered to fly for her country, but was refused. Undeterred, she served her country by establishing hospitals. Leaving Shanghai for Hong Kong just before the city fell, she was finally given the opportunity to fly for China by piloting Red Cross planes ferrying supplies from Hong Kong to Guangzhou. Realizing that China needed aid and supplies, Ya-Ching embarked on a Goodwill Tour of the United States and Canada in 1938. She eventually returned to China after the war's end, and settled in later years back in the United States in the San Francisco area. Help transcribe correspondence and professional materials from the Papers of Lee Ya-Ching to learn more about her groundbreaking accomplishments in the field of aviation. Learn more about Lee Ya-Ching from Air and Space Magazine. Click here to find transcription projects. 
National Museum of American History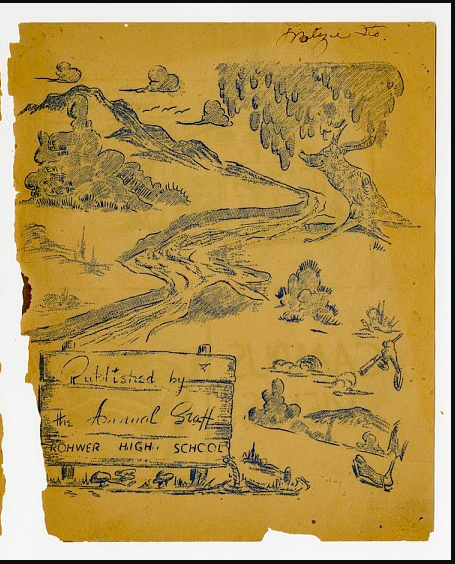 1943 Rohwer Center High School Yearbook 
This yearbook, which belonged to Mitsuye Ito, was from the 1943 Rohwer Center High School at the Rohwer Relocation Center in Desha County, Arkansas. Ito and her family were among the many Japanese Americans who were forcibly removed from their homes and business on the west coast and incarcerated in relocation camps during World War II. The yearbook was made by the staff and the foreword states that the faculty hopes the students have pleasant memories of school and to remember their theme, the Mississippi River, as a symbol of life and perpetual forward motion. They remind the students that they are important to the Nation. The yearbook is signed by numerous students and teachers. This Rohwer Relocation Center was one of the two incarceration camps built in Arkansas to house Japanese Americans from the West Coast. The camp was active from September 18, 1942, to November 30, 1945. Learn more about Rohwer High School and the Japanese American Incarceration Era from the National Museum of American History.
Ralph Rinzler Folklife Archives and Collections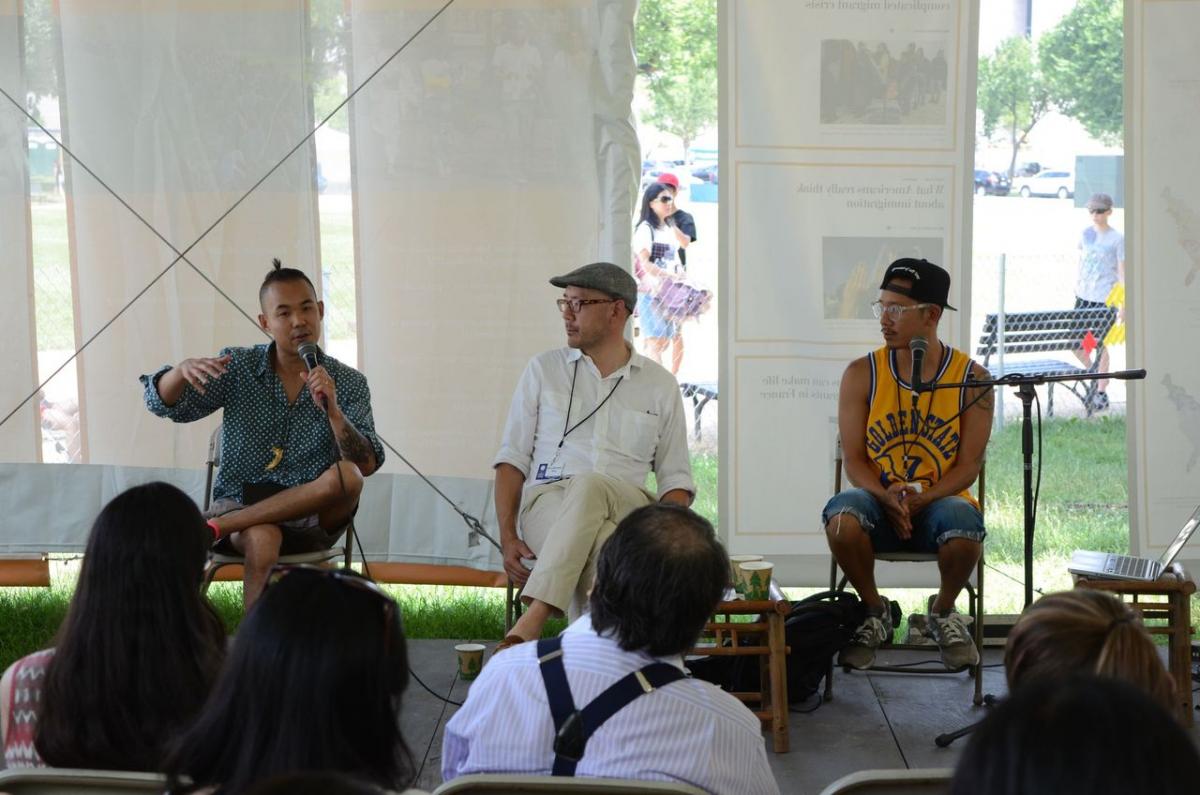 Smithsonian Folklife Festival Recordings, Center for Folklife and Cultural Heritage
Since the earliest days of the Smithsonian Folklife Festival (formerly Festival of American Folklife), Asian Pacific American traditions and stories have had a prominent place in a range of activities on the National Mall. Throughout the month of May, the Center for Folklife and Cultural Heritage (CFCH) will publish a diverse collection of narrative sessions to TC, recorded between 2010 and 2017. Transcribers will be invited to learn about a wide range of cultural customs, migration experiences, community building, foodways and more while helping the Smithsonian make these recordings more accessible. (Image: Artists and activists Bambu and DJ Phatrick discuss Asian American Hip Hop with Oliver Wang at the 2016 Smithsonian Folklife Festival. Photo by Ravon Ruffin.) Explore projects here. 
Explore previously transcribed collections related to Asian, Asian American, and Pacific Islander Heritage
The story of Asian Americans and Pacific Islanders can be found throughout the Smithsonian's historic collections, and many of these materials have been fully transcribed by digital volunteers over the past few years. Explore the 1932 and 1941 diaries of artist Reuben Tam; Chinese and Chinese-American numismatics collections; and letters, ledgers, and more from the National Museum of Asian Art.