Black History Month 2021: African American Literature and Writing
For Black History Month this year, we're seeking your help to transcribe Smithsonian historical collections highlighting African American expression through writing. From poetry and memoirs, to screenplays and personal family letters, featured materials represent the multitude of ways that Black Americans have used writing - both personal and public - to share their experiences, speak out against racial injustice, influence society, and maintain familial and community connections. 
Beginning on February 1st and continuing weekly throughout the month, the collections featured below will be published online as new transcription projects, so keep an eye on this page and follow along with us on social media for updates. Get a jump start by exploring upcoming and ongoing projects below from the National Museum of African American History and Culture and the Anacostia Community Museum. 
Join Us for A Free Webinar - Collections Deep Dive: Exploring Black History Month Projects!
On March 30, 2021, we're sitting down with NMAAHC Museum Specialist of Language and Literature,Tulani Salahu-Din, to discuss the history of African American writing, the lives and legacies of Black authors like James Baldwin, Paul Laurence Dunbar, and Charles Chesnutt, and the impact of transcribing related collections as part of TC's Black History Month campaign. 
Learn more and register for our FREE Zoom webinar: https://smithsonian.zoom.us/webinar/register/WN_lhNN1FwgQCe3bZYslrxJCg.
*Please note, this event has been rescheduled from its original February 23, 2021 date.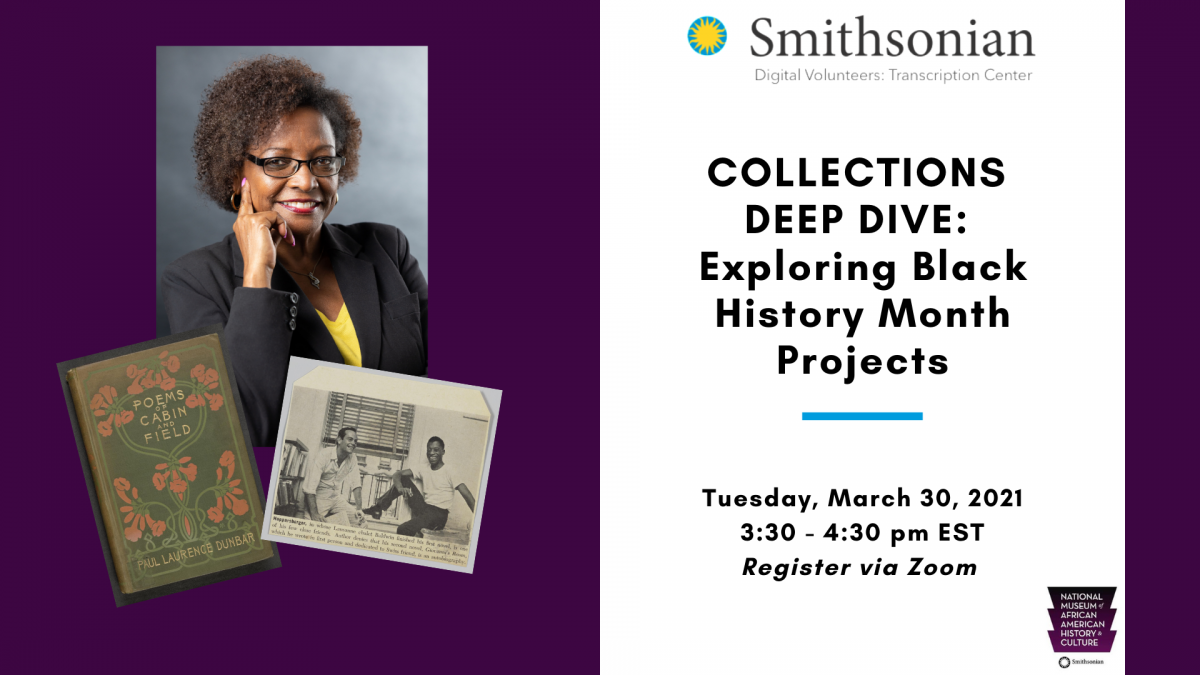 National Museum of African American History and Culture
James Baldwin (1924-1987) spent most of his life speaking out on the issues of race relations and racial discrimination in America. Through numerous bestselling novels, plays, and essays written during the 1950s through the 1970s, Baldwin addressed themes of racial and sexual oppression by connecting many of his personal experiences to national and international issues. Although Baldwin spent the bulk of his career living and working in Europe, mainly France and Turkey, he often returned to the United States to take part in events surrounding the American Civil Rights Movement.  These materials are from the James Baldwin Collection Archive. The collection comes from Baldwin's sister, Paula Baldwin Whaley, offering a wide range of material from Baldwin's life including educational materials, personal letters, newspaper clippings, and an invitation from President John F. Kennedy to a luncheon at the White House.  Included in the correspondence is a letter from Reverend Dr. Martin Luther King, Jr. praising Baldwin's work. Help us transcribe this important archival collection that documents Baldwin's life from childhood through his illustrious career.
Materials from Actor, Playwright, and Screenwriter Lonne Elder III
Lonne Elder III (1927–1996) was an actor, playwright, and screenwriter. Elder was born in Georgia and grew up impoverished during the Great Depression. He was orphaned at a young age and moved to New Jersey to live with relatives. In 1952, Elder was drafted into the army and was stationed near Fisk University in Nashville, Tennessee. There he met the poet and playwright Robert Hayden who inspired him to write. Elder moved back to New York in 1953, immersed himself in Harlem's literary scene, and began to study acting. Elder's first role was in the renowned Broadway play, "A Raisin in the Sun." He was the head playwright of the Negro Ensemble Company's playwrights' division from 1967 until 1969, when his play "Ceremonies in Dark Old Men" was selected for production. In 1971, Elder shifted to writing television and films, including the Academy Award nominated "Sounder." By the 1980s, Elder became disillusioned with Hollywood due to the lack of movement in changing the way African Americans were portrayed in Hollywood films. Help us share more of Elder's work by transcribing the gallery proof of the script for "Ceremonies in Dark Old Men," and his screenplay for "Sounder." 
Published Poems, Memoirs, and Stories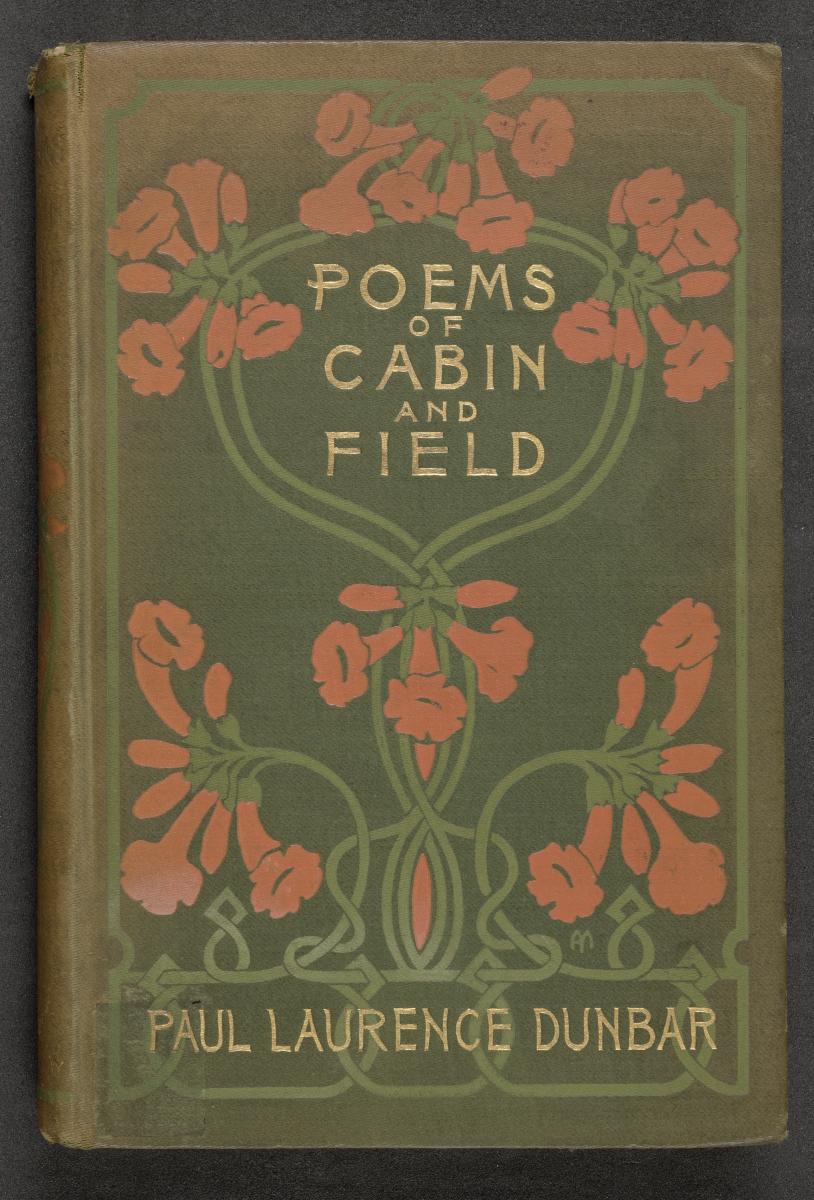 Poetry by Paul Laurence Dunbar 
Paul Laurence Dunbar (1872–1906) was a renowned poet, author, and playwright. He was born in Ohio to parents who were formerly enslaved in Kentucky. Dunbar began writing poetry from a young age, publishing his first work at sixteen in a local newspaper in Dayton, Ohio. Dunbar's successful and powerful works led him to national recognition where he became known for writing in the Negro dialect associated with the antebellum South. In addition to over a dozen works of poetry and numerous short stories and novels, Dunbar also wrote the lyrics for the musical "In Dahomey" (1903), which was the first musical produced, written, and acted by African Americans on Broadway. After it's Broadway debut, the show toured the United States and the United Kingdom. Help us transcribe the more than 100 poems featured in three of Dunbar's publications: "Poems of Cabin and Field" from 1899, "Lyrics of Love and Laughter" from 1903, and "When Malindy Sings," from 1896, to see how Dunbar used both dialect and standard English verse in his poetry.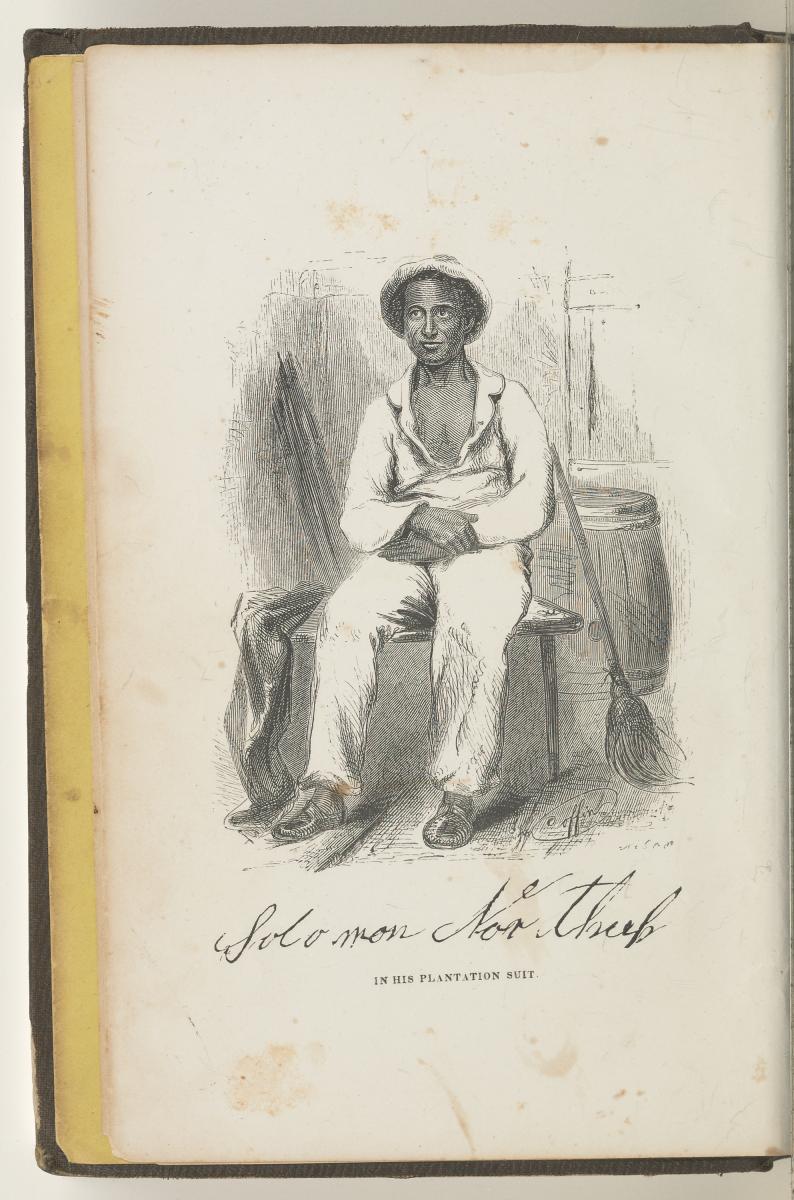 Twelve Years A Slave, by Solomon Northup, 1853
Solomon Northup (1808–1875), was born free in Saratoga Springs, New York around 1808. Northup was a farmer and professional violinist who traveled to Washington, D.C., in 1841 for a traveling musician's job. While in Washington, he was kidnapped and sold into slavery. Northup was enslaved in several Louisiana plantations but was able to contact his family. His family enlisted the help of many, including the New York governor, to free Northup. At the time, New York State had a law in place that provided aid to New York citizens who had been kidnapped into slavery. After 12 years of enslavement, Northup was freed in January 1853. Later that year, Northup wrote and published his memoir, Twelve Years A Slave. Northup was more fortunate than many to gain his freedom and became active in the abolition movement and aided in the efforts of the Underground Railroad.  This copy is a first edition, noted as the Seventeenth Thousand published copy in 1853. Help us transcribe this rare example of a firsthand account of an enslaved man that gripped the nation and became a rallying call for abolition.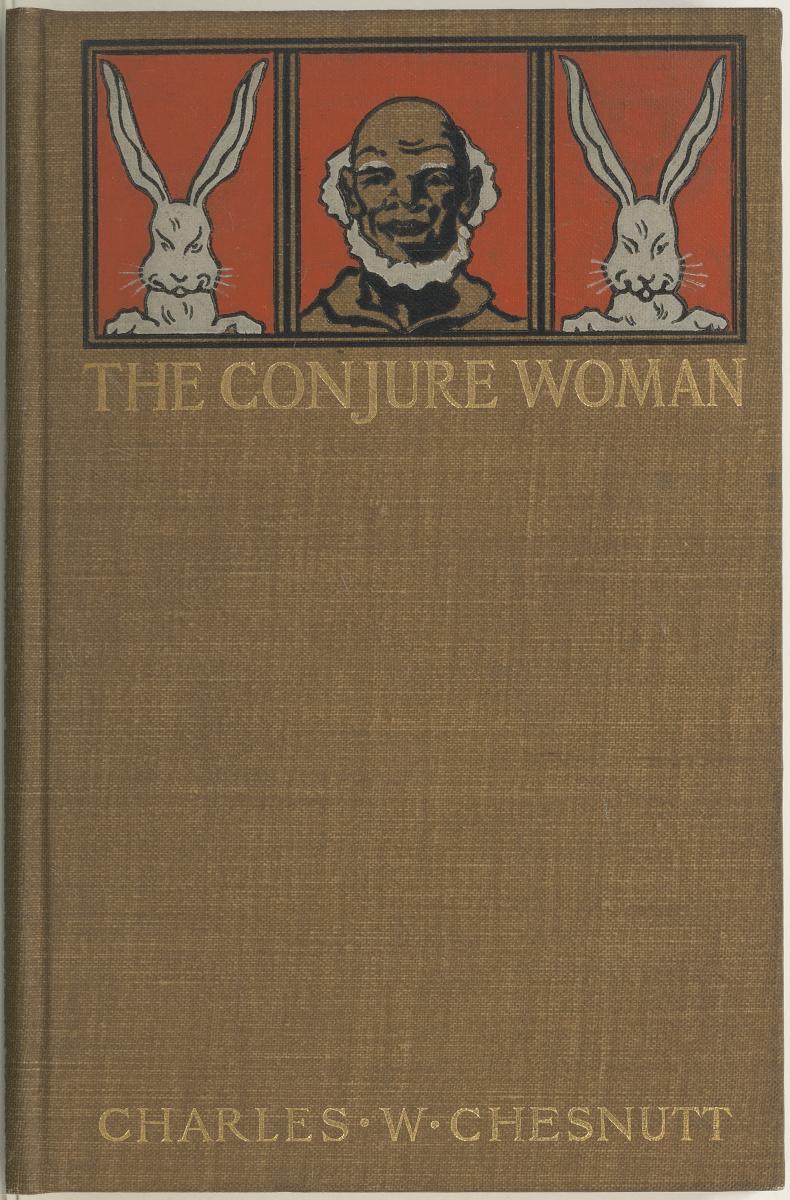 The Conjure Woman, by Charles Chesnutt, 1889
In 1899, Charles W. Chesnutt published his first book, "The Conjure Woman," a collection of seven short stories that deal with race relations in both the pre- and post-Civil War South. The book is narrated by a formerly enslaved man named Uncle Julius McAdoo and a northerner named John. Uncle Julius tells the stories to John and his wife Annie who are considering purchasing an old plantation in the South. Help us transcribe this first edition publication of "The Conjure Woman" and see how Chesnutt uses the juxtaposition of the two narrators to emphasize differences in language and the complexities of race relations during this time period. 
Magazines and Broadsides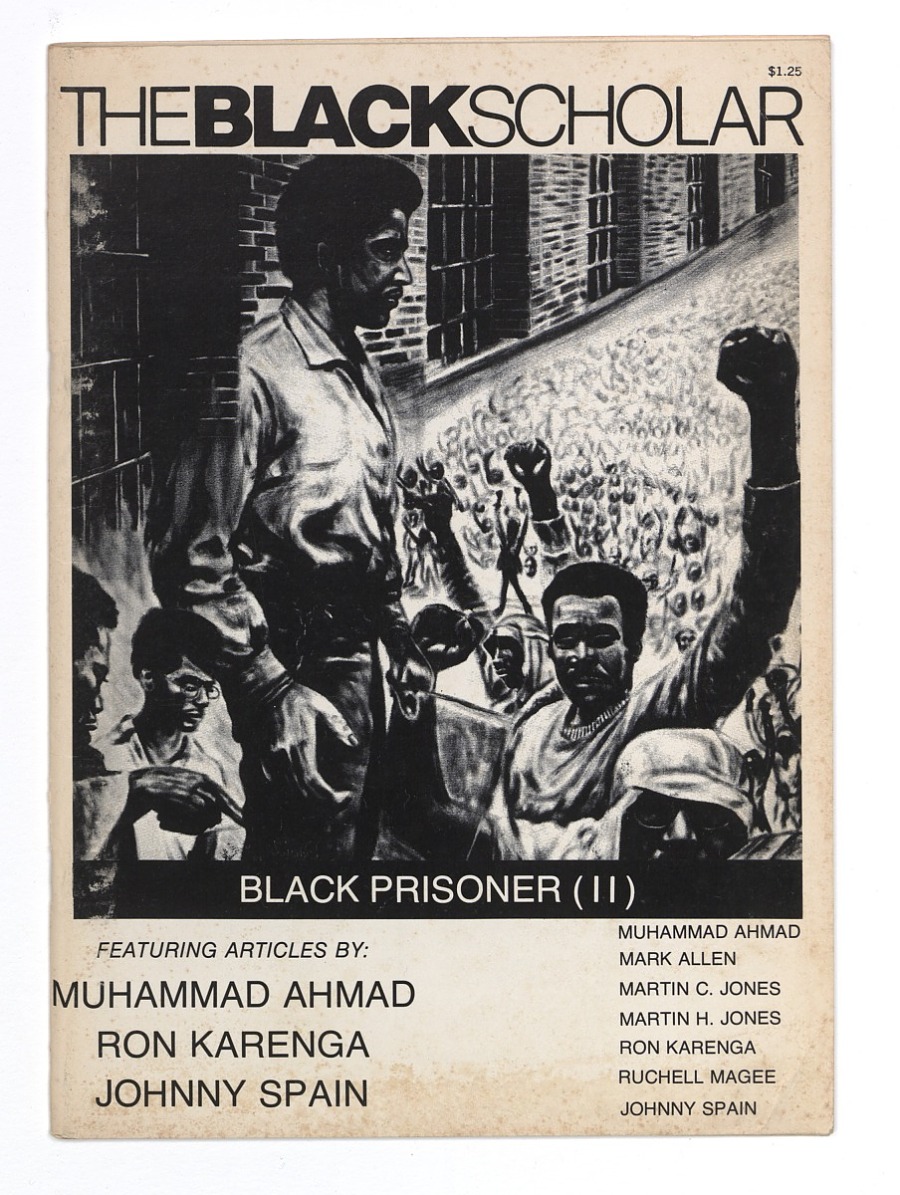 The Black Scholar, Vol. 4 No. 2, 1972
"The Black Scholar: A Journal of Black Studies and Research" was founded in 1969 by Robert Chrisman and Nathan Hare in San Francisco, California. The Black Scholar offered a place for dialogue among African American scholars, activists, and artists. Essays in the journal recorded, analyzed, and debated various aspects of social, gender, sexuality, and ideology in African Americans life and the efforts made to change them. "The Back Scholar" is still published today and maintains its place as the leading forum for African American politics, culture, and activism in the United States. Help us transcribe this important journal that offers a glimpse into African American politics, life, and community during this period.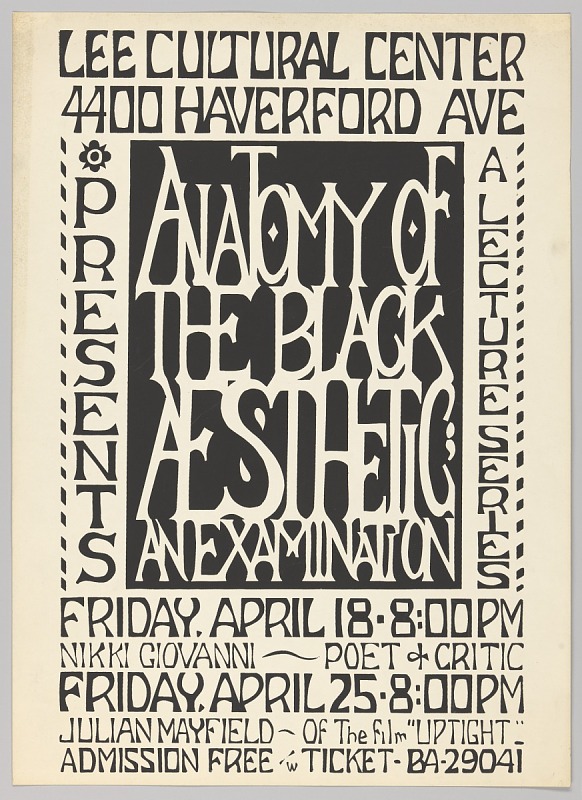 Broadside for the lecture, "Anatomy of the Black Aesthetic: An Examination" 
This broadside for the lecture, "Anatomy of the Black Aesthetic: An Examination," is an advertisement for a lecture series at the Lee Cultural Center in 1969, featuring Nikki Giovanni and Julian Hudson Mayfield. Giovanni is a published poet whose work focuses on African American identity. Mayfield was an actor, novelist, and activist who spoke during the event on the film "Uptight," which he wrote and starred in. Help us transcribe this broadside that offers insight into the literary interests of African American students in Philadelphia.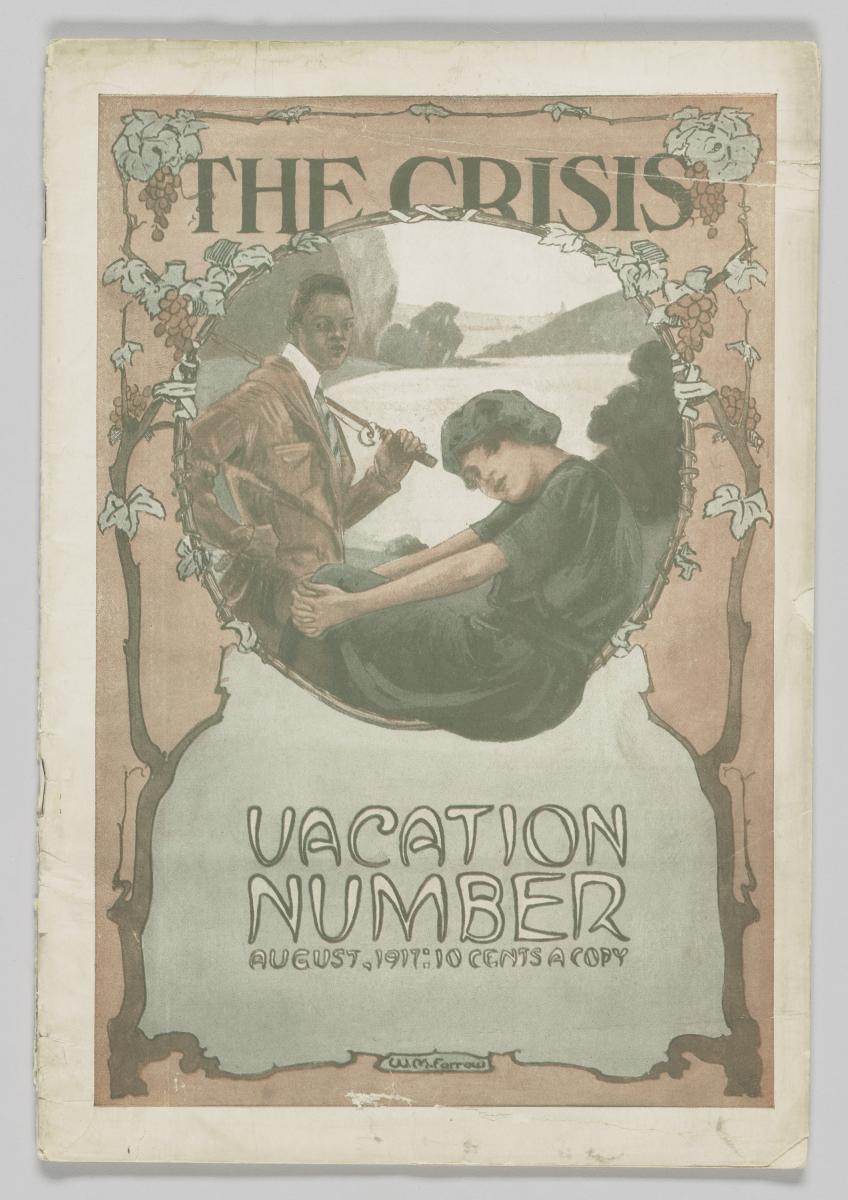 Issues of The Crisis, NAACP Magazine
The Crisis is the official magazine of the National Association for the Advancement of Colored People (NAACP). Founded by W. E. B. Du Bois (editor), Oswald Garrison Villard, J. Max Barber, Charles Edward Russell, Kelly Miller, W. S. Braithwaite, and Mary Dunlop Maclean, The Crisis has been in continuous print since 1910, making it one of the oldest African American-focused publications in the world. Named after the popular James Russell Lowe poem, "The Present Crisis," the Crisis presented articles and essays on civil rights, history, politics, and culture. Help us transcribe the ads, articles, and images in The Crisis and learn about the experiences of African Americans in the early 20th century.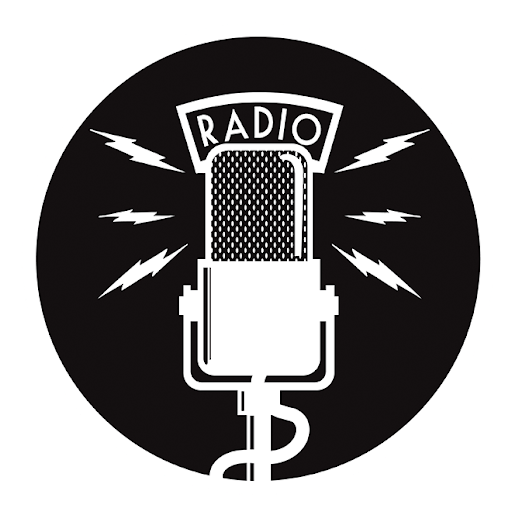 The Literary Corner, Audio Recordings
As an undergraduate student at the University of Wisconsin, Madison, Brooks B. Robinson produced a 26-part radio series in 1977–1978, covering a variety of topics about African and African American literature. The Literary Corner: Black Writers of the World was broadcast on Wisconsin public radio. Robinson worked with professors in the department of African Languages and Literature and Afro American Studies and hosted each of the 15-minute radio programs. The programs included interviews and reading with professors and authors. The program tapes illustrate the kind of scholarly attention African and African American literature was receiving during the growth of African American studies departments in American colleges and universities. Help us transcribe these tape recordings to learn about African American literature and hear the author's voices as they read their own works.
Correspondence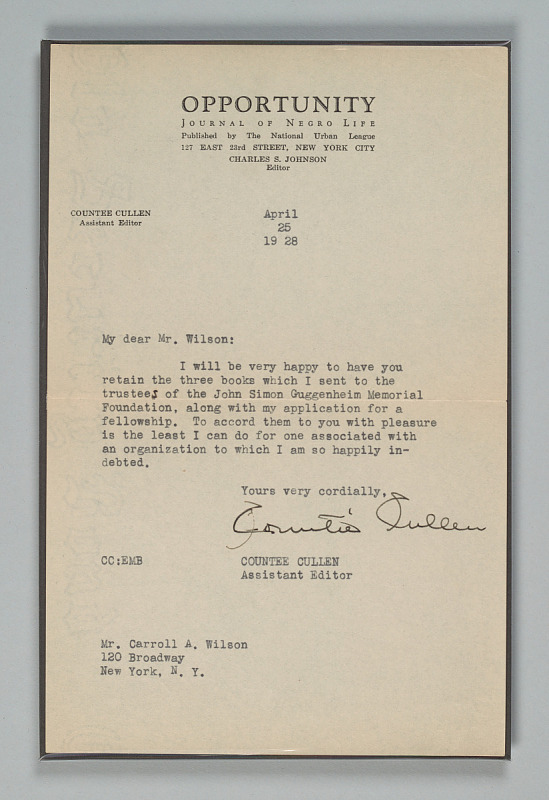 Letter to Mr. Carroll Wilson from Countee Cullen, 1928
Countee Cullen was an American poet and editor who was a leading voice of the Harlem Renaissance.  In 1923, he won second prize in the Witter Bynner undergraduate poetry contest, which was sponsored by the Poetry Society of America, with a poem entitled The Ballad of the Brown Girl. In 1925, Cullen won first place in the contest and graduated from New York University.  He was accepted into the master's program at Harvard and published his first volume of poetry titled Color. Two years later, he published two works, Copper Sun and The Ballad of the Brown Girl.  In 1928, he was awarded the Guggenheim fellowship to write poetry in France. During this tenure he published The Black Christ and Other Poems. Help us transcribe this 1928 letter from Countee Cullen to Carroll Wilson, a trustee of the John Simon Guggenheim Memorial Foundation, regarding a set of books and fellowship application submitted to the Foundation.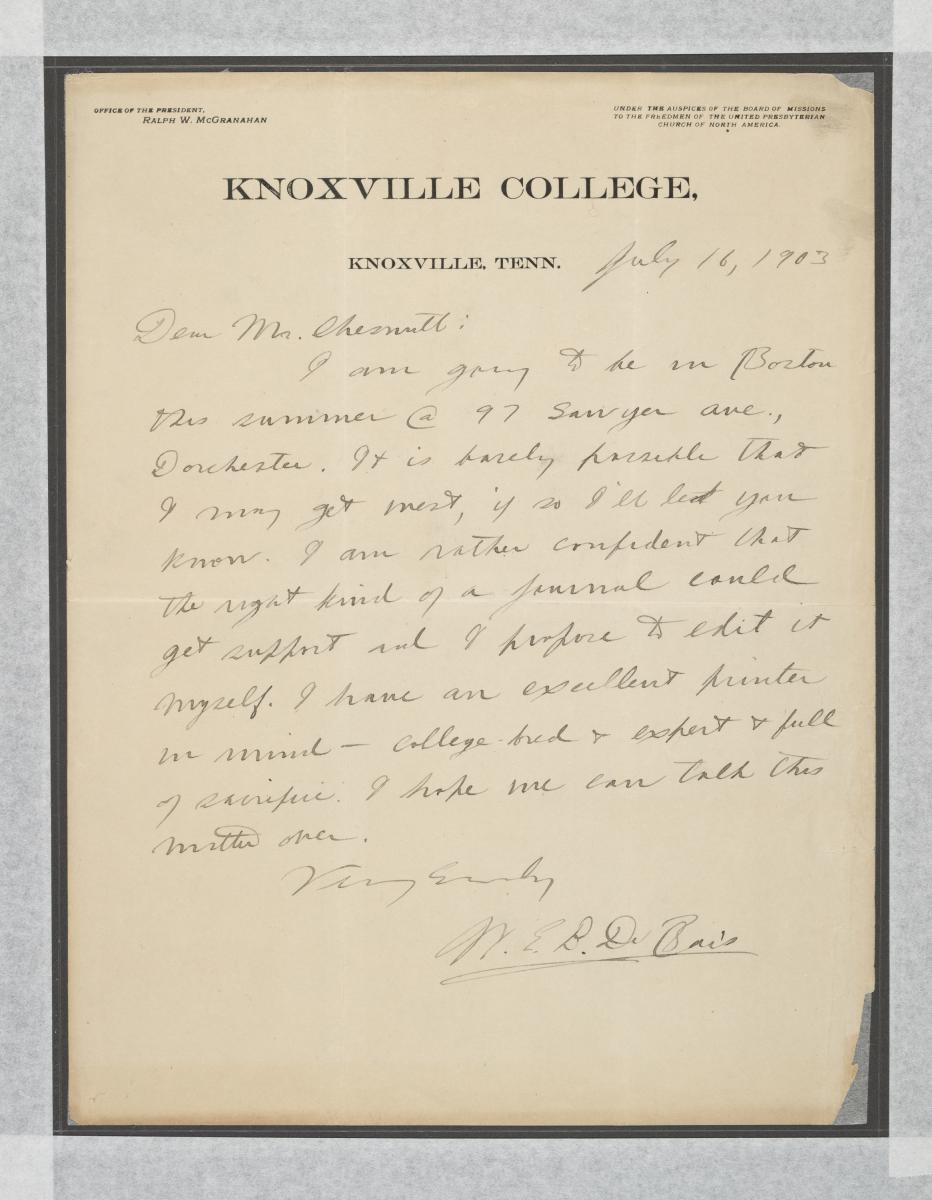 Letter to Charles Chesnutt from W. E. B. Du Bois, 1903
W.E.B. Du Bois (1868–1963) was the preeminent African American public intellectual/activist of the early 20th century while Charles Chesnutt (1858–1932) was a prominent author of fictional works that dealt with issues facing African Americans of the era. In this letter from W. E. B. Du Bois to Charles Chesnutt, Du Bois proposes the creation of a "journal" dealing with African American life. This is likely an early expression of his interest in developing what becomes The Crisis, the official journal of the NAACP, which was first published in November 1910. Help us transcribe this letter to learn more about the creation of "The Crisis."
Anacostia Community Museum
Contained in more than 100 letters, are the stories and experiences of the Fractious Family of Washington, D.C. The correspondence was written during WWII from Blanche Queen to her future husband, Robert Fractious. Detailing everyday life, their growing romance, Robert's time overseas as part of the war effort, and political and social news, the letters present a rich example of one Black family's experience in the twentieth century.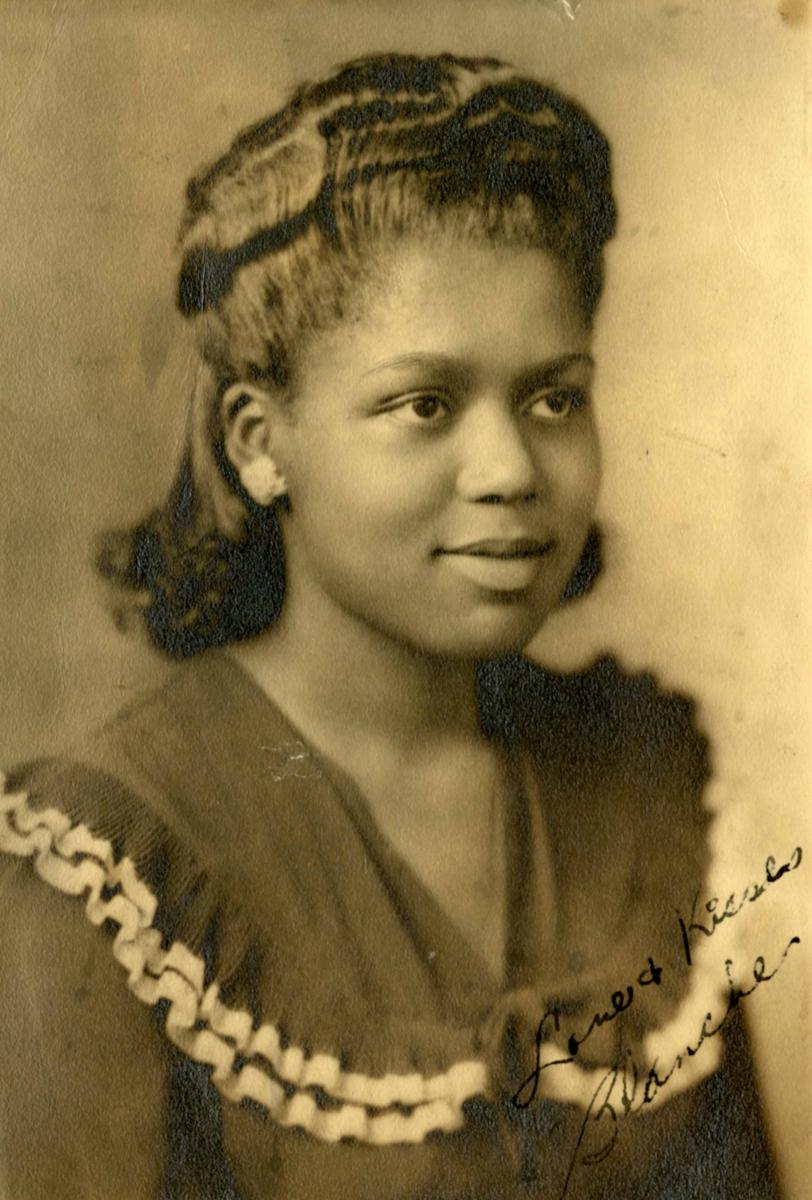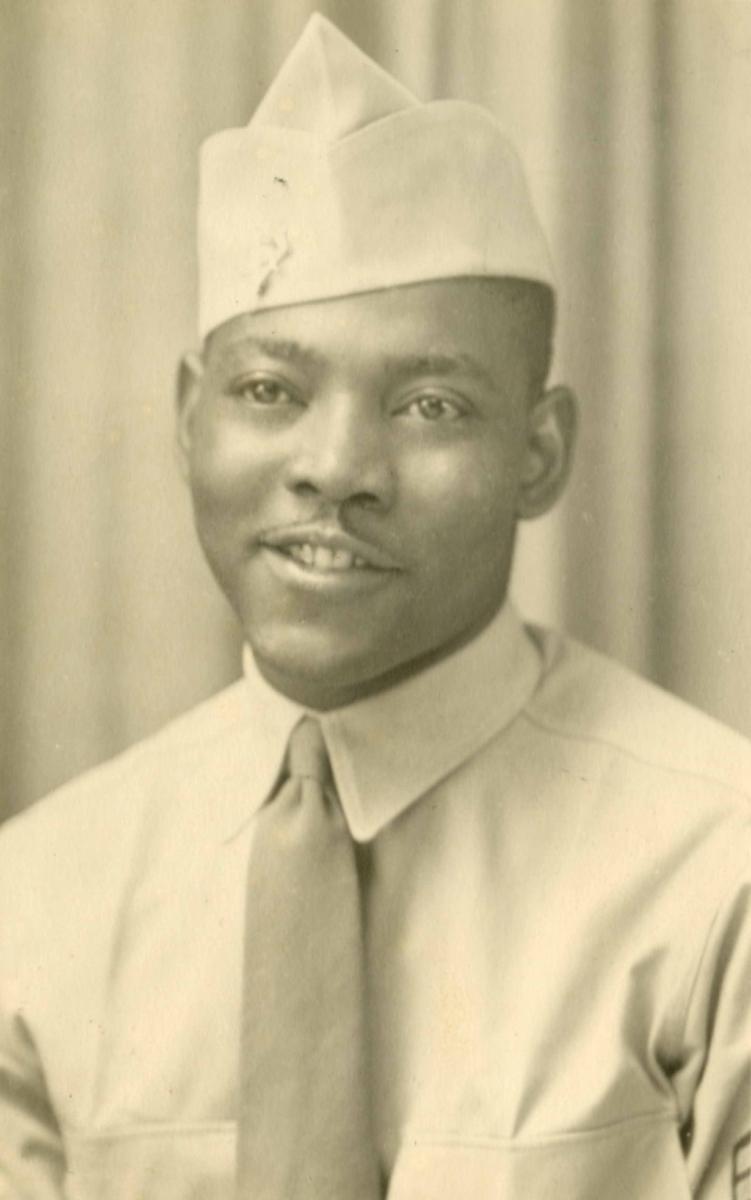 Explore Other Ongoing and Completed Transcription Center Projects Related to African American History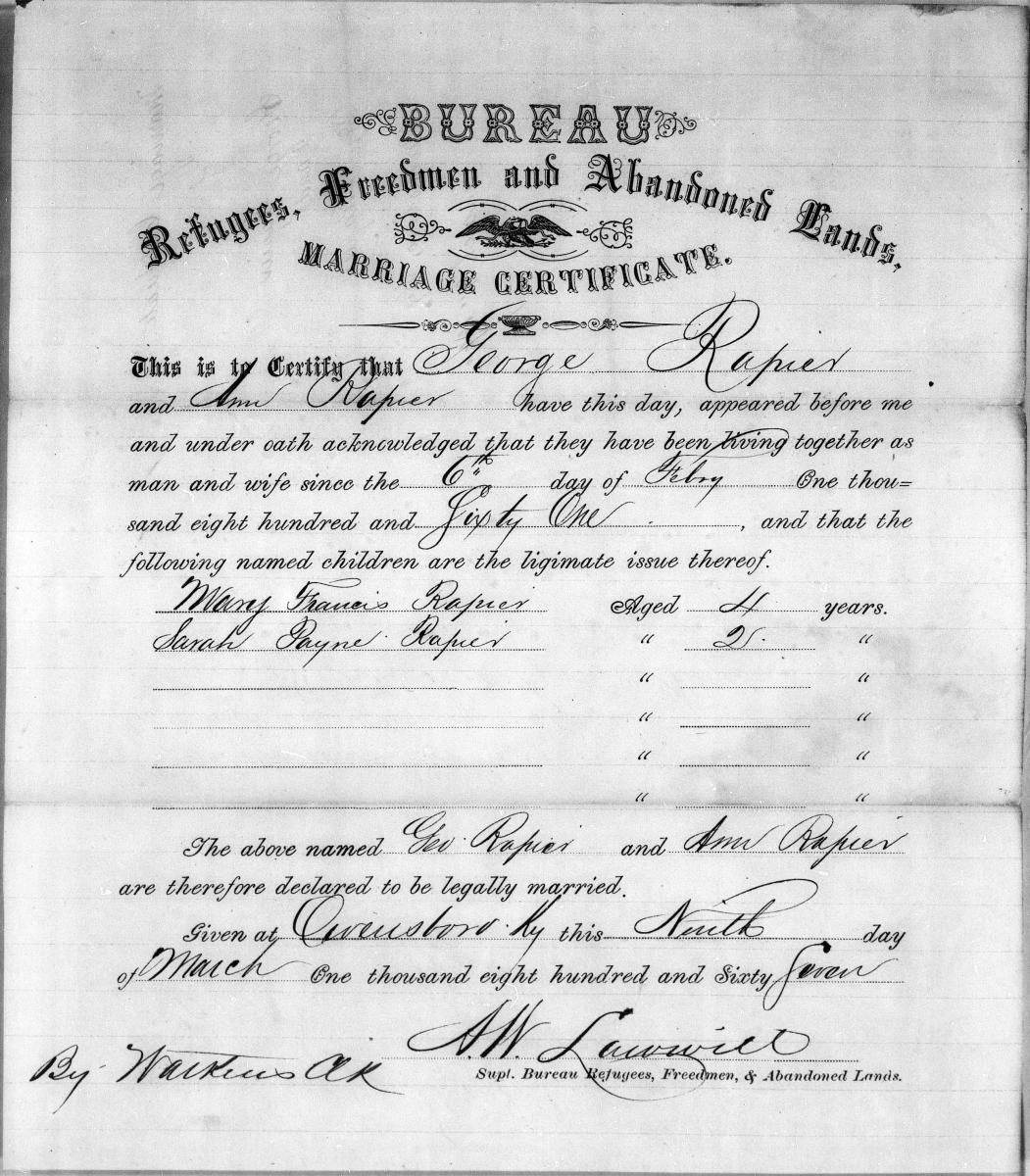 The Bureau of Refugees, Freedmen, and Abandoned Lands, often referred to as the Freedmen's Bureau, was established on March 3, 1865. The duties of the Freedmen's Bureau included supervision of all affairs relating to refugees, freedmen, and the custody of abandoned lands and property. Please help us transcribe these records to learn more about the experiences of formerly enslaved men and women  during the Reconstruction Era.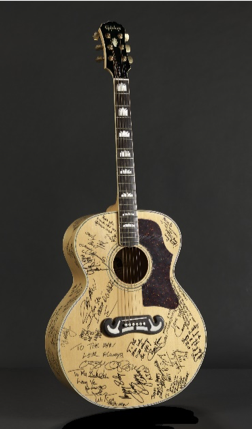 Black History Month Projects from 2018, 2019, and 2020
See what African American history collections volunpeers have transcribed during our Black History Month Transcription Center campaigns in the past, including publications from the 1930s, papers from Frederick Douglass, materials from James Brown and other musicians, and Playbills featuring African Americans in theater.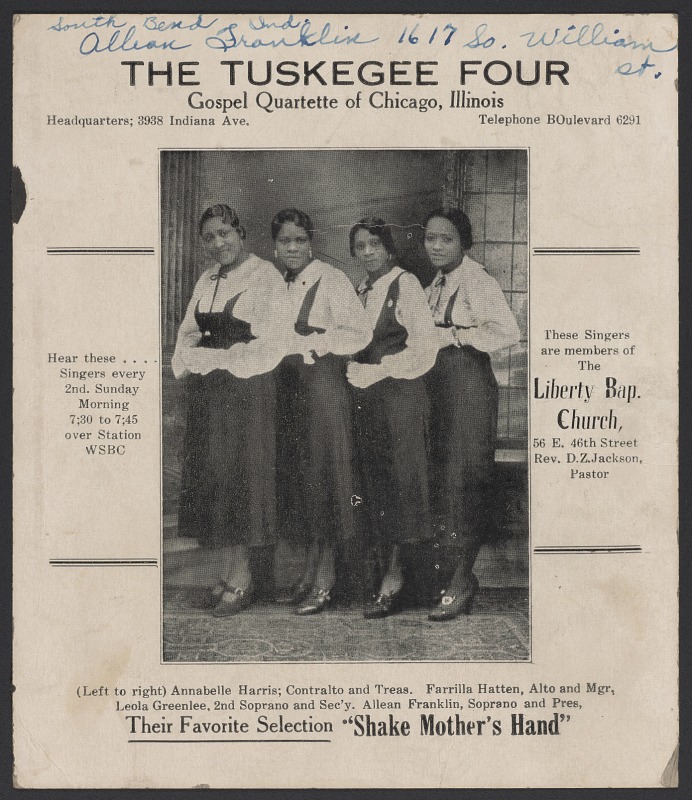 From the personal papers of famous entertainers, scientists, and leaders, to the yearbooks of high school and HBCU students, volunpeers have transcribed over 1,300 projects related to African American history. Historical collections from across the Smithsonian are included, and date from the 18th century to the present day. Click here to explore them all and join us as we transcribe new and ongoing projects--making these stories more accessible to researchers around the world.