Black History Month 2022: African American Archives
For Black History Month this year, we're seeking your help to transcribe Smithsonian archival collections highlighting African American personal and professional life in the 19th and 20th centuries. 
Beginning on February 1st and continuing weekly throughout the month, the collections featured below will be published online as new transcription projects, so keep an eye on this page and follow along with us on social media for updates. Get a jump start by exploring all the upcoming and ongoing projects below from the National Museum of African American History and Culture, the National Air and Space Museum, and the Anacostia Community Museum. 
Norma Merrick Sklarek Archival Collection 
National Museum of African American History and Culture
Norma Merrick Slarek (1926-2012) was a renowned architect and a woman of firsts who broke racial and gender barriers in the male-dominated world of architecture. In 1980, Sklarek became the first African American woman elected to the AIA College of Fellows (pictured above) - the highest honor within the architecture profession - and in 1985, she became the first African American woman to co-found an all-female owned architectural firm, when she created Siegel-Sklarek-Diamond Architects (SSD) with fellow veteran architects Margot Siegal and Katherine Diamond. Sklarek's many projects include The Pacific Design Center (1975), a multi-use facility utilized by California's bustling apparel and fashion industry, renovation and redesign of California's San Bernadino City Hall (1972) and the U.S. Embassy in Tokyo, Japan (1976), as well as Terminal One at the Los Angeles International Airport (1980s). This collection at NMAAHC highlights Sklarek's journey and accomplishments as she paved the way for future women architects and architects of color. The collection is comprised of family records, resumes, business ephemera, photographs, correspondence, publications, clippings, architectural drawings, as well as her many awards and accolades. Learn more about Sklarek's pioneering life and work by exploring her collection's finding aid, and keep an eye on this page for related transcription projects. 
Dale L. White, Sr. Papers 
National Museum of Air and Space Archives 
Dale L. White, Sr., (1899-1977) was a prominent African American pilot. In 1933, White began his flight training at Curtiss-Wright Aeronautical University in Chicago, Illinois, and he received his pilot's license in June 1936. For the next decade, he was very active in Chicago African-American flying circles and was a member of the Challenger Air Pilots Association (CAPA), a group organized by Chicago-area African-American aviation enthusiasts. In the spring of 1939, the CAPA decided to organize a "Goodwill Flight" to Washington, D.C., to lobby for a change in legislation so the African Americans could join the US Army Air Corps. Dale White was chosen to be the pilot and Chauncey Spencer was selected as the navigator for this flight. In August of 1939, the CAPA broadened its scope and was incorporated as the National Negro Airman's Association of America (NAAA), and White was elected to be vice president. During the rest of 1939, he made numerous flights in and around Chicago. White became an aircraft mechanic at Wright Patterson Field in Dayton, Ohio in 1940, where he worked until his retirement in 1971. Included in the Dale L. White, Sr. Papers at NASM Archives are flight logs, association records, and a scrapbook detailing the lives and accomplishments of African American aviators. Look for upcoming projects from the collection here, and check out this blog post for more information on White's life and career. 
Charlene Hodges Byrd Collection 
National Museum of African American History and Culture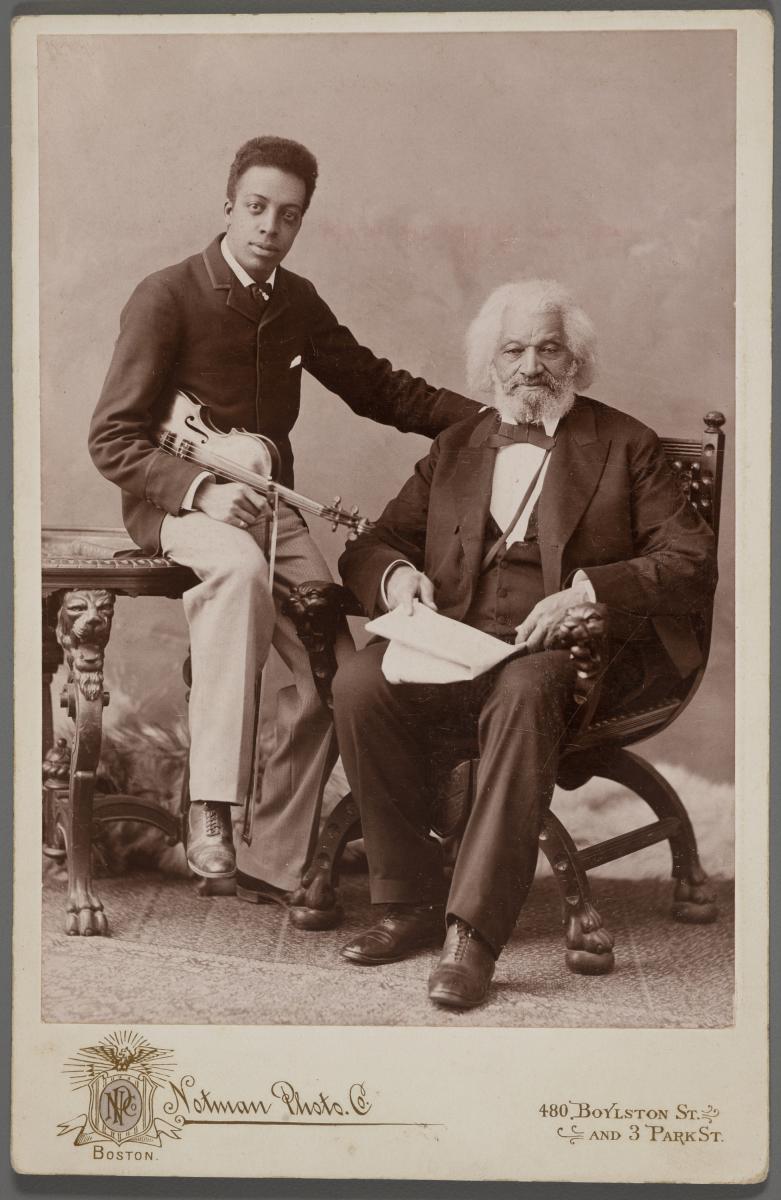 One of the National Museum of African American History and Culture's first and largest archival collections, the Charlene Hodges Byrd collection measures 43 linear feet, and dates from circa 1750-2009, with the bulk of the material dating from 1880-1960. The collection documents the personal life and professional career of Charlene Hodges Byrd, an African American teacher from Washington, D.C., along with material for several related families from Pennsylvania, Maryland, and Washington, D.C. Family members prominently represented include Sarah A. Shimm, teacher and essayist under the name Faith Lichen; her daughters Erminie F. Shimm and Grace E. Shimm Cummings, both teachers; and Byrd's mother, Joyce Ethel Cummings Hodges, also a teacher. Correspondence and writings chiefly discuss family life, religion, race, education, and the family's close relationship with Frederick Douglass and his family. Digitization of these materials is currently underway and related transcription projects will be made available in mid-late February. Learn more about the Charlene Hodges Byrd collection by exploring the finding aid, here, and keep an eye on this page for new transcription projects.
Interviews and Lectures with African American Artists
National Portrait Gallery 
Beyond the incredible artwork on display in the Smithsonian's National Portrait Gallery is a rich set of collections documenting the history of each painting, print, or photograph and the incredible artists who conceptualized and created them. This year, we officially welcomed NPG into the Transcription Center with the launch of four artist interviews - barely skimming the surface of their incredible audiovisual collections. Help us share even more art history this month from the National Portrait Gallery as we transcribe and review audio interviews and lectures with video and film artist Jefferson Pinder, painter and sculptor Shinique Smith, and artist Faith Ringgold. Keep an eye for new projects on this page. 
Joy McLean Bosfield Scrapbooks
Anacostia Community Museum Archives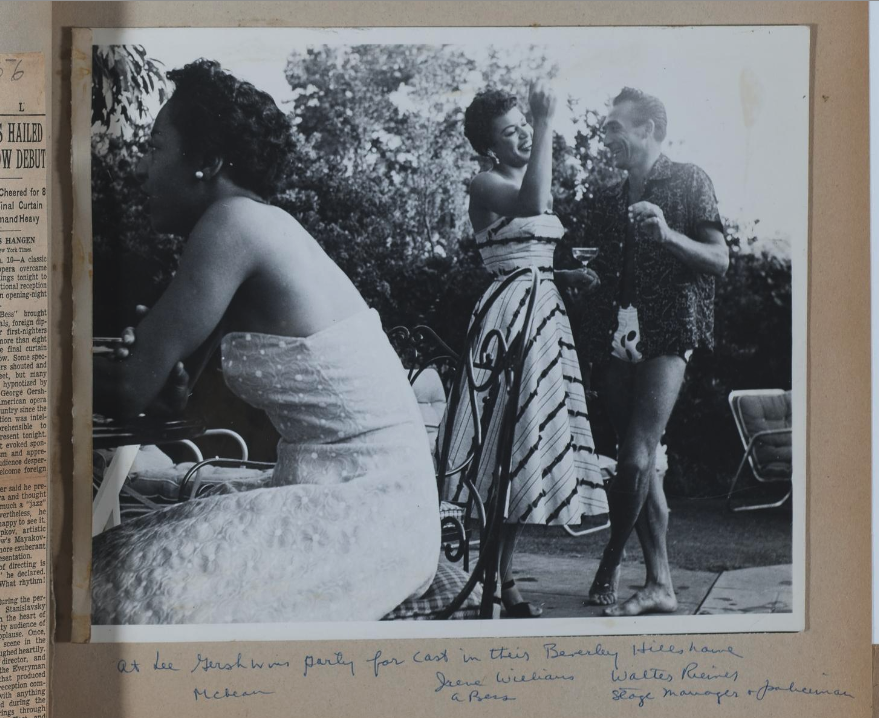 Joy McLean Bosfield (1924-1999) was a singer, musical director, actress, and musical instructor who performed throughout the United States, Europe, and the Middle East from the 1940s to the 1980s. Scrapbooks compiled by Ms. Bosfield, and now part of her collection at the Ancostia Communnity Museum (ACM). In 2019, digital volunteers transcribed these scrapbooks - helping to make these fragile materials accessible and keyword-searchable. Filled with various materials, faded newspapers and handwriting, and curled or bent pages, the scrapbooks were challenging to transcribe, and ACM Archivists have now requested the projects be reopened for a second phase of review. So take out those magnifying glasses and pour some more coffee, volunpeers, because we need your help catching and correcting any missed errors on these transcriptions. Check out Bosfield's scrapbooks here and here.
The Freedmen's Bureau Records
National Museum of African American History and Culture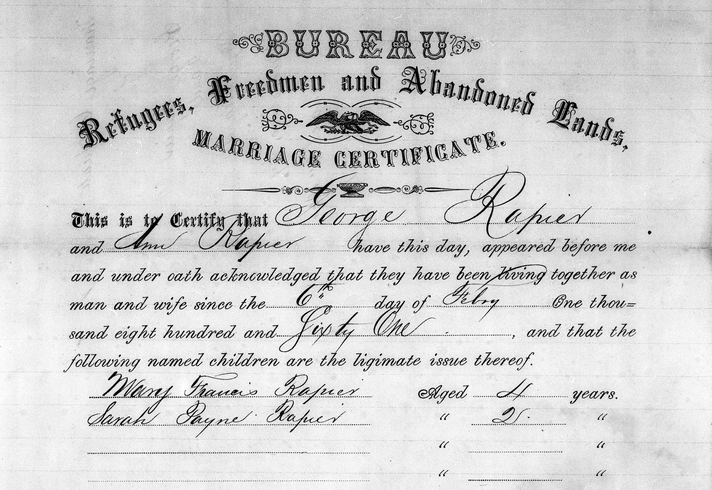 The United States Bureau of Refugees, Freedmen, and Abandoned Lands, commonly known as the Freedmen's Bureau, was created by Congress in 1865 to assist in the political and social reconstruction of post-war Southern states and to help formerly enslaved people make the transition from slavery to freedom and citizenship. In the process, the Bureau created millions of records that contain the names of hundreds of thousands of formerly enslaved individuals and Southern white refugees. Thus far, volunpeers have transcribed over 315,000 pages from this important historical collection. Once completed, the Freedmen's Bureau Transcription Project will allow full text searches that provide access to both images and transcriptions of the original records. Family historians, genealogists, students, and scholars around the world will have online access to these records. In addition, these transcribed records will be keyword searchable, reducing the effort required to find a person or topic. Transcribing these original documents will increase our understanding of the post-Civil War era and our knowledge of post-Emancipation family life. Join the effort - click here to find ongoing projects. 
Join us for a Special Edition of TC Online Office Hours
Featuring the Freedmen's Bureau Records' Project Team from the National Museum of African American HIstory and Culture
Friday, February 18, 2022 at 3:00 pm ET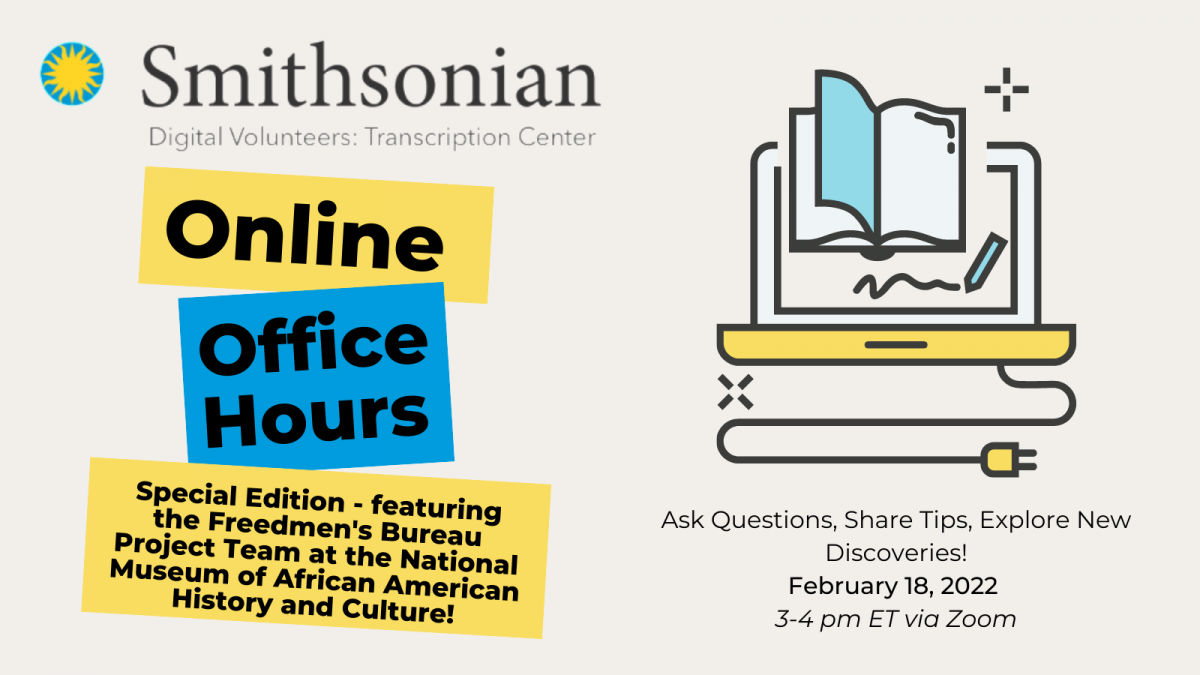 Join Transcription Center Coordinators Emily Cain and Caitlin Haynes – and fellow volunpeers – for a community chat every month to discuss projects, share tips and tricks for transcribing, explore new discoveries and collection highlights, and more! This month, we'll hear from Doug Remley and Kamilah Stinnett, Projct Leads for the Freedmen's Bureau Transcription Project at the Smithsonian's National Museum of African American History and Culture on the importance of transcribing Freedmen's Bureau documents and resources for navigating these materials. Register (for free!) at this link: https://smithsonian.zoom.us/meeting/register/tZEpcuihpjMiH9Q9GuYBw6TC1MTCZOnyAXsn.