Letter adressed to M. R. Harrington from the Bureau of American Ethonology, 1911.
Museum of the American Indian/Heye Foundation records, NMAI.AC.001, Box 231, Folder 7.
Though now less well-remembered, M.R., or Mark Raymond, Harrington (1882-1971) was a prominent twentieth-century anthropologist who worked for many of the leading anthropological museums of his day. These included Harvard University's Peabody Museum, the American Museum of Natural History in New York, the Museum of the American Indian, Heye Foundation (the predecessor to the National Museum of the American Indian or NMAI) also in New York, Philadelphia's University Museum, and later, from 1928 until his retirement in 1966 at the age of 82, the Southwest Museum in Los Angeles.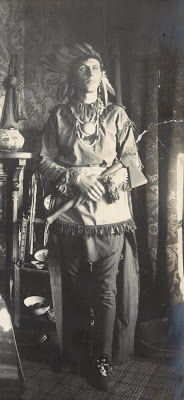 M.R. Harrington dressed in Haudenosaunee (Iroquois) clothing, ca. 1905.
Mark Raymond Harrington photograph collection, NMAI.AC.001.035, P28198.

The Smithsonian's NMAI Archives Center staff consider themselves fortunate to steward such a great extent of Harrington's archival materials, consisting of his ethnological field notes, object lists, and personal and professional correspondence. For many years these materials have served as an invaluable resource for Native and non-Native researchers, linguistic and language revitalization scholars, and community groups conducting repatriation work. Now, however, as the NMAI makes digital versions of Harrington's correspondence accessible on the Smithsonian Online Virtual Archives and the Smithsonian's Transcription Center, an even greater number of interested users can learn about this individual's important life from the comfort of their own homes.
Born in 1882 and commencing his first anthropological work while still a teenager in the late 1890s, Harrington's career spanned more than sixty years and encompassed wide swathes of the U.S. and North America. Well-respected for his collecting prowess, in the two decades alone (1908-1928) that he worked for Museum of the American Indian, Heye Foundation, founder George Gustav Heye, Harrington collected ethnological and archaeological material from Canada in the north to Cuba in the south, and from New York in the east to California in the west.
Harrington's correspondence in particular reflects his work throughout North America and his sustained relationships with anthropological leaders in the field like Franz Boas, Frederic Ward Putnam, and Frank G. Speck, his personal relationships with fellow anthropological colleagues Alanson Skinner and Arthur C. Parker, and his dependence on the knowledge, advice, and friendship of Native American collaborators and interpreters in the field like Peoria leader Bill Skye and Otoe community member Grant Cleghorn.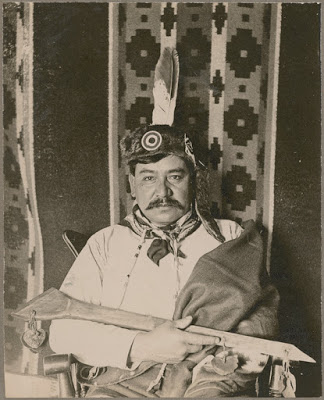 Peoria chief, interpreter, and collaborator with M.R. Harrington, Bill Skye, 1908.
Collection still undetermined, likely part of the Mark Raymond Harrington photograph collection. NMAI P23479.
Harrington was a product of his time, and though his collecting of material culture items (now referred to as salvage anthropology) may have "saved" countless objects for future generations to admire in a museum setting, his collecting also inadvertently robbed many American Indian communities of their cultural heritage, creating a void in Native American cultural identity which in some cases still persists to the present-day.
Further, like his fellow turn-of-the-twentieth-century anthropologists Frank Hamilton Cushing, James Mooney, and Alanson Skinner, Harrington adhered to the anthropological practice of participant observation. Thus, he often dressed in Native clothing, spoke in Native languages, and referred to himself by his adopted Native names, even when away from Native communities. Harrington and Skinner, however, tended to blur the lines between participant observation and what Philip J. Deloria terms "playing Indian," in which non-Native peoples simulate and appropriate the customs, manners, and lifeways of Native groups. Temporally removed and lacking Harrington's personal thoughts on his actions at the time, it is difficult to label his and Skinner's actions as intentional cultural appropriation, when they may demonstrate nothing more than the passion of two men of Euro-American ancestry interested in learning about other cultures. Regrettably, while Harrington's correspondence is a treasure trove of information, it reveals little further insight into these men's perspectives on matters such as this. Importantly though, Native American people were more than simply a subject of study for Harrington. They were integral to his life, his identity, and over time became intimate members of his family including his wife and Seneca community member, Endeka (Edna) Parker.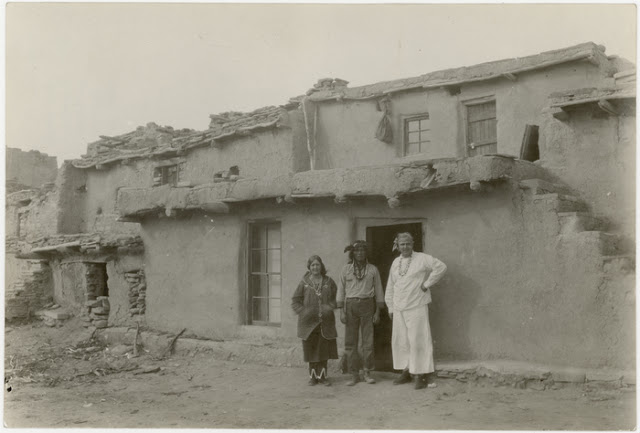 Mrs. Endeka Parker Harrington (Seneca), Don Chiaku (Hopi Pueblo), and M.R. Harrington dressed in Hopi clothing in Arizona, circa 1930. Mark Raymond Harrington photograph collection, NMAI.AC.001.035, P26879.
Harrington worked with more Native communities, at more museums, and for a longer period of time than many of his colleagues in the anthropological world. His Seneca friend, fellow anthropologist, and brother-in-law Arthur C. Parker called Harrington a devoted friend who defended Native peoples from every angle of attack. More recently, present-day scholar and Abenacki museum anthropologist Margaret Bruchac has praised Harrington as a determined researcher with an inclusive and egalitarian bent who advocated for the place of Native men and women in ethnological and archaeological work.
Despite such praise, M.R. Harrington's name remains relatively unknown to many both within and outside of the museum field. Hopefully by making Harrington's personal and professional correspondence more widely available to the public, his inspiring and complicated legacy will better be brought to light.
*This post was originally published on the Smithsonian's Collection Blog. Head there to see more stories related to historic collections from around the Smithsonian.