In celebration of Black History Month 2018, the Anacostia Community Museum Archives and the Center for the Study of African American Religious Life at the National Museum of African American History and Culture (NMAAHC) invite you to join in transcribing records relating to African American religious institutions and traditions.
Religion has served a central role in shaping African American history and culture, yet it receives little attention or study in our nation's museums. Through this collaboration, we can further expand our knowledge and discover how religion played a major part in African American lives throughout history.

Get a preview of this month's activities in our #TCBlackHistoryMonth campaign launch announcement.
Spread the word!
Use our designated hashtag, #TCBlackHistoryMonth, to spread the word about all your hard work. Also, check back in to see fun stories and highlights from the collections of NMAAHC and ACM.
About NMAAHC's Center for the Study of African American Religious Life
The Center for the Study of African American Religion Life (CSAARL) at NMAAHC expands the ways religion is acknowledged and explored by our nation's research and cultural institutions by promoting innovative scholarship, producing public programs, and by collection religious artifacts for the Museum's permanent collection. In addition, the Center provides a critical platform of resources and convening opportunities to a global community of faith and religious leaders, publics, and scholars. Learn more about the center here and explore religious objects in the NMAAHC collection: https://nmaahc.si.edu/explore/initiatives/center-study-african-american-....
 
Events
Be on the lookout for a special announcement for participating transcribers towards the end of the month. Members of NMAAHC's Religion Center staff will hold a live discussion on the significance of some of the objects that were transcribed as well as the importance of religion in African American history and culture.
Explore Projects

This National Baptist Metoka and Galeda Bible Class Magazine was published by the National Baptist Publishing Board in September 1917. The name of the journal derives from the names of the Sunday school classes for young men (Metoka) and young women (Galeda). The journal includes editorials, Sunday school lessons, and a number of advertisements.

 
The Teacher was a quarterly publication issued by the National Baptist Publishing Board that
contained weekly Bible lessons for teachers. These lessons included a main scripture passage,
daily scripture readings, a set of discussion questions, and an editorial by a prominent
Baptist minister.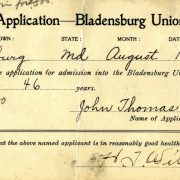 The Bladensburg Union Burial Association Records document the activities of a mutual aid society
in Bladensburg, Maryland from 1874-1978. There are membership applications, sick certificates,
wills, minutes, and membership dues record books. Chaplain Capt. Henry Vinton Plummer
(1844-1906) established the burial society in 1870 at St. Paul Baptist Church in Bladensburg, Maryland,
a church founded by his sister Sarah Miranda Plummer on October 19, 1866. Help us transcribe this
collection to learn more about the financial and other assistance it provided to members in the community.
You're Invited to Celebrate the 200th Birthday of Frederick Douglass
Born to an enslaved family in 1818, Frederick Douglass never knew his actual birthday. So, he chose his own date: February 14.
This year we will honor the 200th birthday of the abolitionist and orater by partnering with the Colored Conventions Project to co-host a multi-city transcribe-a-thon for the Freedmen's Bureau records, part of the Smithsonian's National Museum of African American History and Culture. The event, which will be livestreamed and connected via social media, will feature representatives from the Smithsonian as well as a dramatic reenactment of Douglass' speech at the 1883 national Colored Convention in Louisville, Kentucky. And yes -- depending on where you are, there will be cake.
Click the flyer below and check out the event page to learn how you can get involved.