Exploring the Stories of American Women in the Freedmen's Bureau Records 
Throughout the Freedmen's Bureau records, African American women voiced experiences of unfair treatment and violence and advocated for repercussions against offenders. In many of these instances, the community came together to support individuals who stood up for themselves. 
The Memphis Massacre of 1866, also known as the Memphis Riots, occurred between May 1st and 3rd of that year. The violence ignited after a white police officer attacked a group of Black Union Army veterans, accounts of which can be found in the Freedmen's Bureau records. Mobs of police and white citizens attacked, looted, robbed, and murdered African Americans, and burned many of their homes and public spaces, including schools. Federal troops were sent to stop the onslaught, but the event resulted in the deaths of two white people and 46 African Americans, with 75 African Americans injured. This number does not include the number of Black people who were robbed, looted, or lost their homes.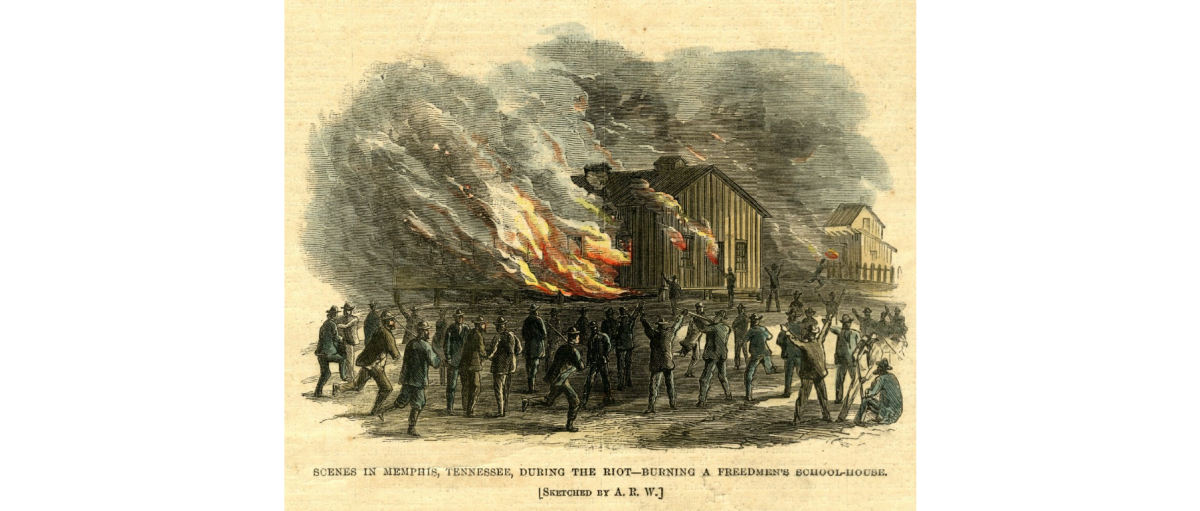 "Harper's Weekly Memphis Riot Scenes," sketched by Alfred R. Waud, May 2, 1866. Courtesy, Tennesee State Library and Archives.

Mollie Davis, a freedwoman, lived in Memphis, Tennessee, on Gayosa Street in the summer of 1866. On May 3rd she received word from a policeman by the name of Clark that another policeman, Eagan, and his gang were targeting Davis and her home. Fearful and trying to protect herself, Davis left that evening to avoid the dangerous mob and police. The following morning, she returned home and found that it and everything in it had been burned down. She asked another officer, Louy, what had occurred. He admitted to her that officer Eagan had been the one who carried out the attack. Although this is where her affidavit to the Freedmen's Bureau, whose agents investigated the Massacre, ends, her story was confirmed by two other witnesses.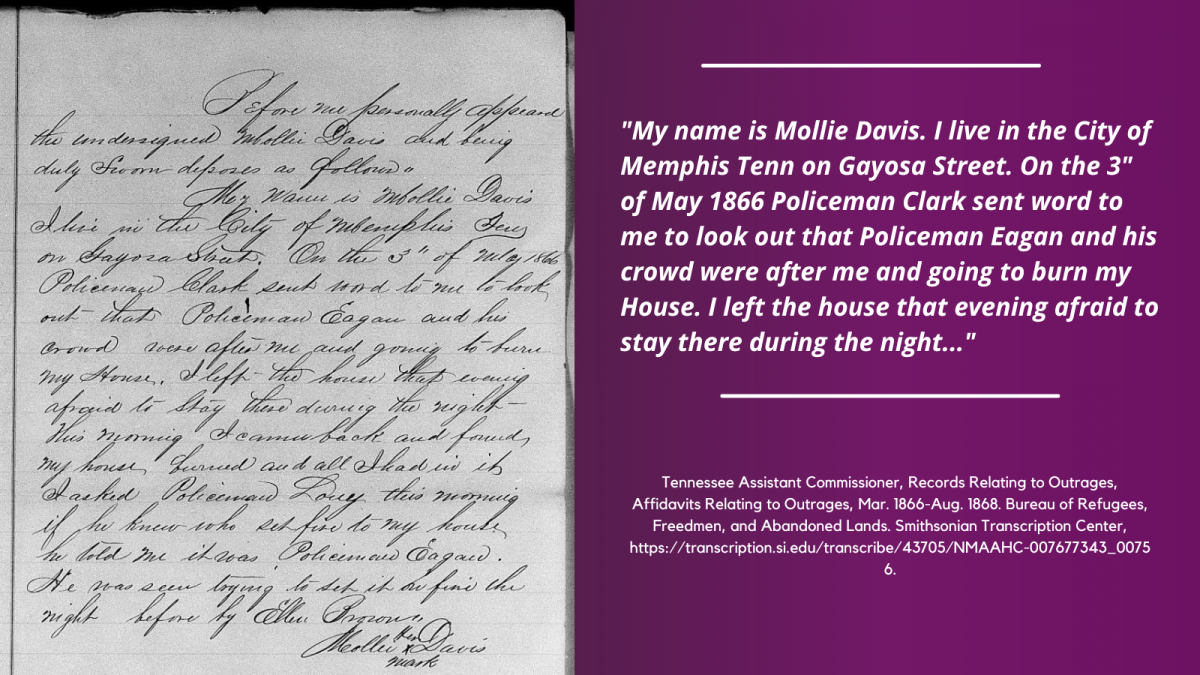 The first witness, Nat Wardlan, also lived in Memphis at the time of the riots. He shared his experience on the night of the 3rd, explaining that two policemen came to his house looking for Mollie Davis while threatening her life if they were to find her. The officers, Eagen and Clark —the same Clark who allegedly warned Mollie Davis of the threats to her life — told Wardlan that they would not hurt him, as he was an older man, but did threaten his home. Wardlan quickly fled and witnessed the officers setting fire to his house.  
The second witness, Ellen Brown, lived on Court Street in Memphis. On the night of the attack Brown was staying with Mollie Davis. She claimed that on May 2nd, the night before the attack on Davis and Waldlan, Officer Edgen came to the house, threatening to burn it down if they did not let him in. Brown explained that Officer Edgen and other men then tried to burn the house down that night by lighting matches but failed due to recent rain. She remembered finding the matches they tried to use the following morning. Brown's belongings were in the home when it was burned down the next day, and $150 worth of her property was lost.  It is unclear if the officer referred to in Davis's and Wardlan's statement (Eagan) is a different individual than the officer referred to in Brown's statement (Edgen), or if this is simply a misspelling describing the same person.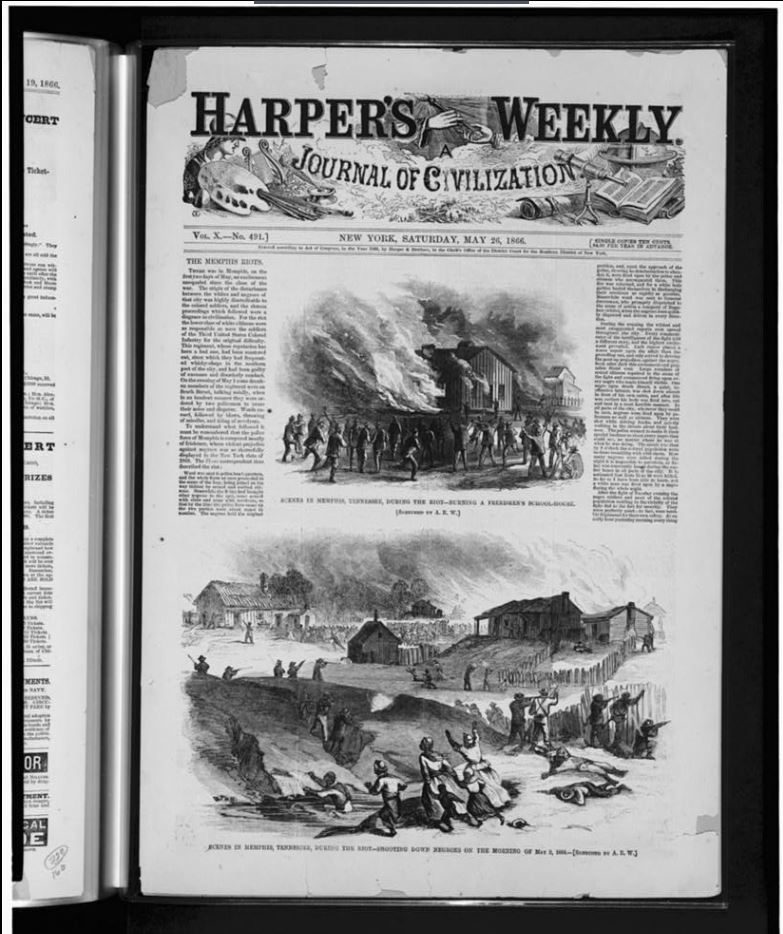 Waud, Alfred R. , Artist. Scenes in Memphis, Tennessee, during the riot. Tennessee Memphis, 1866. Photograph. Courtesy, Library of Congress, https://www.loc.gov/item/94507780/. 
As more Freedmen's Bureau records are transcribed, additional information may be discovered about Mollie Davis and her life after the 1866 attack. Currently, not much is known, but it appears as though she remained in Memphis through the 1880s.
It is imperative to recognize that attacks like these on African Americans were not isolated incidents and Black people regularly filed complaints or outrages about acts of violence or injustice. The Freedmen's Bureau records contain many affidavits about the Memphis Massacre from African American women like Mollie and Ellen, who shared their stories and information about white perpetrators.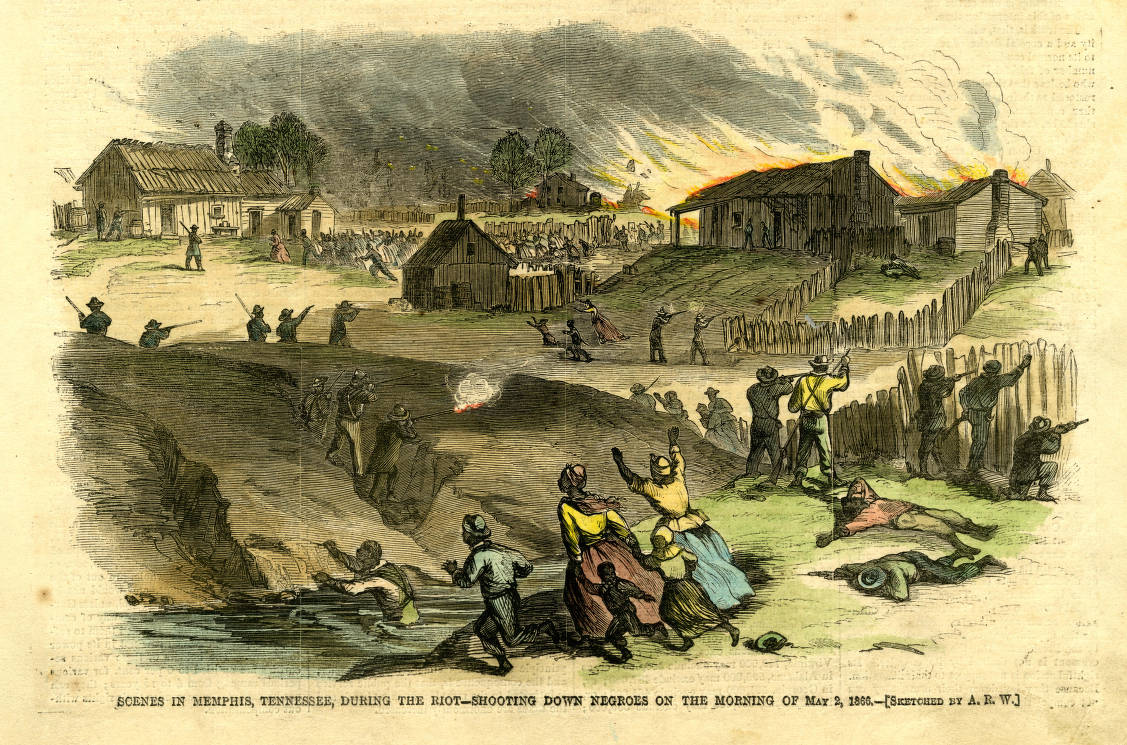 "Harper's Weekly Memphis Riot Scenes," sketched by Alfred R. Waud, May 2, 1866. Courtesy, Tennesee State Library and Archives.

Attacks on African Americans, including large-scale massacres like the one that occurred in Memphis in 1866, were an unfortunate reality of the Reconstruction era. In the face of violence, intimidation, and discrimination, freedmen and women fought back in small and large ways, reporting outrages to Freedmen's Bureau agents, testifying in court, seeking just compensation, protecting fellow community members, and more. Individuals like Mollie Davis, Nat Wardlan, and Ellen Brown risked further danger by reporting their experiences and naming their white attackers. By transcribing their stories, digital volunteers help give voice back to survivors and shine light on the many realities of Reconstruction. 
_______________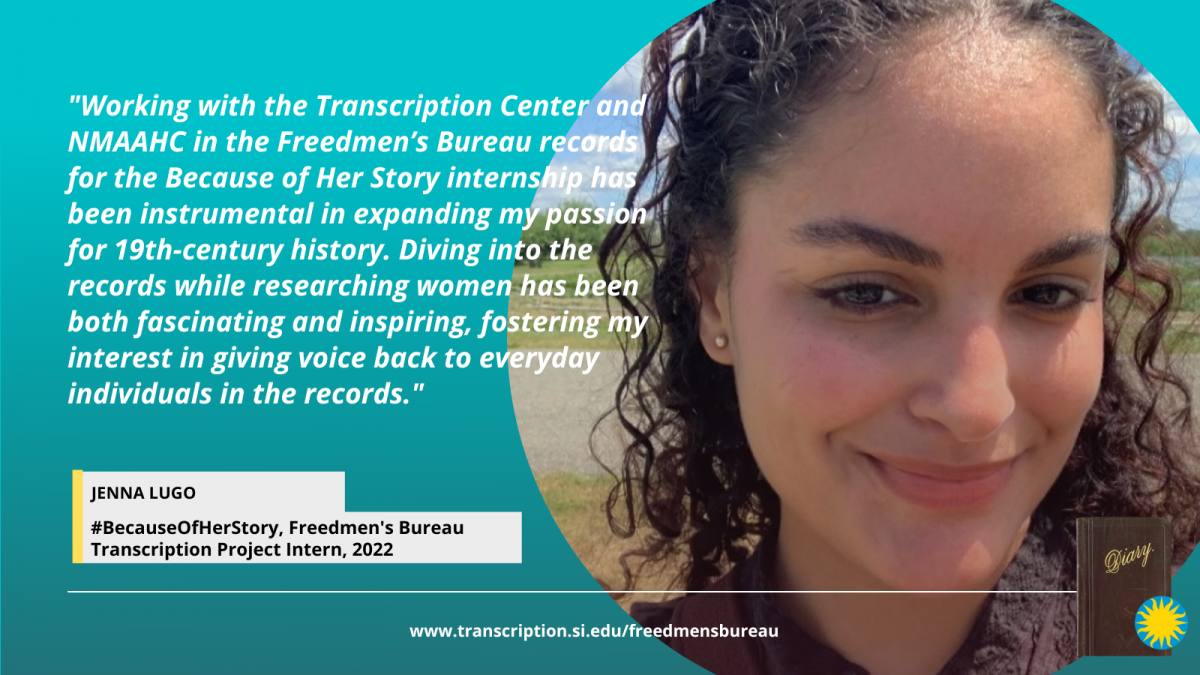 Jenna Lugo was a 2022 Because of Her Story Intern with the Smithsonian Transcription Center and the National Museum of African American History and Culture. She is currently pursuing an undergraduate degree in History and Political Science at Penn State University. 

        This post on Mollie Davis is part of a larger series by Lugo and fellow intern, Madeleine Roberts-Ganim, highlighting American women in the Freedmen's Bureau Records. Browse the Transcription Center Blog, Marginalia, for additional entries.
Author's Note: I am Jenna Lugo, a virtual 2022 Because of Her Story intern for the American Women's History Initiative with Transcription Center and the National Museum of African American History and Culture. I have had the opportunity to search through thousands of transcribed Freedmen's Bureau records fostering my passion for 19th century American History. This experience has shed new light on the multitude of experiences and voices in the Reconstruction era. During this time, I have worked collaboratively on an information resource to help transcribers decipher 19th century handwriting and conventions in the Freedmen's Bureau records. I have also researched databases and records to uncover these inspiring stories focusing on women championing their own lives.