Community Activism and the Origins of Douglass Day in Washington, D.C.
Many prominent African Americans understood the importance of honoring the memory, accomplishments, and activism of Frederick Douglass after his passing in 1895. The observance of a day to reflect on his life and achievements would garner "respect of the race," "stir young minds of the Negro children," and benefit future generations.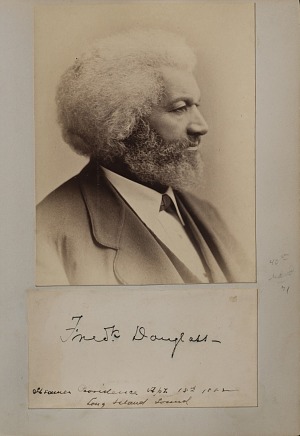 Portrait of Frederick Douglass, 1882, Collection of Frederick Douglass' Monthly's, booklets, and other materials, circa 1859-1894, Anacostia Community Museum Archives, Smithsonian Institution.

Washington, DC, writer, educator, and activist Mary Church Terrell was among those individuals inspired to commemorate Douglass' legacy. In 1897 while serving on the District of Columbia Board of Education, Terrell suggested that on February 14th, Douglass' chosen birthday, a portion of the school day be reserved to honor Douglass. With the approval of the school board, "Douglass Day" soon became a school holiday for Black children in the District of Columbia. Students learned about the life of Douglass, heard his speeches and excerpts from his publications, and listened to poems dedicated to the remarkable statesman. The celebration rapidly spread to other parts of the country and to institutions beyond schools.  African American churches and women's social clubs also sponsored Douglass Day events, where social issues were discussed, along with the preservation of Douglass' home, Cedar Hill, in the Anacostia neighborhood of Washington, D.C.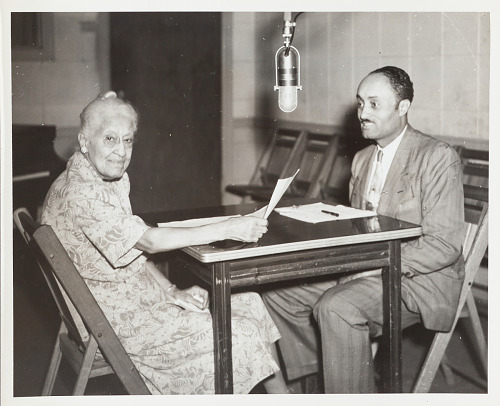 Activist Mary Church Terrell is interviewed for the "Americans All" radio program in 1952. Listen to a clip of Terrell speaking about the importance of Douglass Day: Henry P. Whitehead collection, Anacostia Community Museum Archives, Smithsonian Institution, gift of Michael A. Watkins.  

In the 1950s, the Coordinating Committee of Anacostia and Vicinity, an organization lead by Dr. Charles E. Qualls became concerned with the maintenance of Cedar Hill. They wrote letters to the Frederick Douglass Memorial and Historical Association, a group founded by Helen Pitts Douglass to preserve Douglass' legacy, asking how they could assist with the upkeep of his "shrine." Douglass Day presented a great opportunity for the group to raise public awareness of Cedar Hills' condition. In 1955, the group raised funds to paint and repair the house with the assistance of local youth. These efforts were rewarded several years later, when the Douglass home entered the National Park System in 1962.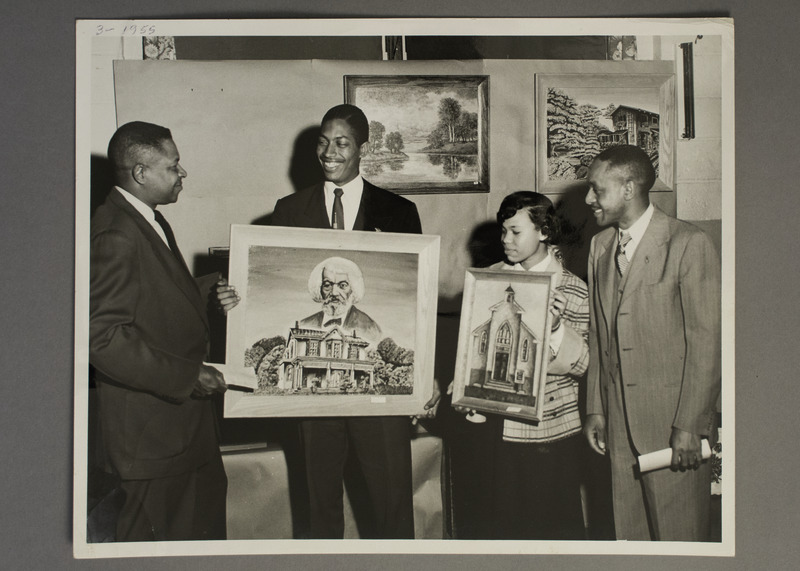 Frederick Douglass and his Cedar Hill Home are the focus of Chester Jennings artwork, which won first prize at an art contest sponsored by the Coordinating Committee of Anacostia and Vicinity in March 1955. (L-R) Frank Alston, Chair of Committee, 1st prize, Chester Jennings, and 2nd prize Gertrude Jones, Charles E. Qualls Coordinating Committee of Anacostia and Vicinity.

 
Douglass Day commemorations eventually disappeared with the rise of Black History Month. This year, you can help us celebrate Douglass and uncover these historic efforts to preserve to the Frederick Douglass Home by transcribing the correspondence of the Coordinating Committee of Anacostia and Vicinity, now preserved in the Anacostia Community Museum's Dale-Patterson Family Collection.    
Explore past Transcription Center blogs and projects for additional historical collections related to the life and legacy of Frederick Douglass.