Exploring the Stories of American Women in the Freedmen's Bureau Records 
The records of the Freedmen's Bureau are home to countless stories and documents with respect to life in Reconstruction America. The Bureau was established in 1865 by Congress to aid in the reconstruction of the South, which included assisting formerly enslaved African Americans in transitioning to a life of freedom. When searching through these records there are endless opportunities to find something different and new. There are documents sharing impactful stories of families being reunited after forced separation while enslaved, and saddening stories of racial violence. The stories I uncovered through research as a summer Because Of Her Story intern with the National Museum of African American History and Culture and the Smithsonian Transcription Center provide a taste of what can be explored in the records. 
Women's rights activism and the Suffrage Movement took off in the mid-to-late 1800s, with the first women's rights convention in Seneca Falls, New York, in 1848. Soon after, the National Woman Suffrage Association was formed in 1869 as well as the American Woman Suffrage Association. Although these groups, among others, took great strides to ensure the passage of the 19th Amendment in the 20th century and advocated for women's rights, it is important to acknowledge the determination of everyday women, particularly women of color, who fought for themselves against a powerful and unjust system. This can be seen time and time again throughout the Freedmen's Bureau records. During Reconstruction, individual women reported acts of violence, unpaid wages, and unsafe conditions to Bureau officials, and advocated on behalf of their families.    
This sort of unwavering persistence and firmness against direct violence is something that inspired me when coming across the stories of women like Sarah A. Bond, Mollie Davis, and Annie E. Washington in Bureau records. 
Sarah A. Bond 
On December 30, 1868, a petition was sent to the Superintendent of Education for North Carolina, H.C. Vogell, asking for funding to aid in the building of a freedmen's school in Oxford, North Carolina. The petitioners, Lawson Wright and Henry Hester, claimed that, while they had raised most of the funds required for the school, they still needed about three hundred dollars to finish the project. Under the signature of the authors, Wright and Hester, there is an endorsement of their character signed by S. A. Bond—later identified as Sarah A. Bond—a white teacher from New York.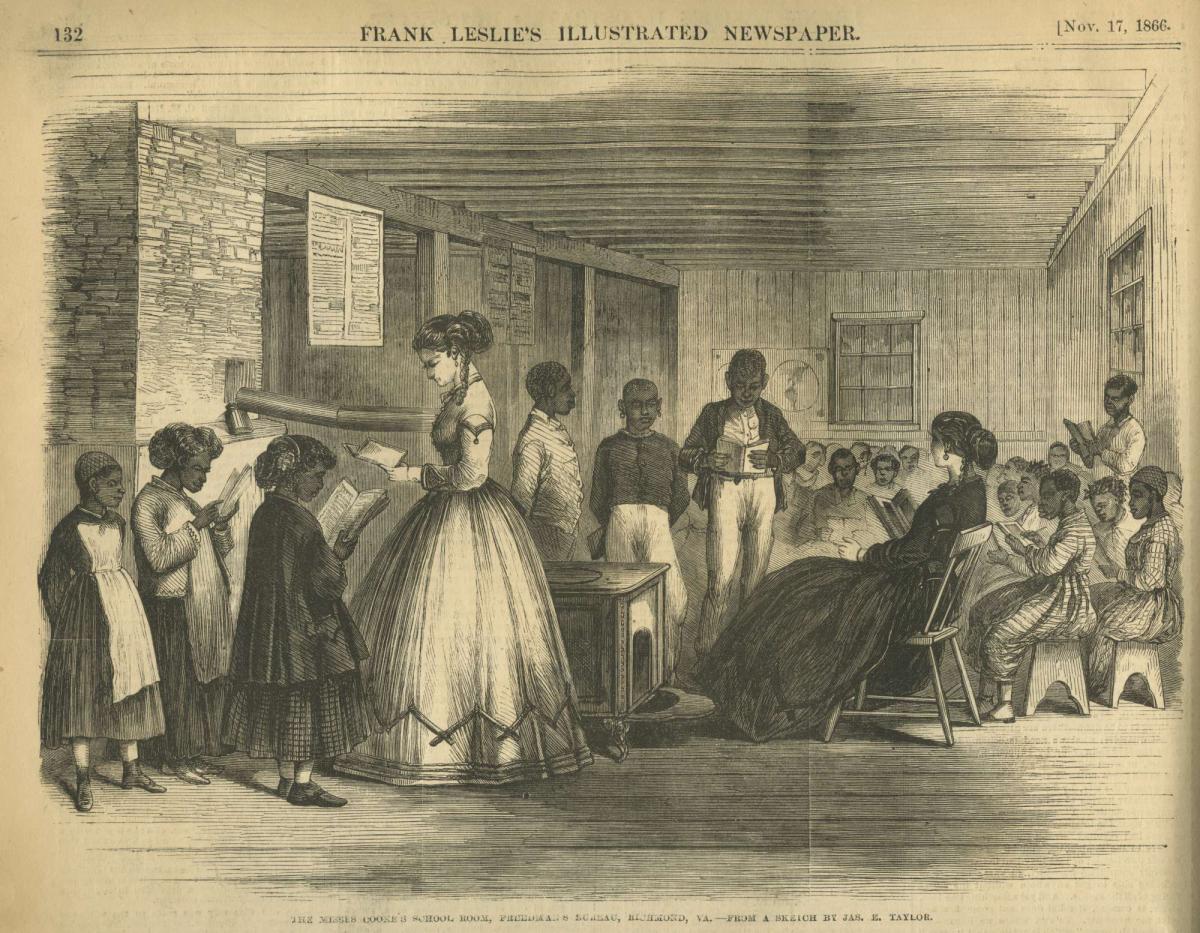 According to Bureau records, Bond was in Alexandria, Virginia, when she requested to "be furnished with one School Register indicating that she was looking for work."  Less than two years later, Bond was living and working in North Carolina and on September 1, 1869, opened a freedmen's school in Oxford, N.C. as a Freedmen's Bureau employee. This could be the same school she endorsed almost a year prior. During her time at this freedmen's school, she worked closely with African American community members—teaching alongside Isham G. Hill, a younger freedman from North Carolina, and living with a 16-year-old student, Ida Hicks, although the nature of their relationship remains unclear.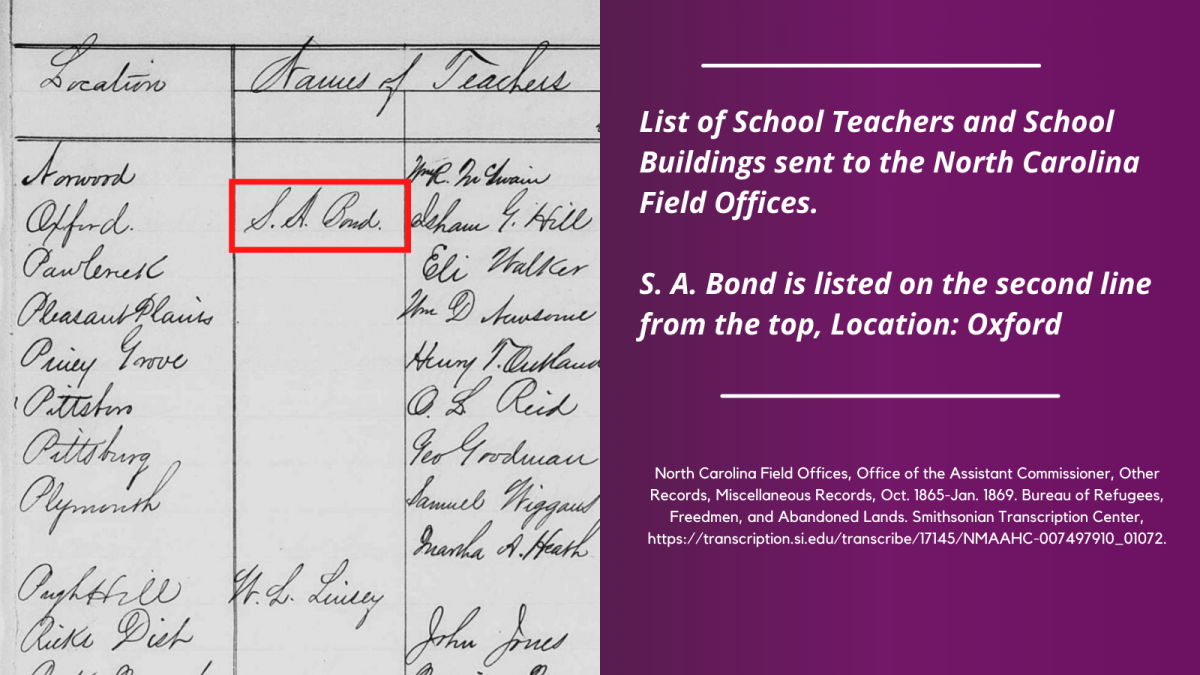 Running a freedmen's school in the postwar-South was not an easy feat, Bond was often confronted with backlash from white southerners who strongly opposed the Freedmen's Bureau's work and the new rights afforded African Americans. Specifically, she faced resistance from a neighboring school owned by former Confederate soldier James H. Horner. At one point, Bond wanted to buy a piece of land for her schoolhouse but faced backlash from Horner. Writing to Freedmen's Bureau agents in 1870, Bond claimed Horner said that he "did not wish it to be near his school because the students might make trouble & the influence would not be good..." According to Bond's account, he continuously dismissed her and her school while painting the Black students as a potential danger to the white population, despite the schools being on opposite sides of town.  
More than a year after Bond's school opened, a mob of white students wreaked havoc on Oxford, causing immense property damage to bridges, gates, and fences. On the night of December 1, 1870, a mob of students from Horner's school destroyed property and fired guns at the home of Tazewell L. Hargrove, a member of the North Carolina House of Representatives for Granville County, while proclaiming they were Democrats. According to a letter written to the Bureau in 1870, Bond surmised that Hargrove was a target because he had recently joined the Republican party. While Representative Hargrove was away during the incident, his wife, daughter, and an African American woman in the household were home alone.    
Soon after, the mob arrived at Bond's schoolhouse. At the time, she lived in the adjoining lot and was woken up to the sound of "the crash of glass, yelling, and firing of pistols." She wrote about the experience, sharing that the aggressors shot into the school, breaking windows and causing dire property damage. She later found a "ball" of a bullet in the schoolhouse ceiling. Bond was afraid that she would be targeted next, recounting in her statements to the Bureau that one of Horner's students threatened to "smash" her windows.  
After the December attacks, three of the rioters were arrested and "bound over" to the court. Bond expressed that she had felt safe at the school previously, but described the attack as a "rude awakening." In her letter to the Secretary of War detailing the attacks, she asked herself if she deserved to be treated this way by Horner's students, and simply answered "I think not." Despite the danger she faced from Horner, and presumably many other southern whites, Bond asserted her voice and power, taking out a warrant for the students in her letter to Secretary Belknap. Bond continued working at the school and in February of 1871, noted that her students were "making good progress in all branches of study."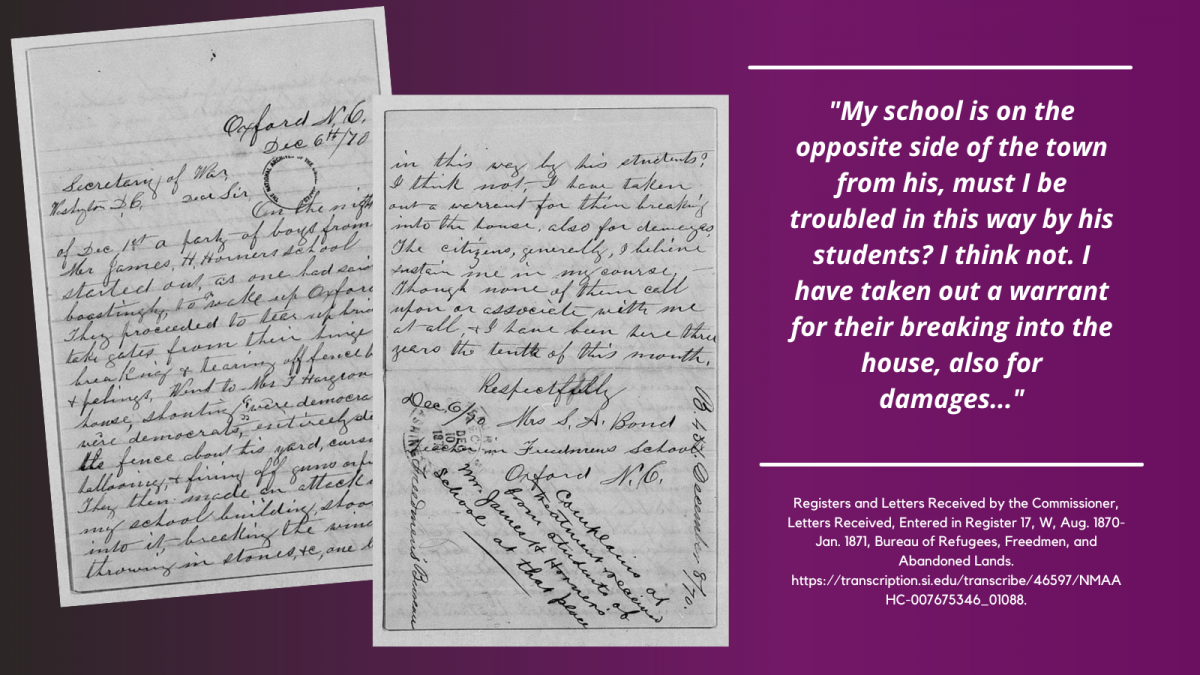 Sarah Bond's story is both common and exceptional. White women, from the North and the South, were often employed by the Freedmen's Bureau as teachers, and they were not exempt from the ever-present danger and resistance of white southerners. Freedmen's schools were often attacked or vandalized, and Black and white teachers alike faced violence. Still, Bond's experience as a white woman provided her more safety and privilege than African American teachers and local freedmen and women. She asserted her authority to Bureau officials and the Secretary of War by taking out a warrant and leaving no room for interpretation as to whether Horner and his students were in the wrong. Bond's short and to the point answer of "I think not" is something inspiring, but she's also simply one of many women, Black and white, who refused to back down from the racism, violence, and inequity so ubiquitous in the 19th-century South. These women seized upon the opportunities created during Reconstruction by working with the Bureau and taking on paid positions that offered them more freedom and independence than previously deemed acceptable. 
_______________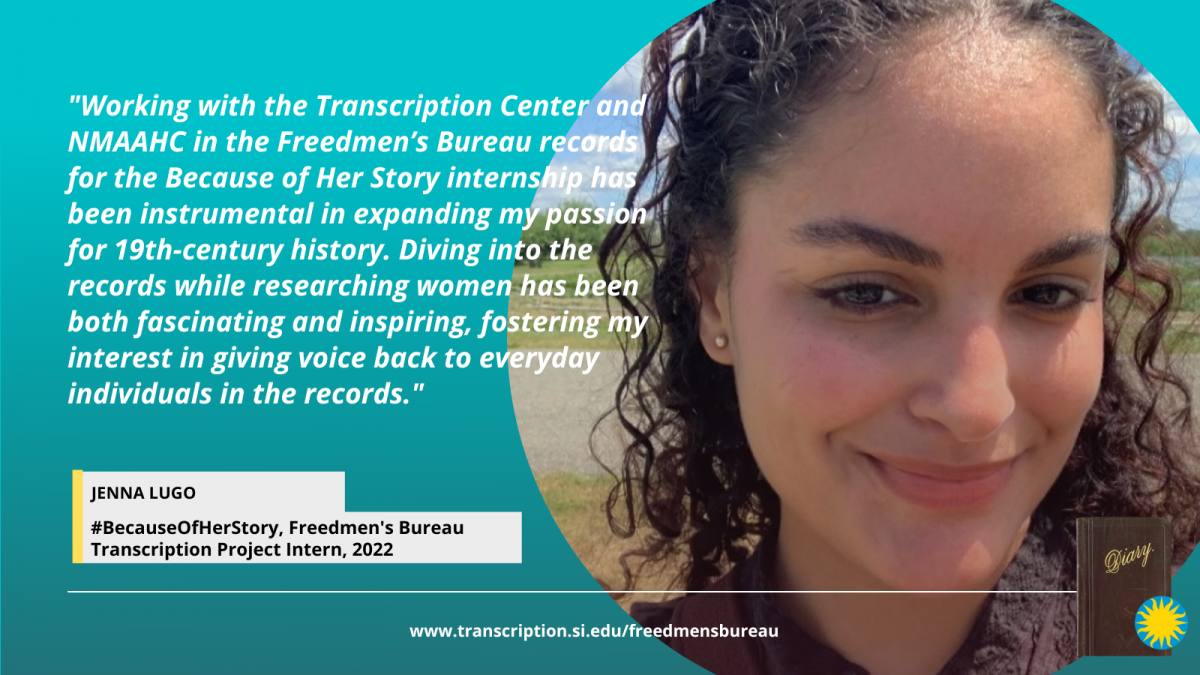 Jenna Lugo was a 2022 Because of Her Story Intern with the Smithsonian Transcription Center and the National Museum of African American History and Culture. She is currently pursuing an undergraduate degree in History and Political Science at Penn State University. 
        This post on Sarah A. Bond is part of a larger series by Lugo and fellow intern, Roberts-Ganim, highlighting American women in the Freedmen's Bureau Records. Browse the Transcription Center Blog, Marginalia, for additional entries. 
Author's Note: I am Jenna Lugo, a virtual 2022 Because of Her Story intern for the American Women's History Initiative with Transcription Center and the National Museum of African American History and Culture. I have had the opportunity to search through thousands of transcribed Freedmen's Bureau records fostering my passion for 19th century American History. This experience has shed new light on the multitude of experiences and voices in the Reconstruction era. During this time, I have worked collaboratively on an information resource to help transcribers decipher 19th century handwriting and conventions in the Freedmen's Bureau records. I have also researched databases and records to uncover these inspiring stories focusing on women championing their own lives.