Did you know that since 2013, volunpeers have transcribed and reviewed almost 400,000 pages of Smithsonian archival, library, and museum collections!? But what happens to all that content? Why do transcriptions matter and what impact do they have? In June, we launched a new campaign, #TCImpact, to answer these questions and highlight the many uses of transcribed content, the discoveries made by Smithsonian staff, volunpeers, and researchers while transcribing and reviewing, and the far-reaching impact of the Transcription Center's work.
To share these amazing stories, we've been hosting twitter chats on the first Monday of each month with volunpeers and our Smithsonian colleagues. Using #TCImpact, we've shared and learned SO much! If you missed our June and July #TCImpact chats--or just want to review the awesome discoveries and insights again--check out the Twitter moments here and here.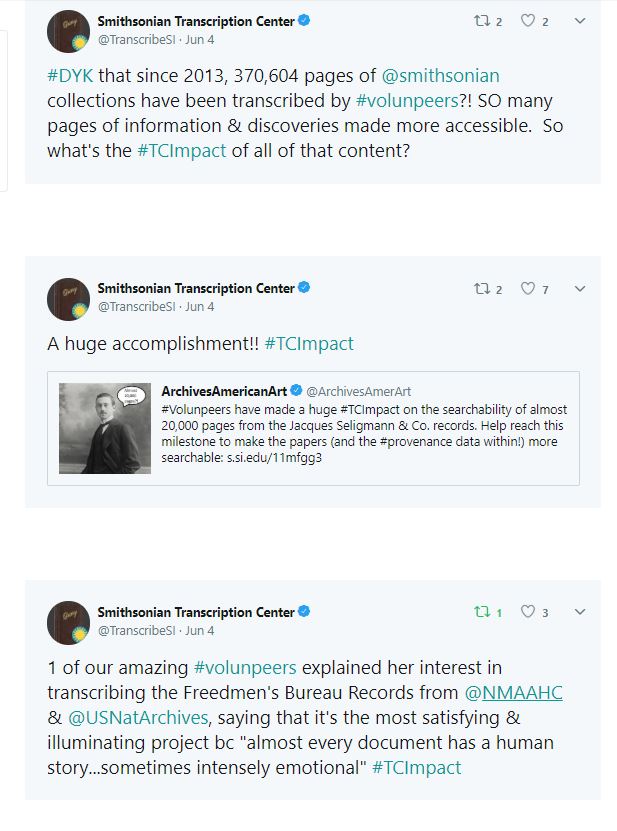 We'll be hosting more #TCImpact chats on Twitter the first Monday of each month, so follow along for updates, or browse #TCImpact to see what we've been sharing. Join us on Twitter to share your discovery, question, or story, or send something in ahead of time for us to share by emailing us at transcribe@si.edu.