After almost nine years at the Smithsonian, including five and a half years in the Transcription Center (TC), I'm saying goodbye this week and heading off on a new adventure with the National Geographic Society.
My time in TC, engaging with Smithsonian collections staff and our incredible user communities and volunteers, has been deeply rewarding. I've been lucky enough to explore thousands of historic collections with all of you, traveling through time and across the globe, learning the personal stories of icons and the triumphs and tragedies of everyday people. Through it all, I've been continuously amazed and humbled by the dedication and enthusiasm of our volunteers. Thank you for helping us share history, art, culture, and science with the world and enriching Smithsonian collections with your diverse voices and expertise.  
 
More than 860,000 pages have been launched and transcribed in TC since I joined the team in 2018. And while it feels almost impossible to narrow down any highlights, here are some of my favorite topics, stories, and individuals from within those transcriptions:  
 
 
Freedmen's Bureau Discoveries 

Transcription Center's incredible volunteers – including some of our most dedicated – have been transcribing Freedmen's Bureau records since 2016. We're almost at 500,000 pages transcribed (!) and through that work, innumerable stories of joy, heartbreak, violence, turmoil, achievement, and justice during the Reconstruction era have been recorded and shared.  

In graduate school, I focused my history research on the 19th-century American South and worked closely with the Freedmen's Bureau records. But the experiences I've had exploring these documents in the Transcription Center, and seeing all of you learn from, and connect with, these documents through transcription, provides a level of understanding and appreciation for this history beyond anything I could have imagined. This project has taught me that there's always more to learn and that every story — no matter how big or small — deserves to be told.  

Here's a few of my favorite stories from the records (uncovered by volunteers):  

Josephine Cropper was an African American woman who left her Philadelphia home in 1867 to teach for the Freedmen's Bureau. According to scattered Bureau documents, she was assisted by North Carolina politician and activist, James H. Harris. Josephine's father, Henry Cropper, argued that he denied Josephine permission to "teach South," but that she was "decoyed away" by Harris. The Bureau seems to have defended Harris, but their exact response — as well as Josephine's version of events — has not yet been found. What is clear, is that Josephine continued working with the Bureau. In an 1868 letter, she was recommended for a new teaching position and was described as being well-liked by her students in Wake Forest.   
 


While transcribing Bureau records in 2019, volunteer Beth Graham came across an itemized list of materials. Everything on the list was expected, including things like nails and screws. But one entry was clearly written as..."Tight Butts."  Understandably confused, Beth reached out to our team, who looped in NMAAHC staff. Everyone agreed with her transcription, but no one could figure out why the phrase "tight butts" would be on this document and what in the world it could be referring to. So, Beth and her family did some further digging, and thanks to a 19th-century dictionary they were able to locate, they discovered that "tight butts" once referred to, of all things, door hinges. It was a little less fun than the way we use that phrase today, but an exciting linguistic lesson nonetheless! Read all about Beth's incredible detective skills and the hilarious story of just how important context is when you're researching and transcribing.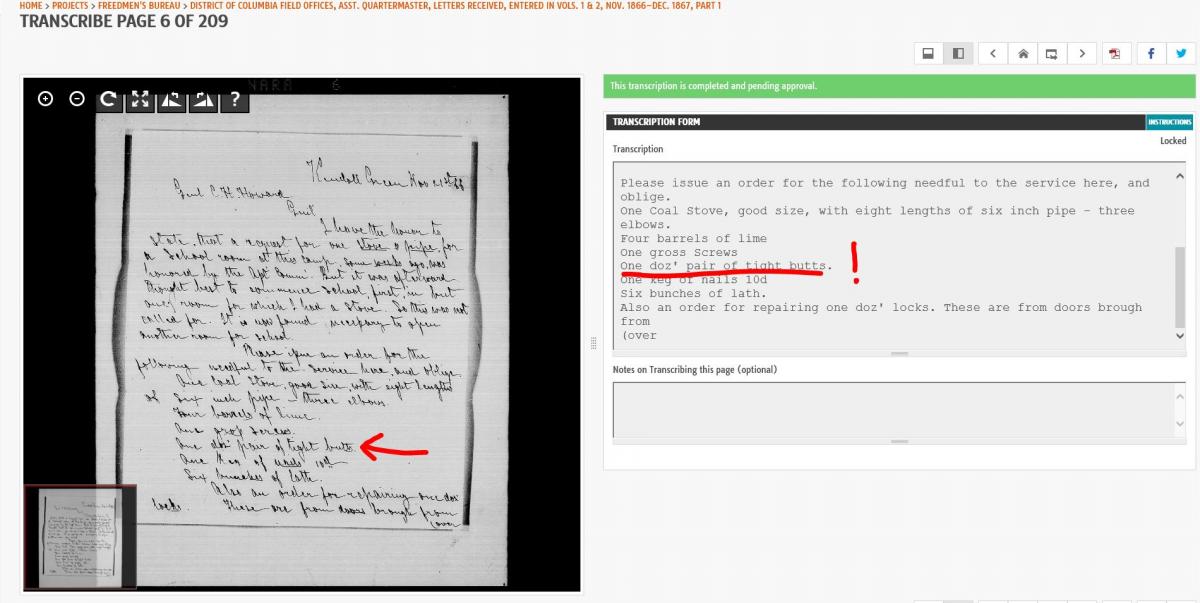 On July 25, 1868, North Carolina freedman Stephen Williamson, requested the Bureau's help, as he and his betrothed - a white woman - were denied a marriage license. By August 1st of that year, Williamson wrote to the Bureau again, noting that he had succeeded in obtaining a marriage license but that he could not find any minister or justice of the peace to perform the ceremony. Unfortunately, for now, that's where the trail ends, as no additional documents have yet been found or transcribed regarding Williamson's story, and it's unclear if he and his fiancée were ever actually married. It's a testament to the incredible progress and change being made during the Reconstruction era that Williamson was even granted a marriage license in North Carolina for his interracial relationship. Many states in the American south enacted anti-miscegenation laws prior to the Civil War that made it illegal for different races or ethnic groups to marry or engage in any sexual relationships. This legislation often continued into the Reconstruction era and the twentieth century, and in North Carolina, specifically, interracial marriage would not be made legal until 1967, with the landmark Supreme Court decision in Loving vs. Virginia.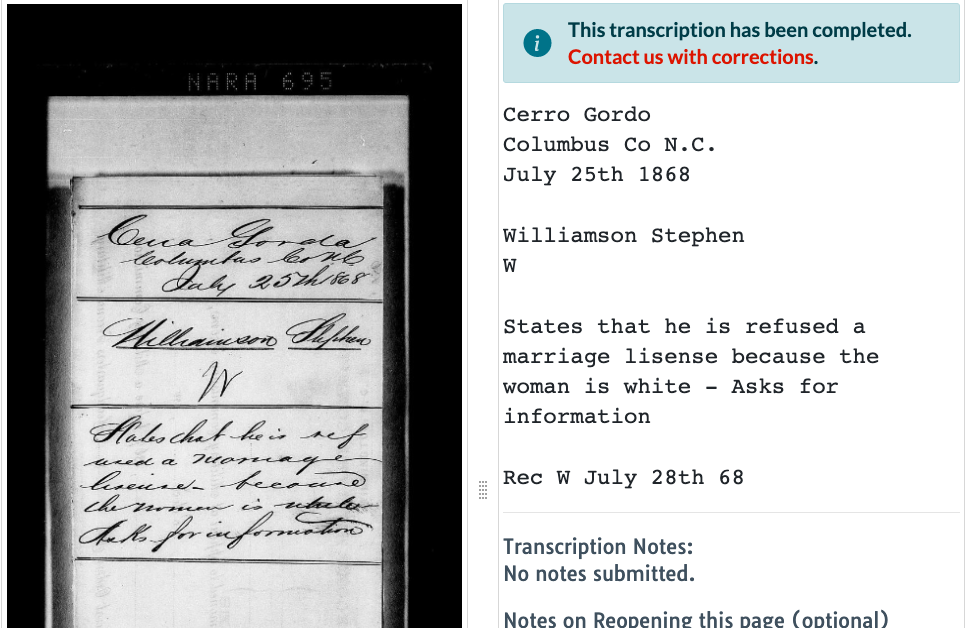 During their 2022 research, Because of Her Story interns Madeleine Roberts-Ganim and Jenna Lugo uncovered the stories of six women in the Freedmen's Bureau records who, in the face of discrimination, uncertainty, and violence, spoke up for themselves and their communities and pushed back against 19th-century gender expectations. From freedwoman Mollie Davis, who bravely testified to federal agents about the horrors committed by white police officers during the Memphis Massacre of 1866, to Harriet Smith, the formerly enslaved woman who eventually became the principal of her own school, these accounts provide a glimpse into the experiences of women, white and Black, during Reconstruction and the power of everyday people fighting for change.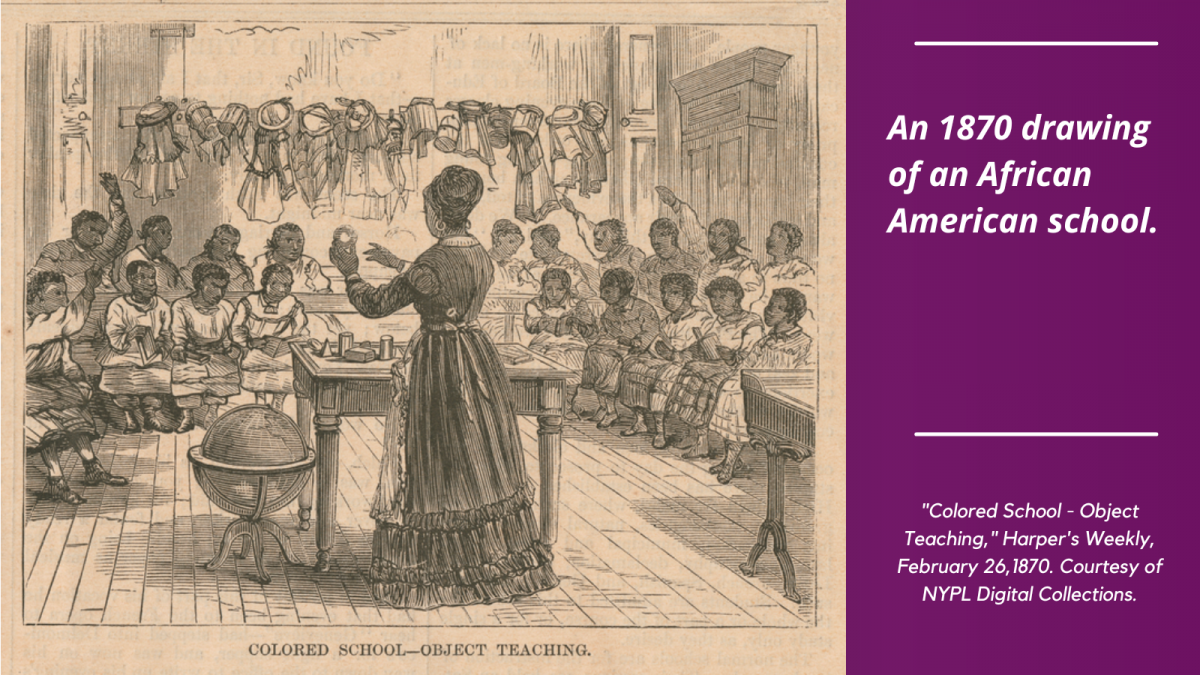 Forman Craton Papers and the Story of Forie and Willie  

General Electric (GE) engineer Forman (Forie) Craton documented his life in a "40-volume autobiography," spanning childhood memories at the turn of the twentieth century to his final years in the 1980s. His collection of memoirs, photographs, and letters are now part of the Archives Center at the National Museum of American History.  

Thanks to volunteer transcription, researchers wanting to learn more about 20th-century culture, economics, politics, labor history, and the early years of GE, can easily keyword search the thousands of pages recorded by Craton. But among his memoirs, is one of my all-time favorite historical love stories from Smithsonian collections.  

In December of 1924, Forman, a recent college graduate and just starting out in his engineering career, worked up the courage to write a letter to his long-time friend, Willette (Willie), expressing his love for her and his hope that she felt the same way. By New Year's Eve, she had written him back, and Forman's return letter shows just how delighted he was by her response. He writes: "Such a New Year's present - the most beautiful gift I ever can receive. Oh, Willie, I am so happy about it."

 
The two married in 1927 and would go on to have two children and multiple grandchildren and great-grandchildren, all recorded in the pages of Forie's memoirs.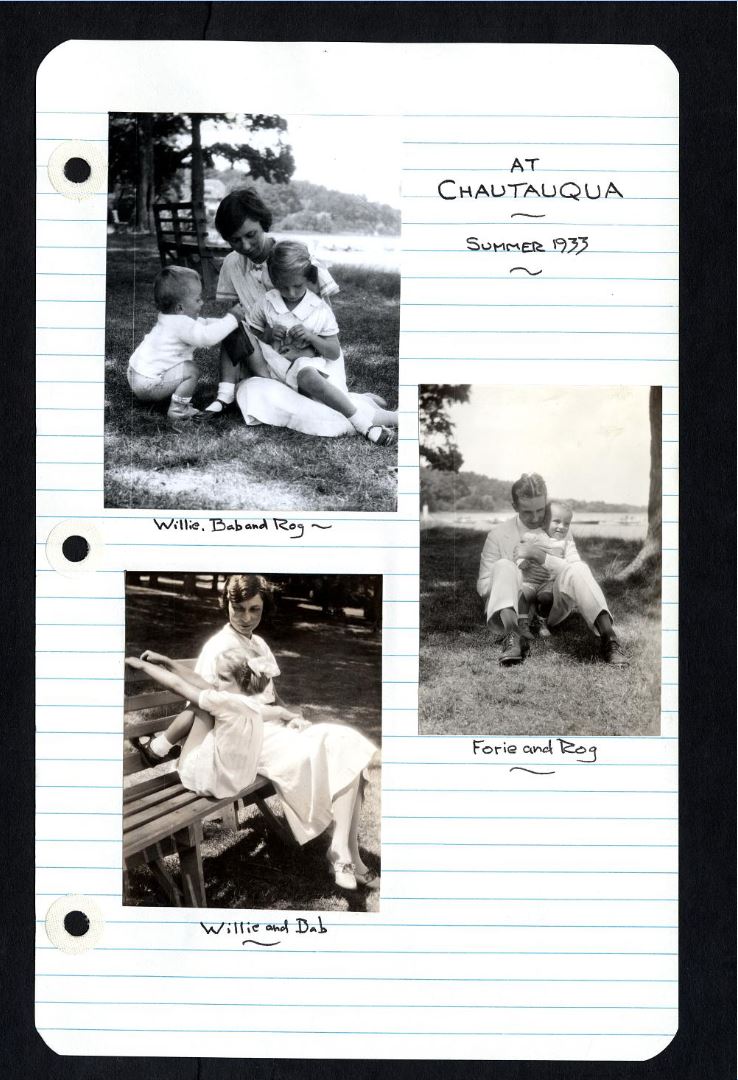 Dr. Matilda Evans  

At a time when women and African Americans were largely excluded from the medical field, Dr. Matilda Evans (1872-1937) broke barriers. In 1897, Evans became the first Black woman to be licensed as a physician in the state of South Carolina and would go on to create and manage multiple hospitals and one of the country's first nursing schools. Dr. Evans - who specialized in general surgery, women's health, and pediatrics for both white and Black patients, also published a weekly public health newspaper, established integrated community centers, and, in 1922 was elected to serve as president of the state medical association — the only African American woman to do so.  

 
Now part of the collections at the National Museum of African American History and Culture, professional and educational materials belonging to Dr. Evans were transcribed by our digital volunteers in 2021. They provide an unparalleled view of late 19th-century medical care — specifically African American women's access to healthcare in the U.S. south — and the social, political, and gender history of that era.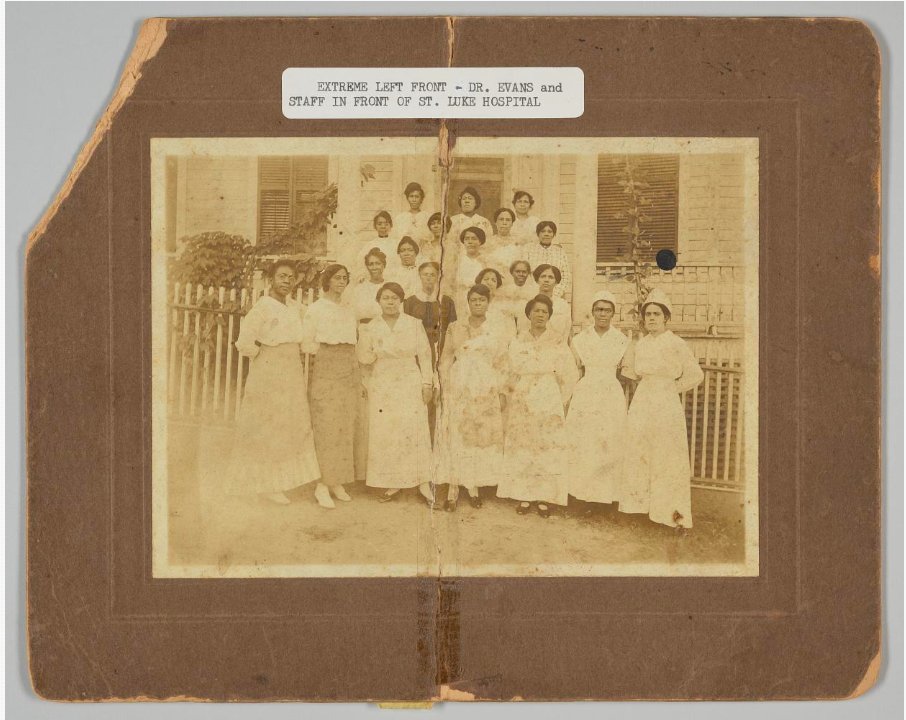 It's hard not to be inspired by Dr. Evans' story. Beyond her incredible accomplishments in the medical field, she was a tireless advocate for African Americans in Columbia. In the early 20th century, she established a community health organization, a community center, a boys' pool, and fostered and adopted more than two dozen children. All of this she did in the face of immense challenges, discrimination, and inequity in the Jim Crow South. Much of my own family lives in Columbia, South Carolina and I've walked by Dr. Evans' historic home many times, even exploring her story through African American history tours with Historic Columbia as an early college student. In 2020, a street just down the road from my sister's home was renamed "Matilda Evans Street" by Mayor Steve Benjamin — one of only two streets in the city named for a woman. Passing under that new street sign in recent years has become a major highlight of my trips visiting family.  
 
 
 
Relatable Experiences in American Girlhood

In 2019, the Transcription Center and educators from the National Museum of American History, and the Office of Education Technology (formerly the Smithsonian Center for Learning and Digital Access) partnered on a pan-institutional grant-funded project sponsored by the Smithsonian's American Women's History Initiative to improve access to the history of American girlhood. As part of this, more than 50 related transcription projects were launched on our site, including diaries and letters from American girls in the 19th and 20th centuries. We expected these collections to be an interesting, exciting glimpse of the complexity and diversity of the girlhood experience and they more than delivered on that. But the content within many of these materials also turned out to be deeply relatable to many of our present-day experiences. 
Here's three of my favorite finds from these transcriptions:  

Janice Lowry (1946-2009), an American artist based in Arizona and California, was known from her paintings, collages, and assemblages in addition to her unique visual journals. She was a very dedicated diarist. From age 11 until the last years of her life (with an exception of a decade) Lowry kept diaries, notebooks, journals, and art journals, many of which are now part of her collection at the Archives of American Art. In her diaries kept from ages 12 through 16, Lowry writes about her family, friends, parties, boys, and her hobbies, which included sewing, reading, and going to the movies. Fourteen-year-old Janice Lowry wrote some of her diary entries in code - taking extra precautions as she recorded her thoughts on friends and boys. While transcribing her diary in 2020, volunteers were able to crack it and recorded the translations.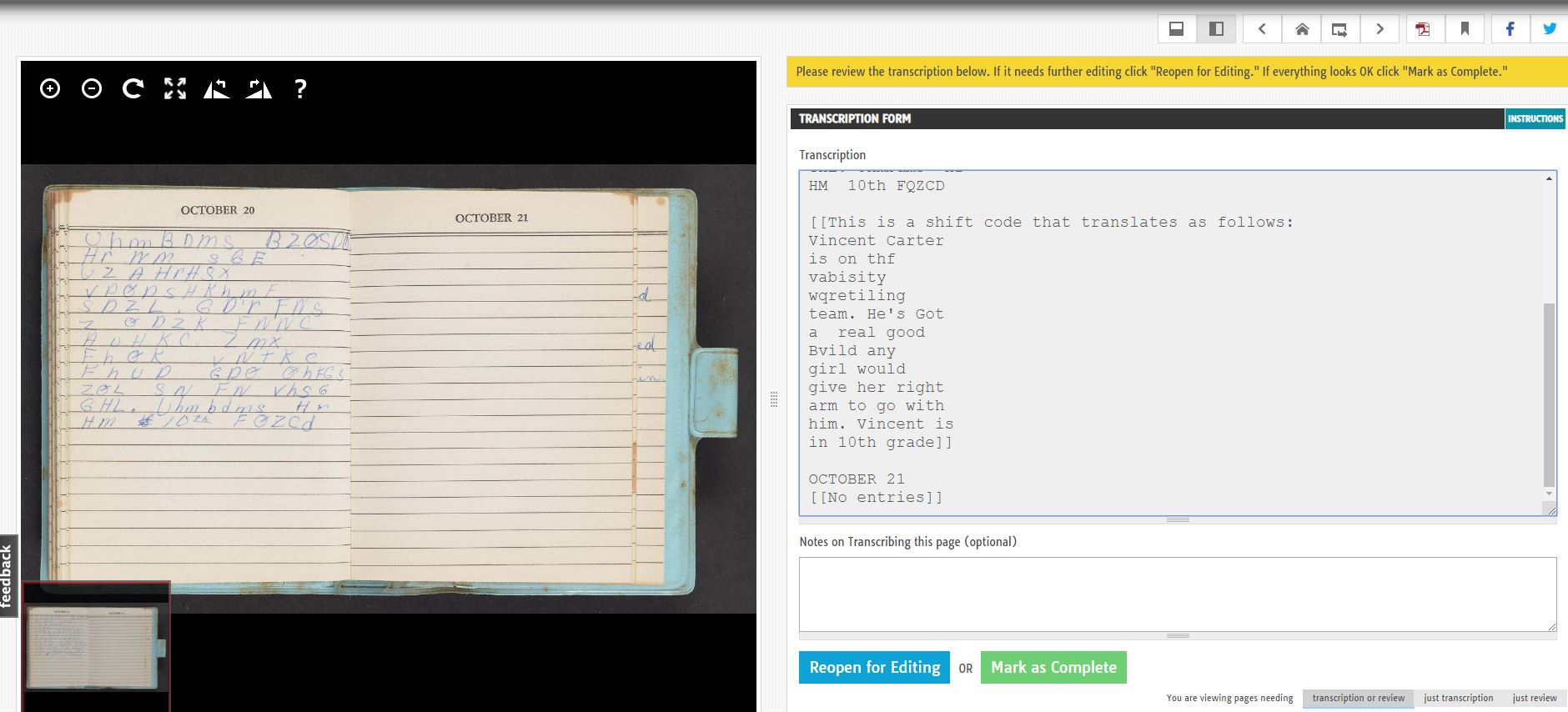 Illustrator, painter, and muralist Olive (Ollie) Rush made a name for herself in the art world in the 1930s and 40s. Bu before that, she was just an average American girl, dealing with the challenges of school and the harsh winters of Indiana.  

Her 1886 diary, from when Ollie was just 13, has some particularly relatable entries, including one from February 2, 1886 where he writes about being late to school and making the teacher angry as well as her struggles with math (which I deeply empathize with).


In 1948, Doris Sidney Blake, the daughter of Smithsonian entomologist Doris Holmes Blake and USDA Botanist Sidney Blake, was a student at Radcliffe College and wrote often to her parents updating them with news of her academic and social life. In one May letter, she recounted an outing with a former boyfriend, Dick, where she realized more about his "character" now that she was older. Doris writes of him: "Great Gods! How could I ever have loved him!! He is the most self-centered...oblivious person I've ever met." 

Much of Doris's letters and schoolwork were kept by her mother, becoming part of Doris Holmes Blake Papers at the Smithsonian Institution Archives.  

"Behind the Apron" Oral History Interviews  

Until the late 20th century, the work of shucking oysters in Maryland was almost exclusively done by African Americans. Black oyster and clam workers brought dignity, skill, and a strong sense of community to a job that industry outsiders often considered "dirty work." To document this history and the experiences of these workers, Smithsonian's Anacostia Community Museum (ACM) launched the "Behind the Apron" Oral History Project in 1997. More than twenty years later, these interviews were transcribed by TC volunteers, making the audio recordings captioned and searchable and providing an incredible resource for better understanding African American history and the Chesapeake seafood industry. Within the transcriptions are the heartwarming stories of individuals like Mary Washington and Doris Harris who recounted the friendships and community they made shucking oysters, as well as the challenges faced by African Americans in the mid-twentieth century.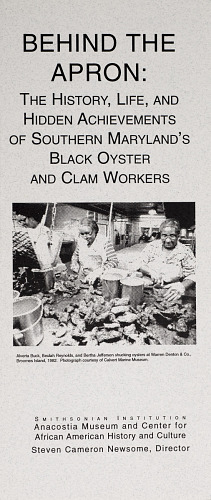 Mary Dawkins, who was interviewed by ACM staff member Shelia Montague Parker, grew up in Calvert County, Maryland and started shucking oysters in 1949. She said of the experience: "Shucking oysters has helped me to educate my kids in a way. My husband, he was a union man, he made good money. And the money I made I could run the house and protect his money. And that's how I put my kids through school." 
 
Ruth Law's Scrapbook  
 
In the spring of 1912, twenty-one year old Ruth Law bought her first plane, a Wright Model B, from Orville Wright — though he refused to teach her to fly. Wright noted he believed women weren't "mechanically inclined" enough to be pilots. She proved him wrong. By August, Ruth had finished classes at the Burgess Flying School, taken her first flight, and piloted a plane solo. She was the third woman in U.S. history to earn her pilot's license. 
Ruth would go on to become a pioneer in the aviation field - earning her place as the first female pilot to do the aerobatic maneuver "loop the loop" and the first person to fly a plane at night. In 1917, she offered her services to the United States in World War I, becoming the first woman authorized to wear a military uniform. She was denied permission, however, to fly in combat. Instead, she raised money for the Red Cross and Liberty Loan drives with exhibition flights. After the war, Law was active in the Ruth Law Flying Circus, a three-plane troupe that traveled to state and county fairs.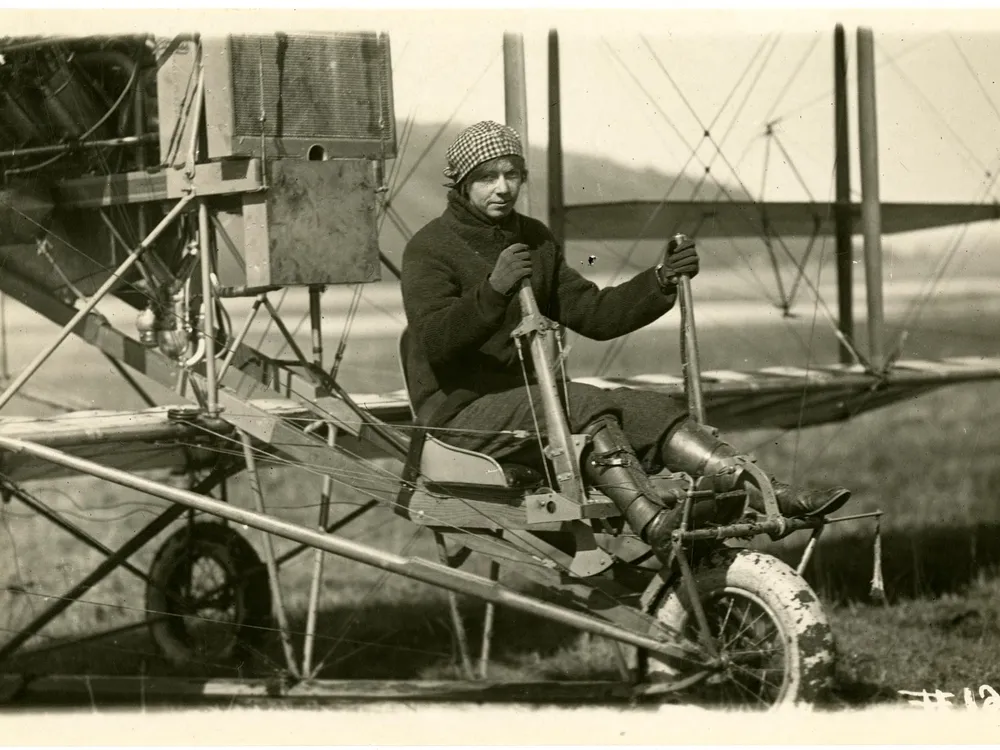 Law once told reporters: "Women flyers could do a lot of good, of course, just by teaching flyers, but I don't want to be an aviation professor...I seek activity, danger, accomplishment."  
And thanks to volunteers, you can explore more of Law's incredible (transcribed) quotes in her personal scrapbook — documenting her achievements and those of fellow 20th-century aviatrix — now in the National Air and Space Museum's Archives.
_______

I hope this journey through transcribed Smithsonian collections brings you as much joy and inspiration as it does me. It's bittersweet leaving this incredible program and its phenomenal community of staff and volunteers, but I'll be following along and continuing to transcribe. I can't wait to see what more all of you accomplish and discover. So, for now, see you soon and happy transcribing!  

-Caitlin