Smithsonian Transcription Center volunteer Jennie Caughran has been transcribing Smithsonian documents and records from her home in Texas since 2018. To date, she has helped transcribe and review more than 140,000 pages of Freedmen's Bureau Records. Her incredible dedication to this work has made it possible for thousands of people to access these historically important documents and learn more about the Reconstruction era.
Formally known as the Bureau of Refugees, Freedmen, and Abandoned Lands, the Freedmen's Bureau was established by the U.S. Congress in 1865 to help with the social, physical, and economic reconstruction of the American South following the end of the Civil War and aid more than 4 million formerly enslaved individuals in the transition from slavery to freedom and citizenship. Bureau offices were established in all fifteen southern and border states, and federal agents – many of whom were former Union military officers – assisted in almost every aspect of southern life. The agency helped establish and manage schools, operated court systems, oversaw the administration of new labor contracts, helped individuals locate loved ones separated under slavery, distributed rations, managed abandoned and confiscated lands, and more. Because of the breadth of their work, the Bureau's records, totaling more than 1.5 million pages, represent an unparalleled resource for understanding post-emancipation life, African American and southern history, and Reconstruction. Since 2016, the National Museum of African American History and Culture (NMAAHC), the U.S. National Archives (which hold the original Freedmen's Bureau records), and the Smithsonian Transcription Center have been partnering to transcribe the entirety of the digitized Freemen's Bureau collection. Thanks to the efforts of worldwide digital volunteers like Jennie, over 450,000 pages (and counting!) are now fully transcribed and text-searchable.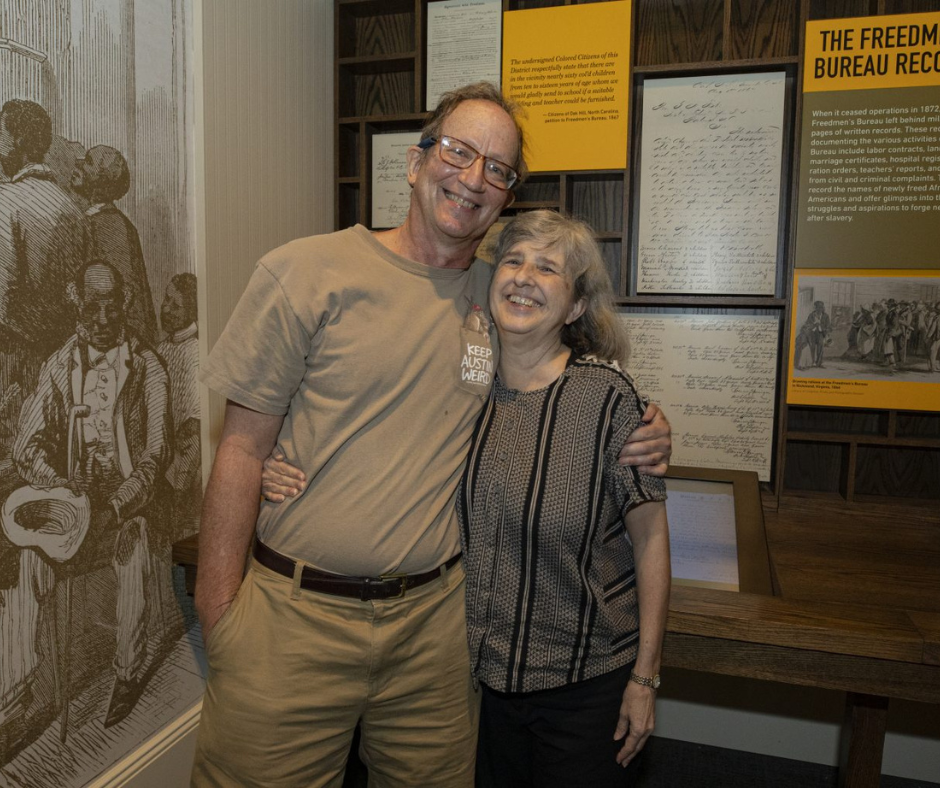 Jennie visited the National Museum of African American History and Culture's "Make Good the Promises: Reconstruction and Its Legacies" temporary exhibition in the summer of 2022 and sat down Kalyn Hall, the museum's marketing manager, for a short interview.
Kalyn Hall: "What motivated you to join this project and kept you transcribing all this time?"
Jennie Caughran: "Well, I retired from 29 years of public-school teaching 5 years ago, and I wanted to have opportunities to give back to the community; I wanted something I could do from home as well as in a social setting…and that's when I discovered the Smithsonian Transcription Project. And at first, I was just scrolling, on different projects, but then I discovered the Freedmen's Bureau. And was so, almost immediately, engrossed by it. I was learning so much that I had never known about the Reconstruction period. And the more I worked on the project, the more I was learning, and I didn't want to do any other projects.
"And I just more and more thought, eventually, people are going to have a better understanding of this history; as more of these documents are transcribed and people have access to them, we're going to have better college textbooks written, better academic work created. It will go down from college to graduate, even to elementary – it will help so many people better understand this history and even how it affects us today – like in this exhibit. I'm not a politician, I'm not an activist, but this is something I enjoy; and I do 2 or so hours a day, probably more, it's very addictive…it's very important to me, and I just thoroughly enjoy it. How much I've learned, I feel good that I'm helping these documents be accurately transcribed so more people have access to them."
"What advice would you give for anyone starting out?"
"Well, I tell people (about it) all the time, I'm a motormouth about it. If I get any idea that someone is interested in history at all – I'll just say, go to the Transcription Center and pull down the projects menu and tell them that you don't even know how easy it is, you can make it as big as you need to, you can transcribe one or two words…and (I) always tell them how much I've learned and how much I've enjoyed it."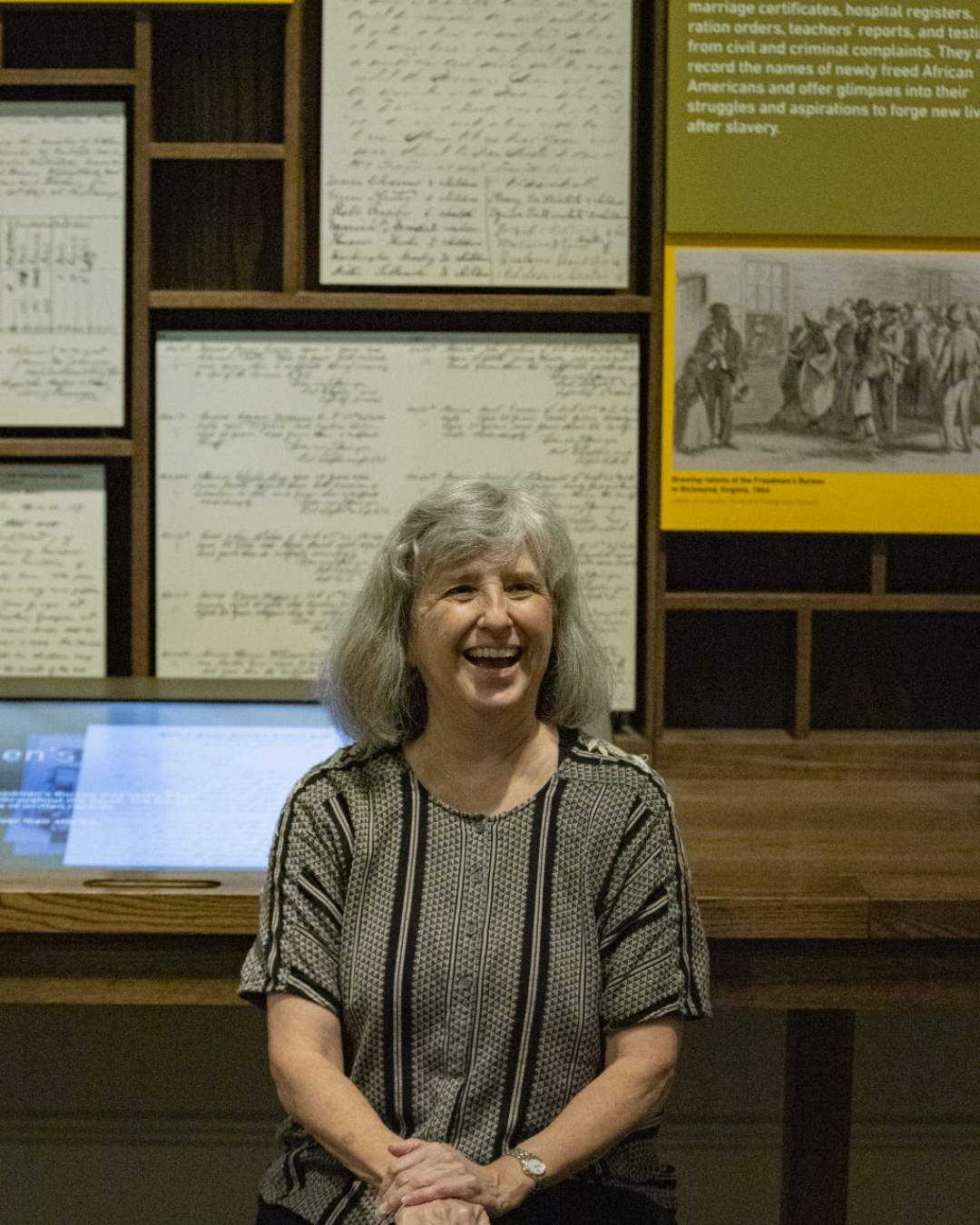 "How does it feel to be able to contribute to such a large number (of pages)?"
"I think it's more knowing that I can continue to work on this for so long, not so much about how many I've transcribed…I like the idea that I've got years and years ahead of me to work on these documents; I'm proud."
We thank Jennie and all of the amazing Smithsonian Volunteers for the incredible work that they do! Thank you for volunteering with the Smithsonian. We appreciate your time, effort, and expertise and look forward to everything we will accomplish together in the years to come!
---
Want to join the Transcription Center as a volunteer? Learn more about their work here: Home | Smithsonian Digital Volunteers (si.edu)
While "Make Good the Promises" has closed at NMAAHC you can still tour some of the exhibits virtually here: Make Good the Promises | National Museum of African American History and Culture (si.edu)
*This article originally appeared on the Smithsonian's The Torch, which is published online at https://torch.si.edu by the Smithsonian Institution Office of Communications and External Affairs for Smithsonian staff, volunteers and the entire Smithsonian community.