Exploring Black History Month 2017: Education & Theater
This February marks Black History Month. With select projects shared by Anacostia Community Museum Archives and the National Museum of African American History and Culture, we invite you to explore African American education history at the start of February. In the second part of the month, you'll have opportunities to delve into African American theater with more transcription projects.
Get a preview of this month's activities in our #TCBlackHistoryMonth campaign launch announcement.
Explore Projects Completed During #TCBlackHistoryMonth
Education
---
After the Civil War, many of the first colleges for African Americans were established to provide training for teachers and future leaders. Now known as HBCUs (Historically Black Colleges and Universities), these schools educated some of the most famous African Americans of the twentieth century including:
Booker T. Washington (Hampton University)
W.E.B. Du Bois (Fisk University)
Dr. Martin Luther King, Jr. (Morehouse College)
Ralph Abernathy (Alabama State University)
Thurgood Marshall (Lincoln University)
Katherine Johnson (West Virginia State University)
Marian Wright Edelman (Spelman College)
and Oprah Winfrey (Tennessee State University).
Education Projects
---
During our #TCBlackHistoryMonth campaign, volunteers collaborated to complete the following projects:
Theater Projects
---
Education was only one angle of our collaborative campaign. Here are some of the projects showcasing black theater and entertainment:
Together, we hope to identify connections across these selected collections from Anacostia Community Museum and the National Museum of African American History and Culture. What stories will you discover hidden histories inside these collections?
Help Identify Connections Across Projects
---
Tell Us More!
Once you discover any connections--people, institutions, events, or otherwise--in these projects, let us know. We will add them below!

Events
Special Behind-the-Scenes Facebook Live Event: 16 February 2017, 2:30 pm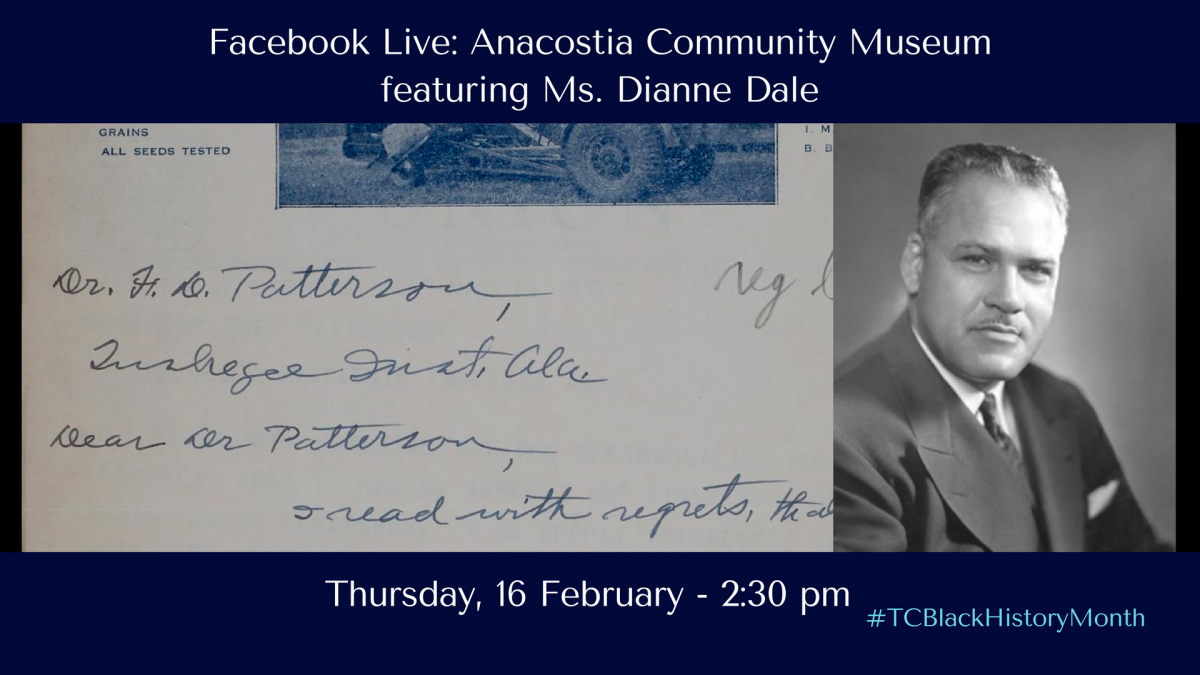 We learned more about Dr. Frederick Douglass Patterson with Smithsonian's Anacostia Community Museum and Dianne Dale. You can catch up on this Facebook Live event on YouTube. Ms. Dale is a community historian, writer, and stained glass artist. She provides illustrated lectures on the Freedmen's Bureau and HBCUs; DC and Anacostia history including the Barry Farm Freedmen's Village in SE DC. She also presents views into black education after the Civil War - including the work of Dr. Patterson. Her stained glass artwork is accessioned in Smithsonian Collections with Anacostia Community Museum and can be seen at the Smithsonian Ripley Center as part of the 2017 Artists at Work exhibition.
The Power of Place: Oak Bluffs, Shearer Cottage, and Shearer Summer Theater
Curator Kevin Strait of the Smithsonian's National Museum of African American History and Culture shares a special behind-the-scenes view into The Power of Place exhibit: Oak Bluffs and the Shearer Theater.
Covered in the video are the histories of the African American community and architecture, the vacation destination, as well as the Shearer Summer Theater.
Join Us
---
Other Questions?
---