Botany Focus Locality Instructions
Thank you for being a digital volunteer! It's very important that this work is performed in a standardized manner, so please make the effort to read and follow these instructions.
Our Transcription & Review Process
---

We seek to balance quality and speed with our transcription process - which of course is still evolving as we continue to develop this service. At the moment, this is how our system works:
1) Anyone can start transcribing or add to a transcription of a document.
2) Once a volunteer decides they've "finished" and they're ready for review, a different volunteer (who must have an account on the site) can review the transcription and either send it back for edits, or complete the transcription.
3) The finished transcript is sent to the Smithsonian, where it may be used immediately, or undergo additional work.
FINDING AND RECORDING COUNTRY
---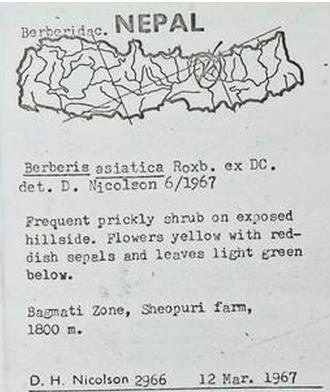 Locality is Important
By far, the most difficult and time-consuming part of recording collection data from a specimen is finding the correct locality information. For botanical specimens, getting the information correct is important because researchers often use the information to create plant checklists or species ranges using this information. Taking the time to research an unknown Country and Territory/State/Province is important for each specimen record.
The records in this project are special cases in which the locality information requires some detective work. We'd like to ask for your help in digging a little deeper to find the Country and Territory/State/Province for each of these specimens sheets labels. You will not enter district or county information in this project.
Note from the US Herbarium Digitization Team: Some locality information on the specimen labels is harder to decipher than others, but please make an effort to fill in the information, as it is invaluable to botanists, researchers and all that use this information. Thanks for all of your help!
First steps for Collection Locality
How do we find the correct information for a collection locality?
First, always record the current country and, if available, the state/territory (or second level of geographic division) name. Take a label such as :
Clearly it is from Nepal, but the other parts are unclear. What exactly is Bagmati Zone?
FINDING AND RECORDING TERRITORY OR STATE
---
To determine the state or territory, you can use an online resource: http://www.geonames.org/ - it is a tool used by staff at the US Herbarium, as well.
Geonames can help you determine the country in which that plant was collected. You can also Google locations - this is something scientists and botanists do as well.
Search Bagmati Zone in Country = Nepal. We find that the Bagmati is the "second-order administrative division" (like state or province) for Nepal, and can also be found in the dropdown list for Nepal. Therefore we can put this in the field "Territory".
Please note that the "State/Territory" field is optional; please make an effort to fill it in if not too difficult, but do not spend too much time researching this field.
Working Through An Example
---
Here is another example of how to determine Country and State/Territory details:
Here we do not have a country. We can look up "Mussoorie" in GeoNames where Country = "All Countries". We are returned with "India, Uttarakhand". In this case, the country = India, and the first level of geographic division (state/territory) = Uttarakhand, which is a synonym for Uttaranchal. Uttaranchal can be found in the dropdown list under India. In this example, we would need to first determine that Uttarakhand is not in the drop-down menu and then perform a web search to determine synonyms.
Confirming with Wikipedia and Web Searches
Using Wikipedia, we find that "United Provinces" is an archaic name for Uttar Pradesh, an Indian state. Why would this not be used for state/territory? Further investigation in Wikipedia shows that only recently has Uttaranchal become an Indian state, carved out of Uttar Pradesh.
Another way to find out the country and state/territory of a label locality is simply to perform a web search for the precise locality. Botanists and data entry specialists do it all the time. You can also use a web search for the name of the collector and collection month/year to find out where that collector might have been during that time period. Another method is to search for the taxonomic name and collector name and/or collection date, as other herbaria may have recorded a duplicate specimen from their own collection. There are many ways to figure out the country and state/province, with a little detective work.
Using Geonames
With this project, you'll be seeking to capture only Country and Territory/State/Province information. In this Geonames image, we can see where to find the Country and Territory. Should you feel additional information could be useful to confirm your transcription, you may include that in the "Notes on Transcribing This Page" field.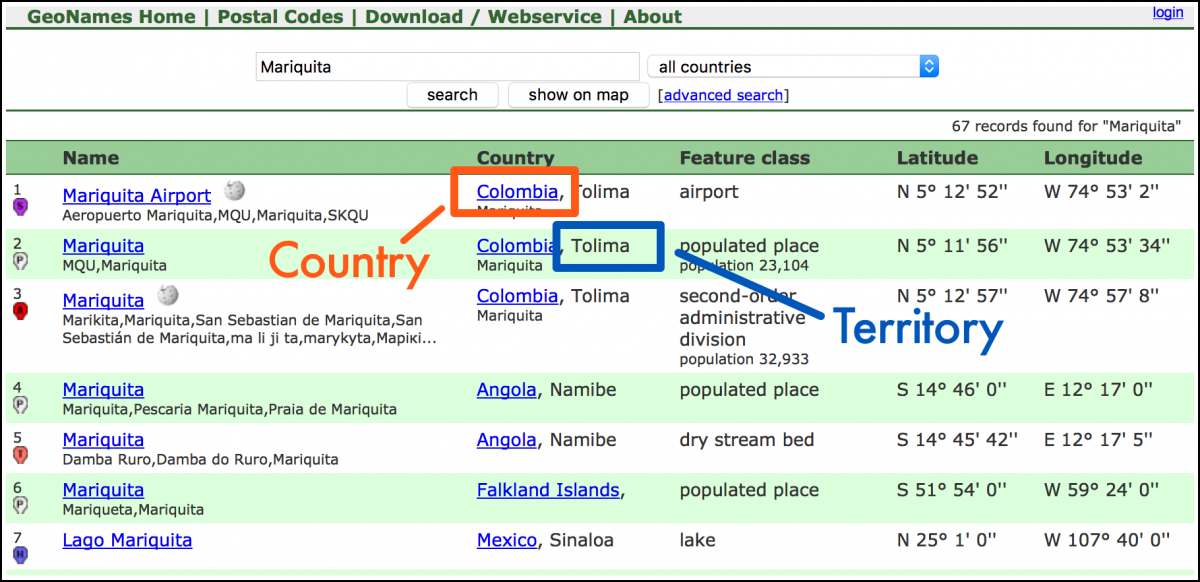 When to Choose "Unknown"
Obviously, some locality information on the specimen labels is harder to decipher than others, but please make an effort to fill in the information, as it is invaluable to botanists, researchers and all that use this information. If you truly cannot find the country name, please choose "Unknown" from the country list.
In some cases you may not be able to choose a country as the locality information may refer to two or more countries (i.e. Hispaniola with no further information, might be Haiti or Dominican Republic; a label that records only "Borneo" could be Indonesia, Malaysia, or Brunei). In these cases, please choose "Unknown" and put the reasoning in the Notes field. Thanks for all of your help!
Notes Section & Additional Information
---
The notes section is only for communicating any questions or concerns to Smithsonian staff, as well as other volunteers, about this transcription. For instance, if you aren't sure about the precise locality, but you did your best guess, you can indicate that here. Or if you are a reviewer and wanted to make a comment to staff or other transcribers, you can do that here. Final example - if you find that typed material and handwritten text conflict with one another, make a judgment call and then include your decision (and why) in this field.
Please do not erase notes from other volunteers or staff; rather, leave existing comments and add your own.
Additional Labels
There may be additional collection labels on the page which may assist you in transcribing this specimen. If the labels contain conflicting information, use your best judgement and include the information in the notes.
Keep in Mind
Some details are very important to the botanical specimen transcriptions. Providing accurate data, correctly transcribing the names of the collectors and localities, using Geonames.com to identify the correct territories, utilizing the autosuggest lists (when possible), as precision with these details is very important to us.
Other details, such as punctuation or brackets to field entries, or the format to indicate a name you are unsure of (such as "[?]" or "[sp.?]" or "??" ) are not as important. Please do not spend too much time on these details that can be easily fixed by our database managers. We want data that is searchable and findable, but not necessarily perfect in all matters of formatting.
We would much rather have your time spent on more transcriptions than creating a perfect masterpiece of one transcription!
Ready to Get Started?
And as always, you can get in touch with ways we can make our instructions more useful.

Thank you! - the The US Herbarium Digitization Team