Transcription Center News
The Latest News
What's happening lately at the Smithsonian Transcription Center?
Read more news below about the projects, volunteers, and Transcription Center activity that are occurring around the world.
October is Archives Month!
All this month, archival organizations around the country are taking part in American Archives Month by sharing with each other and the public what archives are, why they're so significant, and how archivists preserve, catalog, care for, and make accessible the historical materials held in archives.
Here at the Smithsonian we celebrate every October by hosting an Archives Month blog-a-thon on our Smithsonian Collections Blog. Stories behind specific archival collections, behind-the-scenes archival work, and the various roles and responsibilities of Smithsonian archivists are some of the many posts that have been featured this year and in Octobers past. Head over to the Collections Blog and dive into all things archives--including a post from our Transcription Center Coordinator, Caitlin Haynes, on the various different archival repositories (16 in all!) within the Smithsonian. 

Want to learn more about American Archives Month and find out about other events and celebrations? Check out the Archives Month page on the Society of American Archivists website. 
Behind the Scenes with Project PHaEDRA
Ever wondered what goes on in the library and archives of the Harvard-Smithsonian Center for Astrophysics? Even we don't always know since they're so far away from us here in Washington, DC! For the past few months, our colleagues from Project PHaEDRA, have been filming a series of videos to take us behind-the-scenes of their work. This amazing videos provide a glimpse into the many levels of archival work, including cataloging of their historical logbooks to the digitization process to prepare their collections for Transcription Center. The latest clip in the series consists of an interview with a manager from Distributed Proofreaders, another organization helping to increase the accessiblity of Project PHaEDRA materials. Check out all the videos below and stay tuned for more!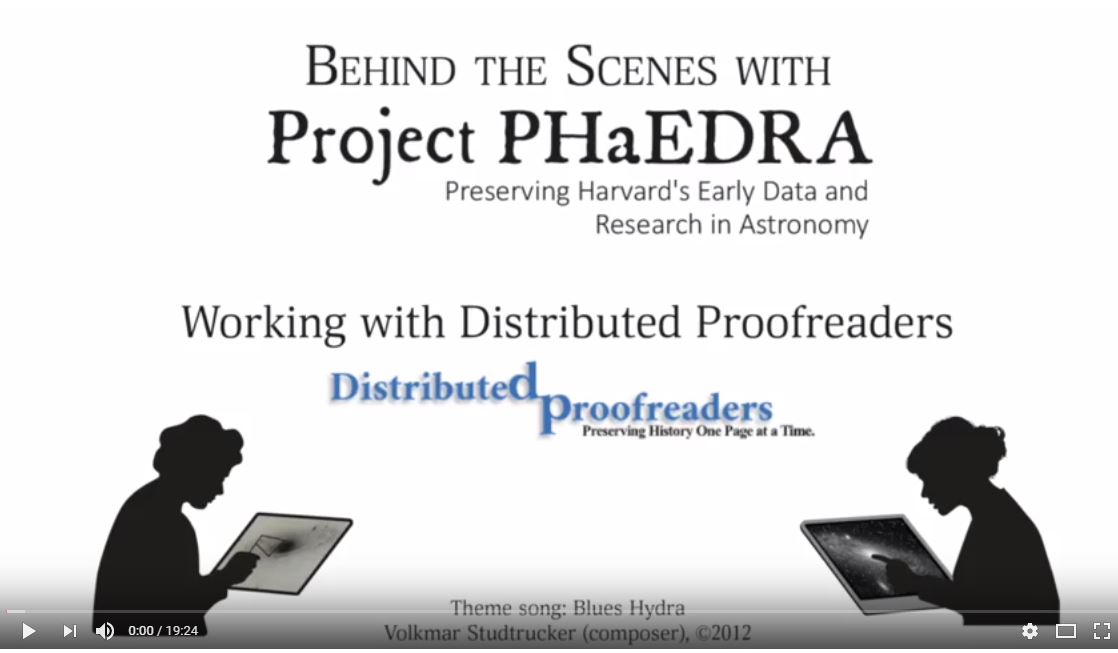 #TCImpact: Exploring the Multitude of Ways Transcriptions are Used
Did you know that since 2013, volunpeers have transcribed and reviewed almost 400,000 pages of Smithsonian archival, library, and museum collections!? But what happens to all that content? Why do transcriptions matter and what impact do they have? In June, we launched a new campaign, #TCImpact, to answer these questions and highlight the many uses of transcribed content, the discoveries made by Smithsonian staff, volunpeers, and researchers while transcribing and reviewing, and the far-reaching impact of the Transcription Center's work.
To share these amazing stories, we've been hosting twitter chats on the first Monday of each month with volunpeers and our Smithsonian colleagues. Using #TCImpact, we've shared and learned SO much! If you missed our June and July #TCImpact chats--or just want to review the awesome discoveries and insights again--check out the Twitter moments here and here.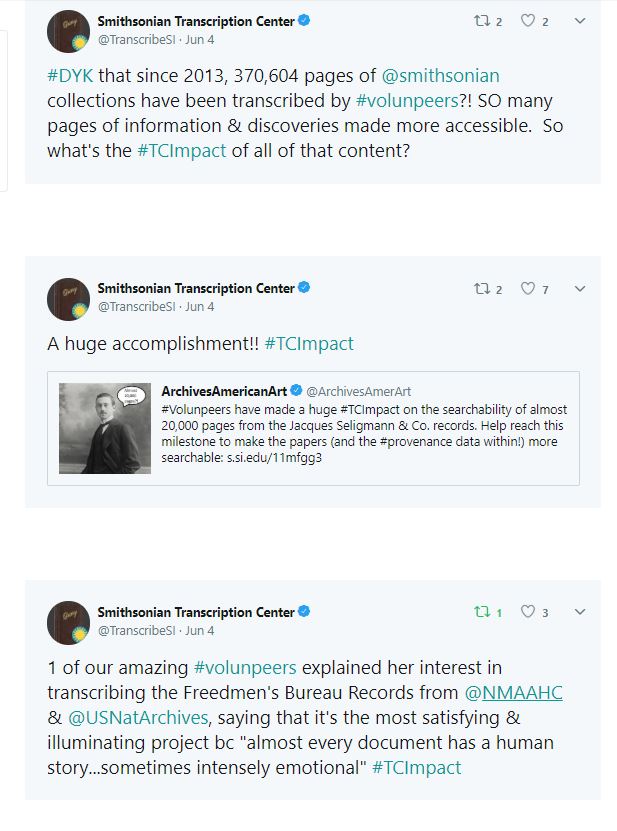 Our next #TCImpact will be held on Monday, August 6, from 1:30-2:30 pm. Join us on Twitter to share your discovery, question, or story, or send something in ahead of time for us to share by emailing us at transcribe@si.edu. 
Robot Collection Lecture with Carlene Stephens in the Smithsonian Castle!
We're partnering with the Smithsonian's Office of Visitor Services to co-host a special Volunteer Enrichment Opportunity - for both onsite and remote/digital volunteers! Please join us for a special chat with museum curator, Carlene Stephens, as she talks about the objects in the National Museum of American History's small but significant – and growing – robotics collection. As a museum curator with the Division of Work and Industry at American History; Carlene works on a variety of projects, but has a passion for our robot collection and is willing to share her passion and knowledge with us. The lecture will be held in the Castle Library and will be followed by a special appearance by our very own Pepper. This is a great opportunity to interact with the Smithsonian's newest robot! The lecture will be live-streamed on Facebook, so be sure to join us and ask questions in real time!
Onsite space is limited, so if you're in the DC area and would like to join us in person, please RSVP by July 1 to OVSRSVP@si.edu or 202.633.5258. Interested in learning more? Contact Kris Hamilton with the Office of Visitor Services at HamiltonK@si.edu or 202.633.5258.
SPRING UPDATES
In March and April 2018, we welcomed 587 new volunpeers, transcribed and reviewed 11,338 pages, and completed an impressive 168 projects! We're inching closer and closer to 400,000 total pages transcribed every day, and we couldn't have done it without you! 
Over 13,000 individuals from around the world--from places like Santiago, Chile, Madrid, Spain, San Antonio, Texas, Mexico City, Mexico, Chicago, Illinois, Sydney, Australia, Warsaw, Poland, San Jose, California, and many more--visited the Transcription Center. On average, these visitors explored 12 pages and logged at least 10 mins of their time with us. As we continue to grow worldwide, we are humbled and excited by the work of our digital volunteers, and look forward to new community collaborations, #TCdiscoveries, and volunpeer insights! 
In honor of Volunteer Appreciation Month, the Smithsonian announced the launch of a new permanent, online feature Volunteer Voices. Published on the Smithsonian's online news source for, by, and about the Smithsonian community, The Torch, Volunteer Voices will feature news of volunteer programs and events, profiles, fun facts, and much more. Check out Secretary Skorton's message to volunteers, and visit the Volunteer Voices page for more highlights (including some future Transcription Center and digital volunteer spotlights- so stay tuned!).
Facebook Live: Smithsonian Institution Archives: "From Our Collection to the Transcription Center"
How does a field book make its way from Smithsonian Institution Archives' collections, to the Smithsonian Transcription Center, and onto your screen?  On April 27, went behind-the-scenes into the amazing work of SIA's preservation team to show you the #MaterialMatters and stories behind a select few items from their collection.
Check out the full video below: 
Celebrating Women's History with us!
In celebration of Women's History Month 2018, the Smithsonian Transcription Center invites you to transcribe collections highlighting the historical contributions of women in science, technology, and art to make these collections more accessible!  Click here to begin exploring.
Also watch our video on Smithsonian women scientists below: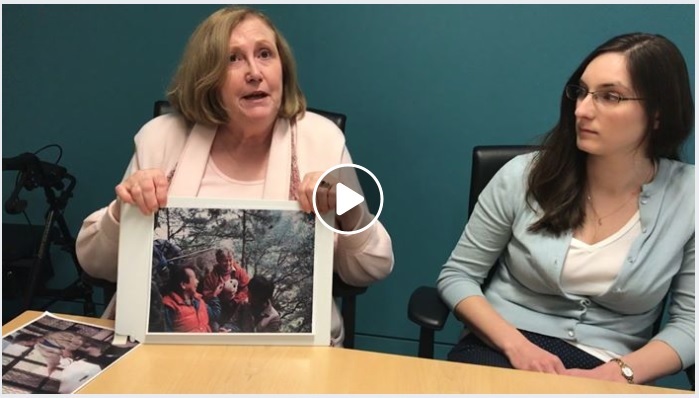 New Feature Released: Enjoy the Download-able Report!
Since the launch of Transcription Center in June 2013, 10,784 active digital volunteers transcribed and completed 386,616 pages of documents online. Today, we have launched new features to improve the ability for volunteers to track, search, filter and report on their accomplishments under their registered ID. The volunteers can also customize and download their activity reports as a PDF file from the "My Work" tab in the Transcription Center. We want to thank our volunteers for your great contribution! Enjoy!
Hangout with the National Museum of American History's Archives Center- Diaries of American History
How did a farming woman in Ohio, a white-collar worker in Upstate New York, and a plastics inventor in New York City perceive the global events unfolding during their lives? On February 6, we hosted a Google Hangout with Joe Hursey, reference archivist for the National Museum of American History, and Justine Thomas, an intern working on digitizing museum collections to answer these questions and learn more about some of the diaries held within their collections. We also talked about what it takes to digitize collections and the process behind digitization. 
You can check out the full video below:
This year we examine the role of religious institutions and traditions in African American culture. Help us preserve Black history and get started on these projects from the Anacostia Community Museum and the National Museum of African American History and Culture. Click here to begin exploring. 
A Historic Celebration of Frederick Douglass
Born to an enslaved family in 1818, Frederick Douglass never knew his actual birthday. So, he chose his own date: February 14.
This year we honored the 200th birthday of the abolitionist and orater by partnering with the Colored Conventions Project to co-host a multi-city transcribe-a-thon for the Freedmen's Bureau records, part of the Smithsonian's National Museum of African American History and Culture. The event, which was livestreamed from 12 pm till 3 pm Eastern Time, featured representatives from the Smithsonian and the Colored Conventions Project, live musical performances, and a dramatic reading of Douglass' speech from the 1883 national Colored Convention in Louisville, Kentucky. And yes -- depending on where you were, there was plenty of cake.
But the best part? Collectively, we transcribed nearly 800 pages and reviewed and approved over 400. Within the span of four hours, 600 new volunpeers registered to help digitally preserve the Smithsonian's collections! Thank you all!
Notice anything different in the top menu? Introducing our new SEARCH feature!
---
We're thrilled to announce a brand new SEARCH feature!
Ever since we launched the Transcription Center in June 2013, we've been using your feedback to constantly improve the experience. Lost your place and need to revisit a project? Doing research? Just plain curious? Explore the search feature and see what you can discover. And, yes, you can filter by museum and archive!  
Hanging out with the Smithsonian-Harvard Center for Astrophysics
On December 18, we hosted a Google Hangout with Project PHaEDRA of the Harvard-Smithsonian Center for Astrophysics' Wolbach Library to learn about the progress of the transcriptions of the logbooks of Harvard's early women astronomers. We talked about the historical contributions of Henrietta Swan Leavitt, Cecilia H. Payne, and Annie Jump Cannon. Why is it important to transcribe these logbooks? What are the next steps? Watch:
Winter Updates
In January 2017, we welcomed 100 new volunpeers who joined us in transcribing and reviewing nearly 4,000 pages. As of January 30, our cumulative total was 3,124 completed projects, and 351,354 pages. Our homepage is constantly being updated with the latest numbers, so check back periodically.
During January, we hosted over 8,333 visits from around the world; visitors stopped in from Clarksville, Tenn., Cape Coral, Fla., Wellington, New Zealand, Lagos, Nigeria, London, and Berlin. On average, visiting volunteers explored 12 pages and shared over 12 minutes of their time with us. TC visitors logged about 69,750 unique pageviews.
Every week, our participating museums and archives teams share new projects, as we continue to invite new volunteers to these adventures. We are happy to support new visitors - and you! - in efforts to make Smithsonian collections more accessible. From improving searches associated with history and art objects to adding metadata to biodiversity specimens records, we are so excited to have you with us. Please let us know how we can support you as you help improve access to collections.
Stories from the Collections
---
The Freedmen's Bureau Papers
The National Museum of African American History and Culture has recently launched the Freedmen's Bureau Papers, starting with Bureau offices in North Carolina.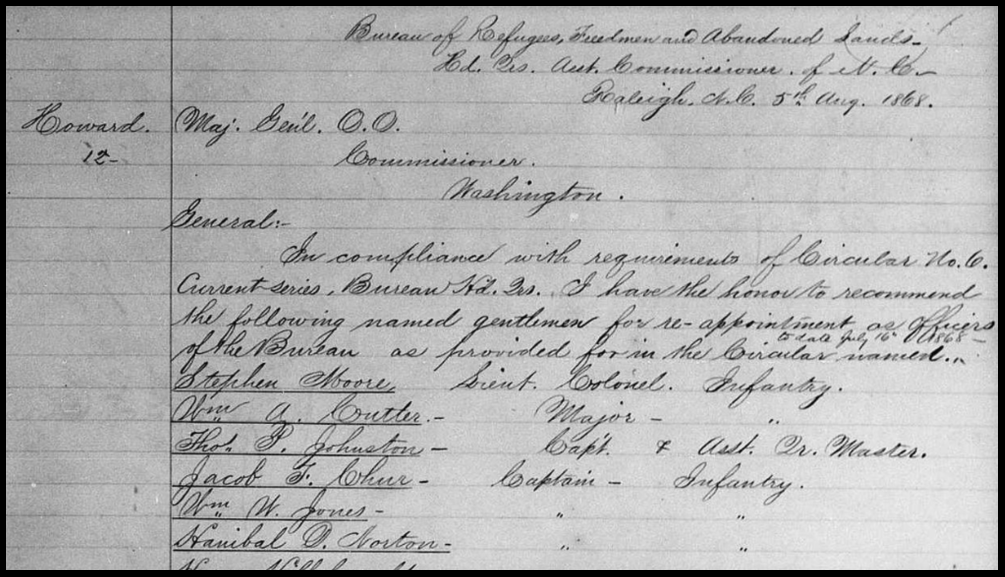 The Bureau of Refugees, Freemen, and Abandoned Lands, often referred to as the Freedmen's Bureau, was established on March 3, 1865. The duties of the Freedmen's Bureau included supervision of all affairs relating to refugees, freedmen, and the custody of abandoned lands and property.
Please explore in more detail the Freedmen's Bureau's history and the ways the public is helping historical and genealogical research at this overview from the National Museum of African American History and Culture.
The Freedmen's Bureau team has been hosting transcribe-a-thons with partners at the University of Maryland. Learn more about these events in May 2017 and November 2016.




 
Provenance and Proof: Jacques Seligmann & Co. records, General Correspondence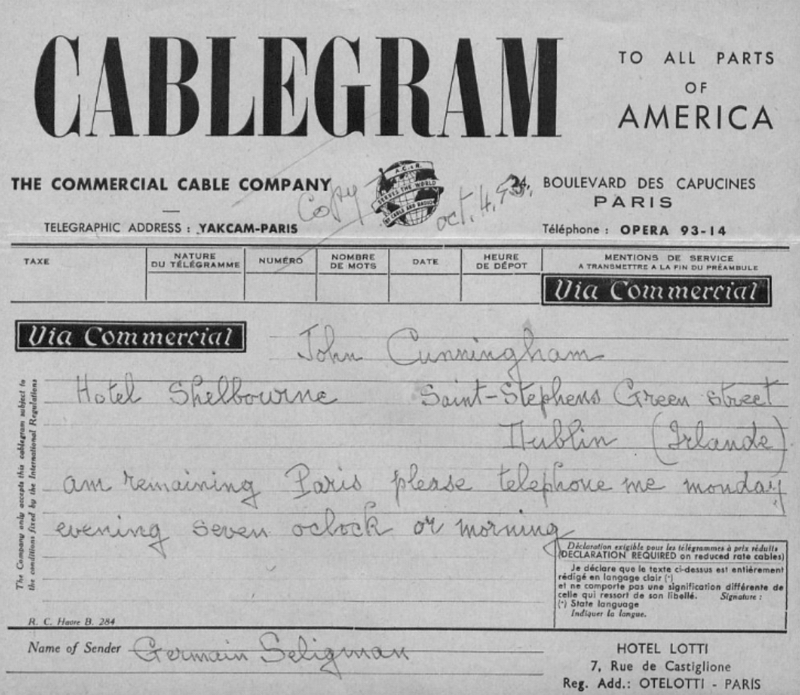 Join the Archives of American Art to transcribe and review this unparalleled resource for provenance researchers. These projects include letters with art dealers and galleries and are selected from the General Correspondence subseries of the Jacques Seligmann & Co. records. These sets of records are among the world's foremost resources for provenance research. The collection documents the business dealings of international art galleries which were active for nearly a century, and contains invaluable information for tracing the provenance of works of art which passed through the Jacques Seligmann & Company holdings.
Learn more about the methodologies of provenance research within the Seligmann & Co. records. Then, join us to transcribe some!
Join Us!
---
As always, we welcome volunteers from around the world as we take on this challenge. With your help, we can make our vast collections in art, history, and science more accessible to anyone.

You can browse through projects and find something new each week.
Get in Touch
---
Thank you for your interest in supporting and improving the Smithsonian Transcription Center. Have questions, want to share your discoveries, or reflect with your story of learning with the Transcription Center? Please contact us here.
You can also tweet questions to @TranscribeSI.
This project is a product of many many passionate, creative, and dedicated individuals who have contributed subject matter expertise, technical solutions, content and design, and much more. We can continue to improve through your feedback.