The Roots of Garden Heritage in the Archives of American Gardens
During the late 19th and early 20th centuries, women formed networks of gardening clubs across the United States, sharing planting tips and design principles, beautifying their communities, and taking on projects to preserve historic landscapes. Born in 1874, Alice Gardner Burnell Lockwood was one woman with a passion for gardening and recording America's gardening heritage.
Lockwood helped organize the Greenwich Garden Club, in Connecticut, which was formally accepted into The Garden Club of America (GCA) in 1920. Lockwood served a variety of roles within the GCA and was a prolific author for the GCA's Bulletin, publishing articles on garden history, native plants, conservation efforts, and public park plantings. Starting in 1931, the GCA published her pivotal two-volume series, Gardens of Colony and State: Gardens and Gardeners of the American Colonies and of the Republic before 1840, which highlighted many of America's early gardens. The books featured photographs and other documentation assembled by amateurs and professionals, including Garden Club of America members.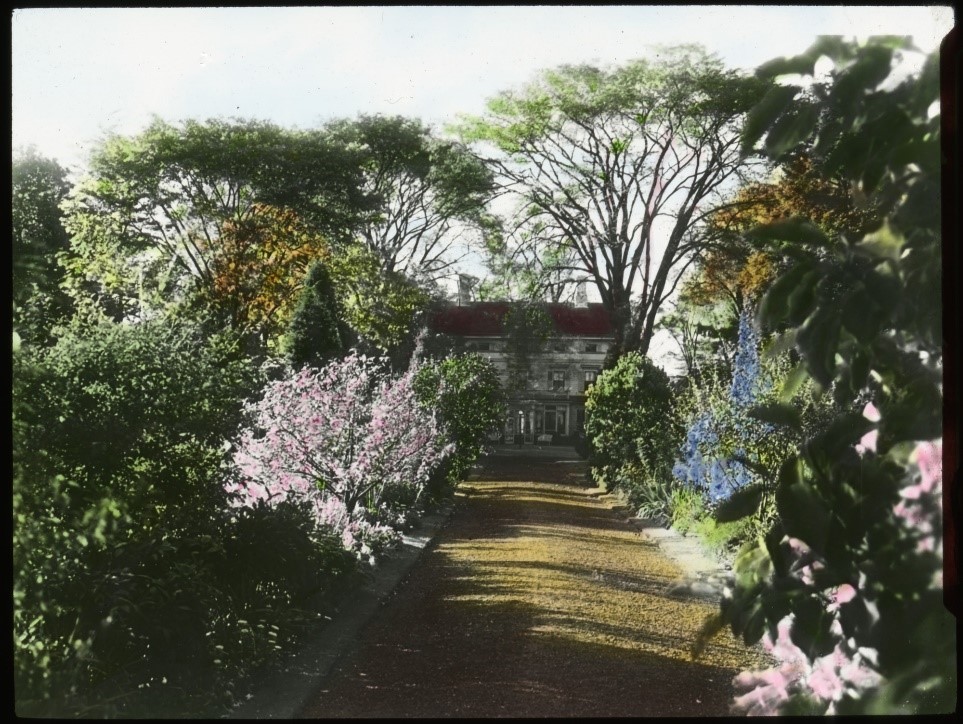 Hand-tinted lantern slide of the Thaddeus Burr Homestead in Fairfield, Connecticut, mentioned in  Lockwood's "Northern Gardens" lecture script.
Lockwood drew heavily on this research for two lantern slide lectures she prepared for garden clubs called "Northern Gardens" and "Southern Gardens." Both lectures circulated amongst GCA-affiliated clubs in the 1930s, educating members about the history and evolving designs of early gardens on the East Coast.  Thanks to a Smithsonian's Women Committee grant awarded in 2019, the Archives of American Gardens was able to digitize both of Lockwood's lecture scripts and make them available for transcription on the Smithsonian Transcription Center.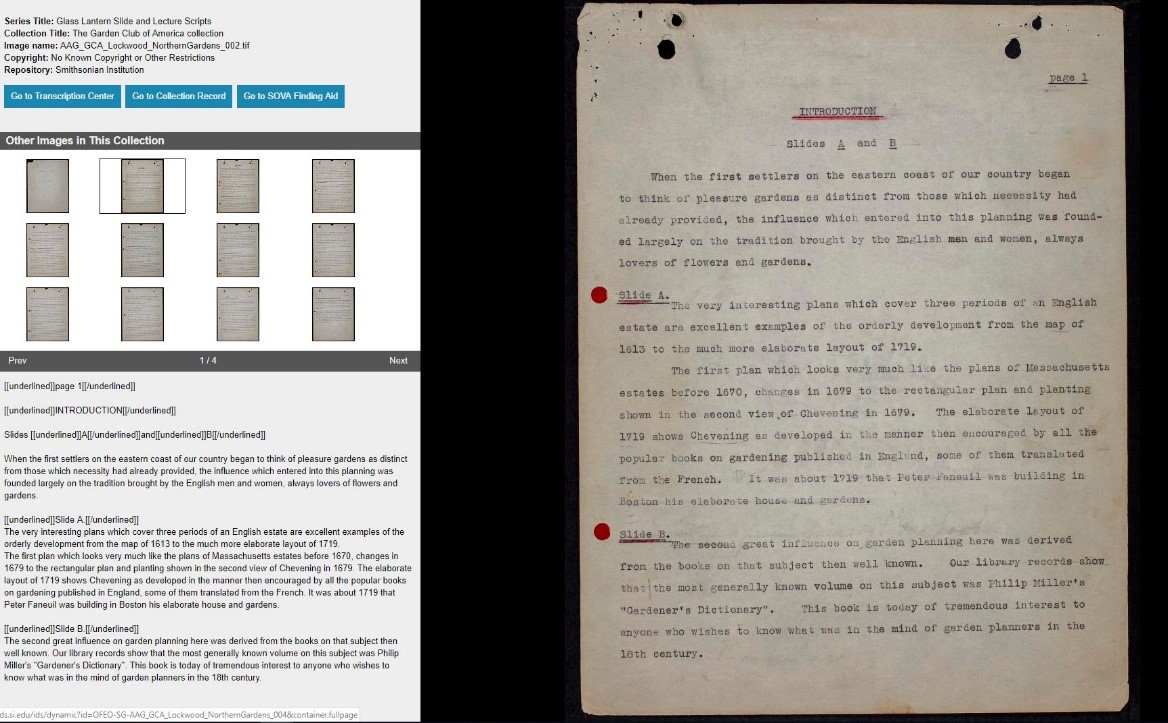 Completed transcription of the "Northern Gardens" script in the Smithsonian Transcription Center.
Much like the Archives of American Gardens does today, Lockwood's lectures presented images and information about historic and contemporary American gardens. Through the efforts of digital volunteers, her scripts will now be readily accessible and searchable for innumerable uses by researchers alongside the digitized lantern slides that are part of The Garden Club of America Collection. Horticulture aficionados should keep an eye out for future digitization and transcription projects pulled from the holdings of the Archives of American Gardens!