Happy Birthday, Jim Thorpe! We're Celebrating by Making His Daughter's Archives More Accessible Online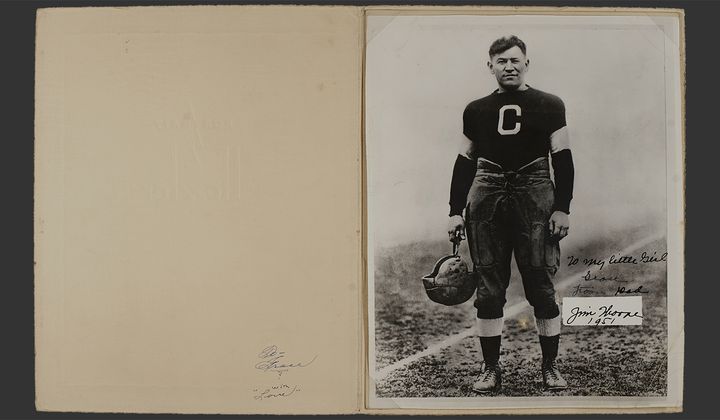 Jim Thorpe (Sac and Fox), with the inscription "To my little girl Grace From Dad Jim Thorpe 1951." The photo, in the original folder frame, shows Thorpe during his career with the Canton Bulldogs football team, ca. 1915 to 1920. Grace Thorpe Collection, NMAI.AC.085 (pht_092_002).
Although the exact date is unknown, it is generally believed that James Francis Thorpe (Sac and Fox [Sauk]) was born on May 22, 1887, or May 28, 1888, in Indian Territory near present-day Prague, Oklahoma. Jim Thorpe went on to become the first Native American athlete to win an Olympic gold medal for the United States and is considered by many to be one of the greatest athletes of all time.
In 1912, Thorpe won the pentathlon and decathlon at the Stockholm Olympics. The next year, however, the International Olympic Committee stripped Thorpe of his amateur status and his medals, and removed his winning times from the official record, after it determined that he had been paid to play baseball for a summer. Thorpe's athletic legacy went beyond the Olympics, but for many, including Thorpe's children, the erasure of their father's records was an injustice that needed to be rectified.
Button from the Carlisle Jaycees' Project Jim Thorpe, 1969. The community project, launched with the hope of reinstating Jim Thorpe's medals, was ended in 1971. Grace Thorpe Collection, NMAI.AC.085 (011_000_006).
Much of the decades-long fight to reinstate their father's Olympic records is documented in the Grace Thorpe collection, donated to the National Museum of the American Indian Archives Center in 2015 by Grace Thorpe's daughter, Dr. Dagmar Seely, and granddaughter, Tena Malotte.
Grace, born in Yale, Oklahoma, in 1921, was the youngest of Jim Thorpe's children from his marriage to Iva Miller. Like her father, Grace attended Haskell Indian school as a child. Following her parents' divorce, she moved between their homes in Chicago and California. Grace went on to serve in the Women's Army Corps in World War II and stayed in Japan for several years following the war as chief of the recruitment section at Gen. Douglas MacArthur's headquarters.
After returning to the United States and raising her family, in the late 1960s Grace became involved in Native American issues, working as economic development conference coordinator for the National Congress of American Indians and leading public relations for Indians of All Tribes during the occupation of Alcatraz. Grace remained politically active throughout the 1970s and '80s, in addition to fighting for the restoration of her father's Olympic titles. In 1982 the Thorpe family was informed that Jim Thorpe would be reinstated as the winner of the 1912 pentathlon and decathlon. They were presented with medals by the International Olympic Committee in January of the following year.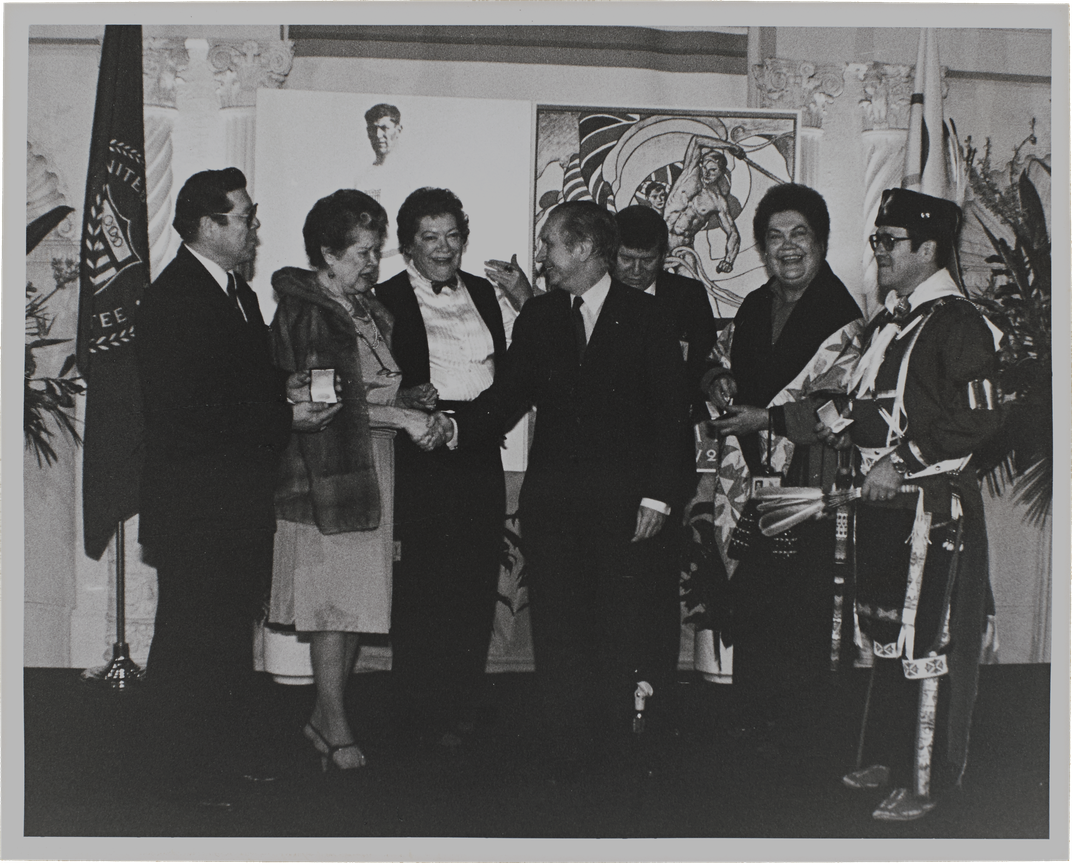 The Thorpe family at the Olympic Committee medal presentation, January 18, 1983. Grace Thorpe is second from the right. Grace Thorpe Collection, NMAI.AC.085 (pht_107_004). 
In later years, Grace served the Sac and Fox Nation as a tribal judge and health commissioner. She also became an environmental activist and opposed storing nuclear waste on tribal lands. She also meticulously gathered interviews, articles, and photographs related to both her work and her father's legacy. These records can all be found digitized on the Smithsonian Online Virtual Archive.
In honor of Jim Thorpe's birthday, the museum has made eight significant projects from the Grace Thorpe collection newly available at the Smithsonian Transcription Center. These include Grace's "Memories of Dad" and her answer to the frequently asked question "How does it feel to be Jim Thorpe's daughter?" When you take a look at the new Grace Thorpe materials on the Transcription Center, make sure to see as well Grace's letters to her mother from Haskell Indian School and a scrapbook highlighting Grace's activism in the early 1970s.

*This post was originally published on Smithsonian Voices. 
Rachel Menyuk is a processing archivist in the National Museum of the American Indian Archives Center. Her profile of the Mohegan ethnobotanist Gladys Tantaquidgeon (1899–2005) appears in Smithsonian American Women: Remarkable Objects and Stories of Strength, Ingenuity, and Vision from the National Collection. She is also a proud company member with Pointless Theatre Co. and an active supporter of the D.C. theatre and arts community.