#ReviewWithUs - Summer Review Challenge with Transcription Center and By the People
The What and Why:
Ah, summer, the perfect time to unwind, relax, and explore Smithsonian and Library of Congress collections online (preferably with a cold beverage in hand!). Beat the heat with us this month by joining our #ReviewWithUS #SummerSlowDown challenge. Beginning August 2, we're collaborating with the Library of Congress's By the People (BTP) crowdsourcing team to share information on Review: the final, crucial step in our transcription projects. On Twitter, our program websites, and in the Transcription Center and By The People newsletters, we'll be highlighting our best tips for successful Review, gathering context clues, and deciphering tricky historical handwriting. And throughout, we'll be seeking input from all of you - our volunpeer experts.
The biggest goal, though? Slowing down. By taking the time to slowly, and thoughtfully Review transcribed pages, TC and BTP volunpeers and team members ensure that mistakes are caught, completed pages are accurate, and every one of us is able to deeply engage with, and learn from, the past. So whether you're a long-time TC or BTP volunpeer, you're new to one (or both) of our programs, or you're just interested in learning more about our diverse collections and the impact of volunteer Review, we hope you'll join us! Follow along - and share your review tips and collection discoveries - by using the #ReviewWithUs hashtag on social media or by emailing our team directly at transcribe@si.edu.  We'll close out the month by compiling the best tips, discoveries, and review examples in a collective blog post on the impact and importance of Review (stay tuned)!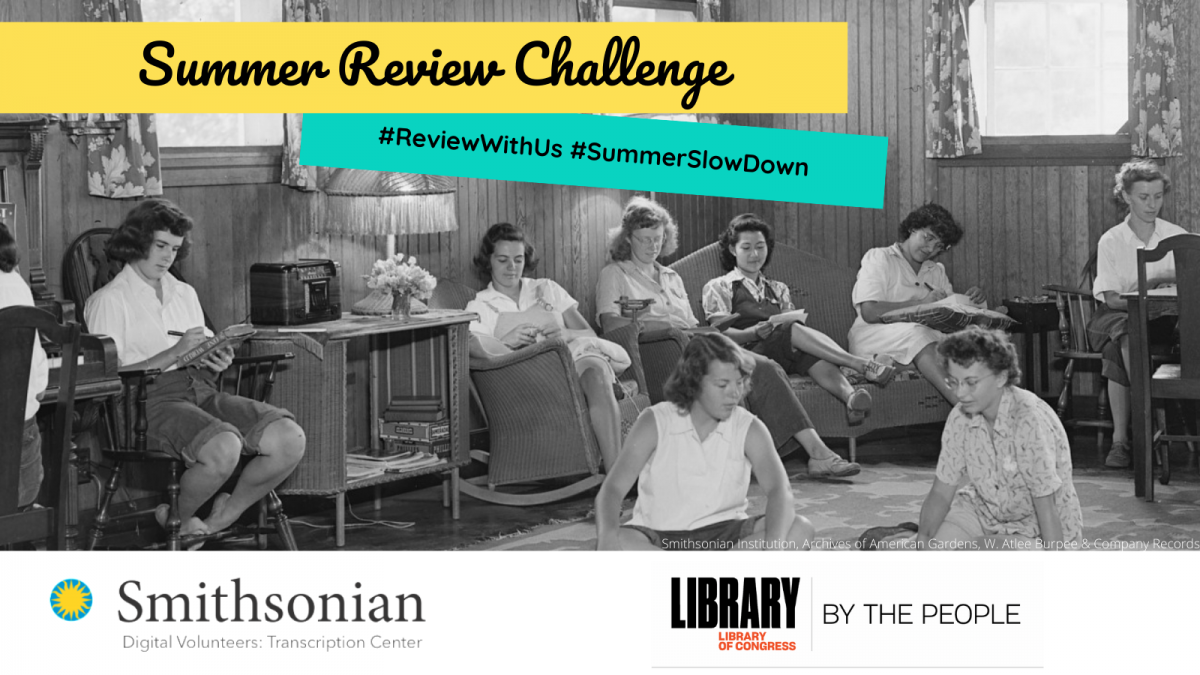 How can I participate?
Try Slow Review
Whether you usually prefer Transcription or you're an experienced Reviewer, try a new approach this month. Speed is not our primary goal at Transcription Center; in fact, working quickly often leads to more mistakes. Find a page to Review and carefully compare each line of the original text to the completed transcription. Use our Instructions and project descriptions to better understand the context. Ask yourself whether the transcription is organized in a way that's easy to understand. Help to confirm people and place names with a quick internet search. See what you can learn by taking it slow. 
Join the Conversation on Social Media!
Do you have helpful hints and tricks that have helped you Review well? Share them with us on Twitter using #ReviewWithUs! If you're new to Review, we'll be sharing tips from Smithsonian and Library of Congress staff and our digital volunteer communities all month long to help strengthen your skills. Follow along with us and the team at the By the People!
Explore - and Review - Projects on By the People
Created in 2018, By the People invites interested learners everywhere (like you!) to transcribe, review, and tag digitized historical materials from the Library of Congress. Learn how to get started and browse current transcription campaigns (including documents from the National American Woman Suffrage Association, presidential papers, collections from nurse and educator Clara Barton, and much more). 
On August 20th at 3:00 pm ET we'll be hosting a special edition of our monthly Office Hours, featuring the By the People team. Join us for a celebratory conversation about everything we've learned, ask questions about the Review process, meet By the People volunpeers, and share your favorite tips and discoveries.

Reach out to us!
We're always here to help solve problems, give advice, and share in your successes! You can email us directly at 
transcribe@si.edu
or contact us via the feedback button on each page with any questions you may have or exciting discoveries you make. We'd love to hear from you!