Transcribing the Phyllis Diller Gag File
Phyllis Diller's groundbreaking career as a stand-up comic spanned almost 50 years. Throughout her career she used a gag file to organize her material. Diller's gag file consists of a steel cabinet with 48 drawers (along with a 3 drawer expansion) containing over 52,000 3-by-5 inch index cards, each holding a typewritten joke or gag. These index cards are organized alphabetically by subject, ranging from accessories to world affairs and covering almost everything in between. Together we will be able to better document Phyllis Diller's gags and gather important data to learn more about her trailblazing career.
Beginning her career in the 1950s, Phyllis Diller broke barriers in the comedy world to become the first solo female comic to be a household name. She developed a stage persona of an incompetent housewife and dressed in outlandish outfits with wild hair. Her material focused on self-deprecating jokes that tackled the idealized image of American mothers and homemakers. She also created many other mythical personas including her "husband" Fang, her "neighbor" Mrs. Clean, and her "mother-in-law" Moby Dick. Diller's ridicule of domestic expectations aligned with the perspectives of the feminist movement of the 1950s and 1960s.
While Phyllis Diller created much of her own material, she also used jokes from other writers. Sometimes she purchased several jokes at a time from one writer, while in other circumstances fans mailed her jokes. Many of these contributors were wives and mothers from across the country who had similar experiences to share with Diller. When a gag was contributed by a writer other than Diller, the index card with the gag notes the name of the writer and often how many jokes were obtained and at what price. Some index cards in the collection contain short one-liners while in other instances the full storyline of a joke spans several index cards.
Learn more about our need to transcribe these cards from this O Say Can You See Blogpost from the National Museum of American History.
Please Note: These cards present an opportunity to engage with primary source materials, and to discuss and reflect on historical context, cultural values, and other forms of social relationships. Some language in this collection may be culturally insensitive or offensive to some viewers. It is presented as it exists in the original document for the benefit of research. The material reflects the culture and context in which it was created and not the views of the Smithsonian Institution.
In addition to Phyllis Diller's gag file, the Division of Culture and the Arts at the National Museum of American History holds costumes, props, television scripts, photographs, books, and audio recordings illustrating Diller's diverse career that spanned almost half of a century. We invite you to join us as we gather more data about Phyllis Diller's gag file to more fully document and honor her impressive career, while making these cards more accessible for researchers and the public.
The digitization of Phyllis Diller's index card collection was generously supported by Mike Wilkins and Sheila Duignan.
Our Transcription & Review Process
---

We seek to balance quality and speed with our transcription process; your feedback helps us improve our approach. At the moment, this is how our system works:
1) Anyone can start transcribing or add to a transcription of a document.
2) Once a volunteer decides they've "finished" and they're ready for review, a different volunteer (who must have an account on the site) can review the transcription and either send it back for edits, or complete the transcription.
3) The finished transcript is sent to the Smithsonian, where it may be used immediately, or undergo additional work.
How to Transcribe the Phyllis Diller Gag File
---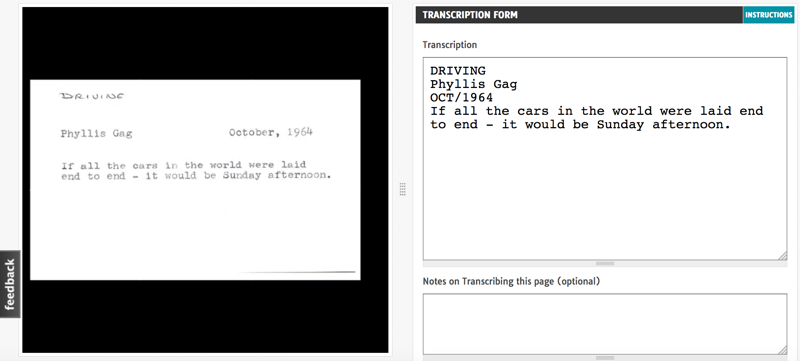 We're seeking your help to make these gags, oneliners, and jokes more easily discovered via search. Please would you transcribe each card in the following way--as written, with each element on a separate line:
Category
Author or Comedian(ne)
DD/MMM/YYYY
Joke
Please transcribe the case on the card in such a way as to reflect the way it appears on the card.
In this example of a "Phyllis Gag," the card should be transcribed as:
DRIVING
Phyllis Gag
OCT/1964
If all the cars in the world were laid end to end - it would be Sunday afternoon.
Please see as an example of upper case (capitalized) letters, with this example of a Buddy Baron joke.
The card should be transcribed as:
ANIMALS
BUDDY BARON
12/OCT/1992
OUR DOG BARKS AT A HIGH ENOUGH PITCH TO OPEN THE GARAGE DOOR...
Please note that the Category and Author are not underlined. See the instructions below for how to transcribe underlined or emphasized phrases in the jokes.
Specific Page Elements & Transcribing for Phyllis Diller Cards
Category
When a category has a subcategory, please transcribe as Category: Subcategory
When no category is given, please type Unknown. See this card as an example.
No need to indicate if the category is underlined or if a subcategory is inserted.
No need to indicate if the category is handwritten. Transcribe as the example in this card.
Author
When a second person or source is given attribution, please include both in the transcription. Example "Phyllis Gags. Mrs. Rona Greer" from this card.
No need to indicate if the author is underlined.
Date
Please note the date can be entered on its own line as DD/MMM/YYYY or as much date information as possible. See the images of the cards above as examples.
If no date is present on the card, please type Unknown.
Capitalization
Please transcribe the cards as they are typed or written. Case, or capitalization (and ALL CAPS), will not impact the search in our system. See this card that includes multiple cases as an example
Stamped Elements
You may see the category stamped on some cards. There is no need to include the [[stamped]] convention applied in other Smithsonian Transcription Center projects.Transcribe like this card.
Jokes Across Multiple Cards
Please transcribe the number on the card, which indicates it is part of a series. The number can be transcribed as - # - on a separate line underneath the Date line, above the Joke line.
See this example of a two-card joke: Card - 1 - and Card - 2 -.
Numbers on Cards
The curatorial and collections teams are trying to learn more about the appearance of "No. #" on cards. Please transcribe this number on a separate line underneath the Date line, above the Joke line.
Edits to Jokes
When a Joke has been edited to change, add, or remove words, please indicate the changes. The curatorial and collections team would like to learn more about Diller's process reflected in these edits.
Here's an example of a handwritten insertion in a joke.
See this card for an example of how to indicate part of the joke has been edited.
Emphasis in Jokes
Please do indicated when a word or phrase is emphasized in a joke; this emphasis will typically be an underlined word or phrase. You can reflect the emphasis with [[underlined]] word or phrase [[/underlined]].
Misspellings on Cards
Please transcribe the cards and the misspelled word as written. You can leave a note in the "Notes on Transcribing this Page" field to alert staff to the misspelling. See this example of how to leave a note.
Comics on cards
Some of the Phyllis Diller Joke File cards are actually comics! Please add an extra line, after the Joke, where you describe the comic using [[comic ___]] or [[newspaper cartoon ___]]. Here's an example of a comic of The Lockhorns pasted on a card.
Completed & Approved Cards: Examples
See these approved cards as examples of how to transcribe: On Living Dangerously and Driving End Over End.
Media Coverage of Phyllis Diller's Joke File
Learn more about Phyllis Diller's donation of her Joke File to the National Museum of American History from the following sources.
One Funny Lady, or, How I Was Killed by Phyllis Diller
Tell Us More!
Once you discover any connections--people such as other famous comedian(ne)s, references to events, or otherwise--in these projects, let us know. We will add them below!
You can also join the conversation on Twitter with @TranscribeSI and @amhistorymuseum - chat with us or share your thoughts using the hashtag #DillerFile!
Join Us
---
Whether you are an archives professional, staff, researcher, student, or curious: We are actively seeking volunteers to join this world-wide effort. With your help, we can make our vast collections in art, history, and science more accessible to anyone and all around the world. You can browse through projects
or

Other Questions?
---
Thank you for your interest in the Smithsonian Transcription Center. To get in touch with questions, suggestions or just thoughts about the Transcription Center, please contact us here. You can also tweet questions to @TranscribeSI.
This project is a product of many many passionate, creative, and dedicated individuals who have contributed subject matter expertise, technical solutions, content and design, and much much more. We can continue to improve through your feedback.