Digital Access to Latina/o/x Collections Project
In libraries, museums and archives, we must make intentional efforts to include all narratives and experiences in our collections. Latin American, Latina/o/x, Chicano, Mexican, Argentinian, Uruguayan - artists with these identities have historically tended to be excluded from American art narratives. Despite roots in the land we now call the Americas, these identities continue to be perceived as foreign and not considered part of the larger national collective identity, despite their immense contributions to American culture. Even in the face of these obstacles, these artists transcend the limitations of society and forge ahead in their creative pursuits.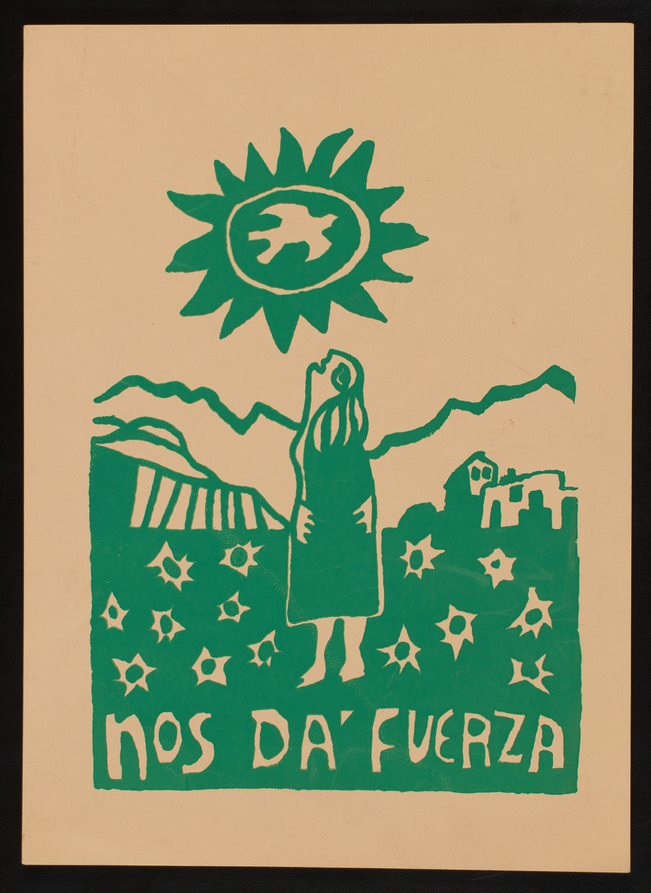 This print by Ojeda depicts a woman staring at the sun encompassing a peace dove. "Nos da fuerza" translates to "it gives us strength."
Print by Naúl Ojeda, undated. Naúl Ojeda Papers, 1960 – 2004. Archives of American Art.
To include these voices and experiences, we are launching projects from the Archives of American Art related to three such artists — Mel Casas, Jaime Davidovich, and Naúl Ojeda. Digitization and preparation of these materials for transcription has been done as part of the Digital Access to Latina/o/x Collections project, a collaboration between the Archives of American Art, Smithsonian Transcription Center, and the National Museum of American History, with funding by the Latino Initiatives Pool of the Smithsonian Latino Center. 
By transcribing these collections with the help of our digital volunteer community, we hope to offer an opportunity for further research and accessibility to these accomplished Latino artists and their work. 
Mel Casas, Jaime Davidovich, and Naúl Ojeda were not underground in their time, but well-known professionals in their art world careers. Their collections attest to the level of correspondence and coordination necessary for their careers to be as successful as they were, all while continuing to build upon their artistic practices. Naúl Ojeda showed his work in international galleries and donated his talents towards calls for justice. Jaime Davidovich utilized the public's access to mass media before the era of the internet and played with the power of television. Mel Casas organized other artists through collective visioning and circumvented cultural stereotypes in his art. Though their work may be less recognized outside their communities and beyond art historians, their archives are nonetheless alive, relevant, and can serve as inspiration to today's generation of creatives.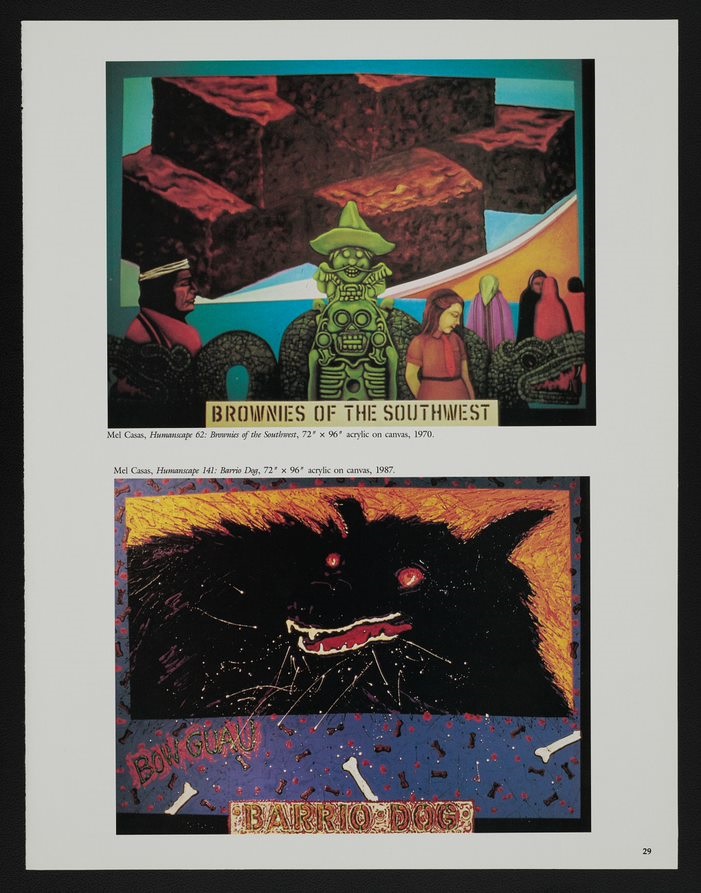 Two artworks by Mel Casas featured in Artspace- Humanscape 52 Brownies of the Southwest and Humanscape 141 Barrio Dog.
Page from Artspace featuring Casas' work, 1988. Mel Casas Papers 1963 –1998. Archives of American Art.
You can be a part of contributing to the accessibility of Latinx art history by helping us transcribe the collections of Mel Casas, Jaime Davidovich and Naúl Ojeda! We are asking volunteers in the Transcription Center to help us uncover the archives of these collections so that their work can continue to inspire those of their community and beyond.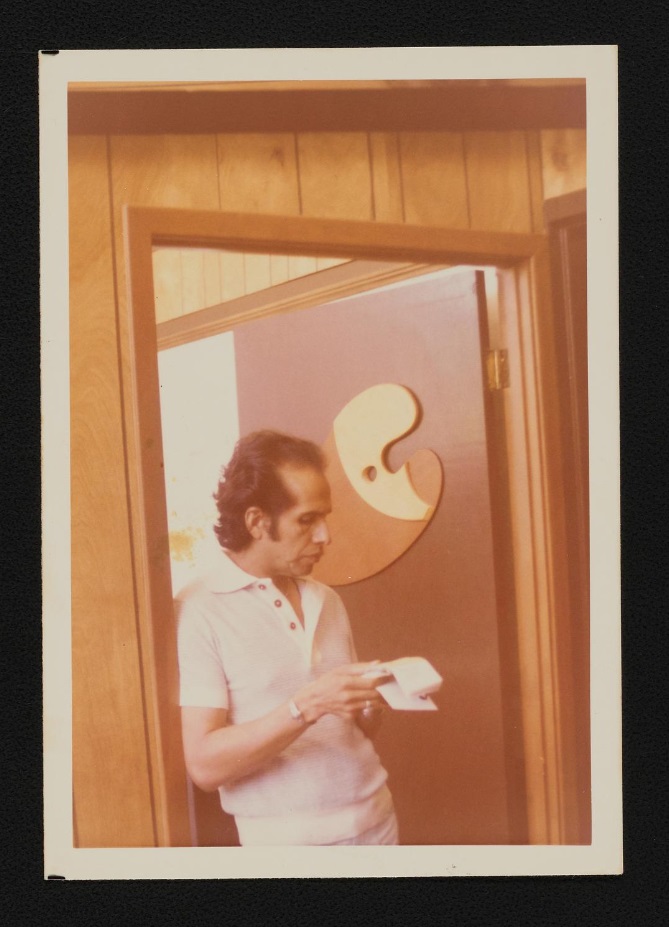 Mel Casas Papers
Mel Casas (1929-2014) worked as a painter, educator and organizer in the academic and artistic communities in Texas. He was born and raised in El Seguno Barrio of El Paso, Texas and served in the Korean War after graduating from high school, where he received a Purple Heart. In 1958, he completed his Master of Fine Arts at the University of the Americas in Mexico City. He taught in his hometown at Jefferson High School where another noted artist, Gaspar Enriquez, was his student. Later moving to San Antonio, Texas, Casas continued to teach at the community college and was active in administrative leadership roles. In the 1960s, Casas, along with other artists, founded the group Con Safo, an artist collective that was fundamental to the Chicano art movement. Included in this transcription project is the 1968 "Brown Paper Report" written by Casas, which is seen as a manifesto that helped define the goals and vision of the Chicano art collective and movement. Casas was also an art theorist who utilized text in his work to describe his thought process involving the role of Chicano art in the art world. He is well known for his series Humanscape, which includes large mural-like paintings that incorporate popular culture contrasted with traditional notions of Mexican American culture and community.The Mel Casas papers are fully digitized and available for research. These transcription projects include documents of the Con Safo artist collective, discussions of Chicano art, newspaper clippings, art history essays, and theory through visual text.
Photograph of Mel Casas, circa 1970s. Mel Casas Papers, 1963 –1998. Archives of American Art. 
Jaime Davidovich Papers
Jaime Davidovich (1936-2016) was born in Buenos Aires, Argentina. He started making art as a child after his parents gave him art supplies due to an illness that left him idle in recovery. He continued with art and painted in the 1950s. Davidovich studied in universities in Argentina and Uruguay before migrating to the United States in 1963 with the award of a prestigious grant from the Torcuato di Tella Institute. Later he continued his studies at the School of Visual Arts in New York City. In the late 1960s, Davidovich moved to Ohio with his wife, Judith Henry, where he had his first exhibition as a solo artist. In 1974, Davidovich was featured in an Art Forum article about his work. Upon returning to New York, Davidovich, entered into partnership with Judith Henry, an artist in her own right, and George Maciunas of the brand Flexus. The trio incorporated Wooster Enterprises and operated from 1976-1978. The company sold unique paper products of their own designs. During this time, the accessibility of personal use video cameras entered the market, as well as public access television, and Davidovich was working extensively in "video paintings." Along with other artists, Davidovich started a nonprofit organization called the Artists Television Network (ATN). The network presented weekly television segments for public access on Manhattan Channel J. First SoHo Television, then The Live Show!, which ran from 1979-1984 and included Dr. Videovich in a variety/talk show that featured guests and commentary of the avant-garde. His videotapes have been featured internationally and in esteemed institutions, including the Institute of Contemporary Arts in London, the Whitney Museum of American Art in New York, and the Museum of Modern Art in New York. The Jaime Davidovich papers are fully digitized and available for research. These transcription projects include grant applications, planning documents for video shows, personal email correspondence and essays on the artist.
Photograph of Jaime Davidovich, circa 1960s-1970s. Jaime Davidovich Papers, 1949 – 2014. Archives of American Art.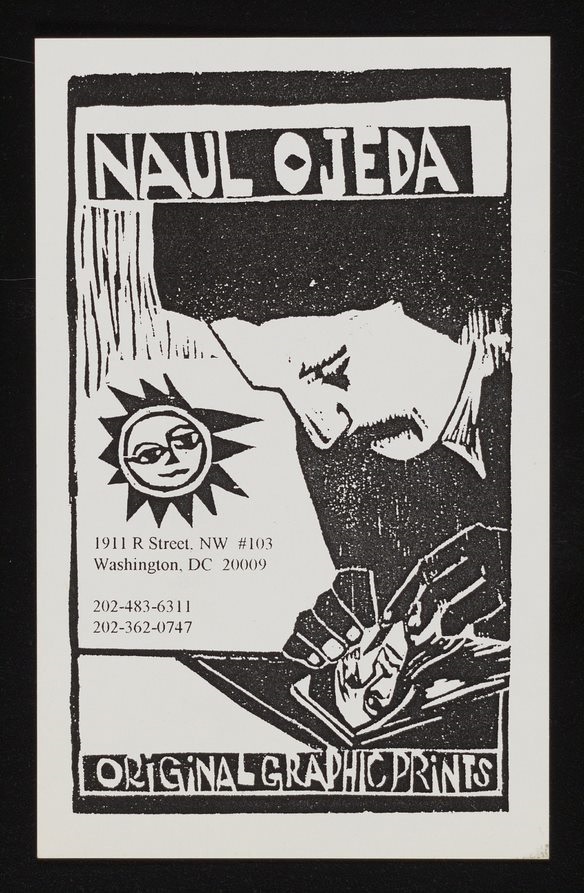 Naúl Ojeda Papers
Naúl Ojeda (1939-2002) was a visual artist from Uruguay specializing in woodcut printing also known as xilografía. In the 1970s, he left his home country due to political conditions at the time. He traveled to France and Mexico and spent some time working as a photojournalist in Chile, where he covered the presidency of Salvador Allende. Ojeda's collection shows the extent to which the artist contributed his work to galleries, organizations, and individuals. Among successful solo exhibitions throughout the United States, South America, and Europe, he also participated in several group shows which reflect the multitude of his Latin American contemporaries. Ojeda made art to accompany the works of notable figures such as Pablo Neruda and Mercedes Sosa. Throughout his career, he also experimented with watercolor and painted furniture for exhibition. His artwork is included in the collections of the Smithsonian American Art Museum, the National Hispanic Cultural Center, and the Museum of Modern Art. He eventually settled and lived in Washington, D.C. with his wife, Philomena, who contributed to the professional handling and networking of his art career. In 2016, Archives of American Art national collector, Josh T. Franco wrote about acquiring his papers for the Smithsonian. The Naúl Ojeda papers are now fully digitized and available for research. Additionally, some of Ojeda's work has already been transcribed by our digital volunteers. These projects include personal correspondence, letters to galleries and individual patrons, and event materials including the artist's work. Find new transcription projects here. 
Announcement for Naul Ojeda: Original Graphics Prints, undated. Naúl Ojeda Papers, 1960 – 2004. Archives of American Art.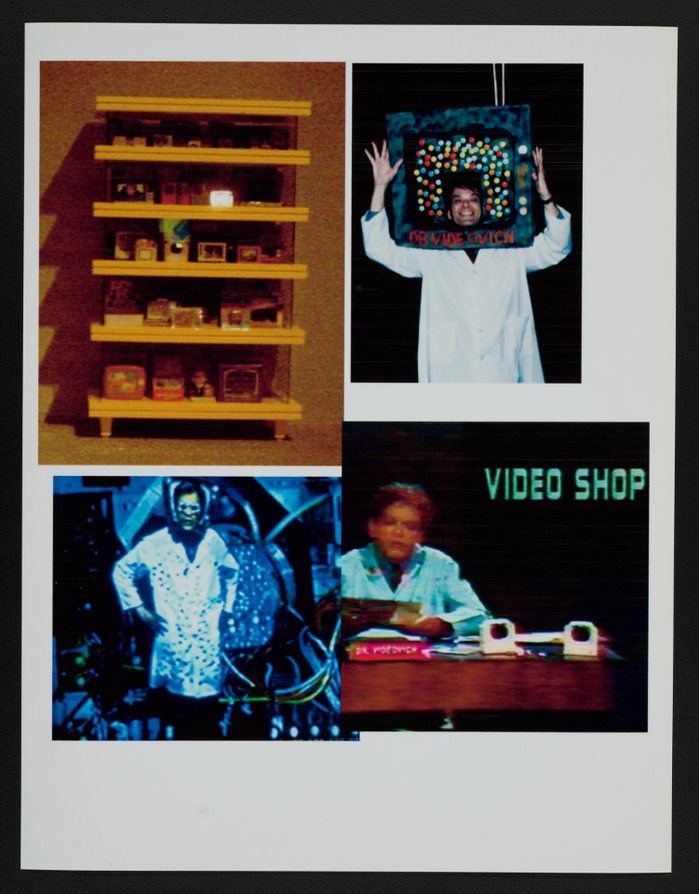 Images from The Live Show! Featuring Davidovich as Dr. Videovich
Photographic material from "Mamba," circa 2011-2012. Jaime Davidovich Papers 1949 – 2014. Archives of American Art.
The history and community of Latina/o/x artists is vast, diverse, and vibrant, and these three collections do not represent the breath of Latina/o/x collections at the Smithsonian. While this project has focused on the work of three male artists, there are many Latina/o/x women and non-binary artists whose work is worthy of promotion and continued research.
For those interested Latino and Latin American art history, there are selected digitized images from the acclaimed art historian Tómas Ybarra-Frausto's collection, as well as from the Kathy Vargas papers, Helen L. Kohen papers, Abril Lamarque papers, Emilio Sanchez papers, and the Demi and Arturo Rodríguez papers. The Archives of American Art also holds oral histories with Judy Baca, Rupert Garcia, Luchita Hurtado, Harry Gamboa Jr., and Jacinto Quirarte among many more with transcripts available for viewing. The Smithsonian American Art Museum held a conversation with Kathy Vargas, María Martinez-Cañas and Martina López in which they discuss gender and identity. The Archives of American Art also produces an insightful podcast, hosted by curator E. Carmen Ramos, entitled Our America: The Latino Presence in American Art. We encourage you to research these artists and utilize the archives!